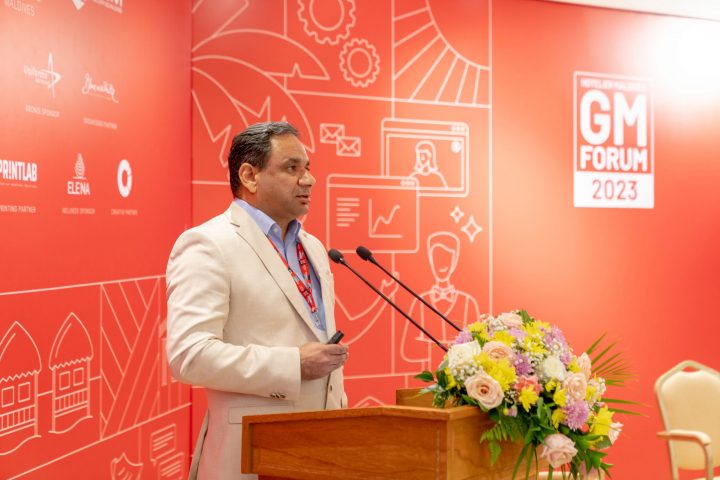 Hotelier Maldives GM Forum 2023: Ooredoo showcases vision of 'Powering the Future'
Ooredoo Maldives, the leading telecommunications service provider in the country, participated in the Hotelier Maldives General Managers (GM) Forum 2023, which was held at Bandos Maldives resort on October 19. The GM Forum is an annual gathering of the top executives and decision-makers of the hospitality industry in the Maldives, where they discuss the latest trends, challenges and opportunities in the sector.
Rajesh Mehta, the Chief Business Officer of Ooredoo Maldives, delivered a presentation titled 'Powering the Future', where he highlighted the key achievements and contributions of Ooredoo Maldives in providing innovative and reliable solutions to its customers and partners. He also shared the company's vision and roadmap for the future, focusing on how Ooredoo Maldives is leveraging cutting-edge technologies such as 5G, artificial intelligence (AI) and data centres to enhance the connectivity and digital transformation of the hospitality industry.
Trusted partner for the hospitality industry
Mehta began his presentation by showcasing the impressive footprint of Ooredoo Maldives, which serves over 368,000 customers across the country. He also mentioned that Ooredoo Maldives generated MVR 1,924 million in revenue in 2022, reflecting its strong performance and growth. He attributed this success to the company's commitment to delivering high-quality products and services to its customers, as well as its corporate social responsibility initiatives that aim to empower communities and create positive social impact.
He then highlighted the key features of Ooredoo Maldives' network infrastructure, which offers unparalleled connectivity and coverage to its customers. He said that Ooredoo Maldives has invested in three international cable systems that connect the Maldives to the rest of the world, ensuring high-speed and low-latency internet access. He also mentioned that Ooredoo Maldives has deployed a nationwide submarine cable system (NASCOM), which spans over 1,200 km and covers all major islands and resorts in the country. He added that Ooredoo Maldives has achieved nationwide 4G+ coverage, enabling its customers to enjoy fast and seamless mobile broadband services.
Mehta also emphasised that Ooredoo Maldives has a state-of-the-art network operations centre (NOC) that provides 24/7 support and proactive monitoring of its network performance and security. He said that Ooredoo Maldives has adopted an IPv6 ready network, which allows it to support more devices and applications on its network. He also said that Ooredoo Maldives has implemented various network optimisation and enhancement measures to ensure optimal customer experience and satisfaction.
Pioneer in innovation and technology
Mehta then moved on to discuss how Ooredoo Maldives is investing in new technologies and solutions that will shape the future of connectivity and digitalisation in the country. He announced that Ooredoo Maldives has made a new investment into PEACE International Cable System, which is a submarine cable system that will connect Asia, Africa and Europe. He said that this investment will enable Ooredoo Maldives to offer more international bandwidth and lower latency to its customers, as well as access new markets and opportunities.
He also revealed that Ooredoo Maldives is upgrading and expanding its 5G network, which will offer faster speeds, higher capacity and lower latency to its customers. He said that 5G will enable new use cases and applications for various sectors, especially the hospitality industry. He gave some examples of how 5G can enhance the guest experience and operational efficiency of hotels and resorts, such as virtual reality (VR) tours, smart rooms, cloud gaming, remote health monitoring, drone delivery and smart security.
Mehta also announced that Ooredoo Maldives has established a Tier III ready data centres in Hulhumale', which will offer secure and reliable cloud services to its customers. He said that the data centre will support the growing demand for data storage and processing in the country, as well as enable new services such as disaster recovery, business continuity, secure cloud computing and big data analytics.
Leader in AI-driven transformation
Mehta concluded his presentation by highlighting how Ooredoo Maldives is harnessing the power of AI to drive change and transformation in various sectors, including the hospitality industry. He said that AI is a game-changer that can improve customer experience, optimise business processes, generate insights and create value. He gave some examples of how Ooredoo Maldives is using AI to enhance its products and services, such as chatbots, voice assistants, facial recognition, sentiment analysis and predictive analytics.
He also shared some examples of how AI can benefit the hospitality industry, such as personalisation, recommendation systems, dynamic pricing, revenue management, guest feedback analysis and fraud detection. He said that Ooredoo Maldives is ready to partner with the hospitality industry to provide AI solutions that can help them achieve their goals and objectives.
The Hotelier Maldives GM Forum 2023, which is the most anticipated event for hoteliers in the Maldives, was held at Bandos Maldives resort on October 19, 2023. The forum attracted over 100 hoteliers from various resorts and hotels in the Maldives. This year's forum was sponsored by several leading companies in the hospitality sector, such as Ooredoo Maldives, Fuel Supplies Maldives, Far Horizon, Bestbuy Maldives, Manta Air, Coca-Cola Maldives, Alia Investments, Villa Hakatha, Swimsol, Souvenir Marine, and more.