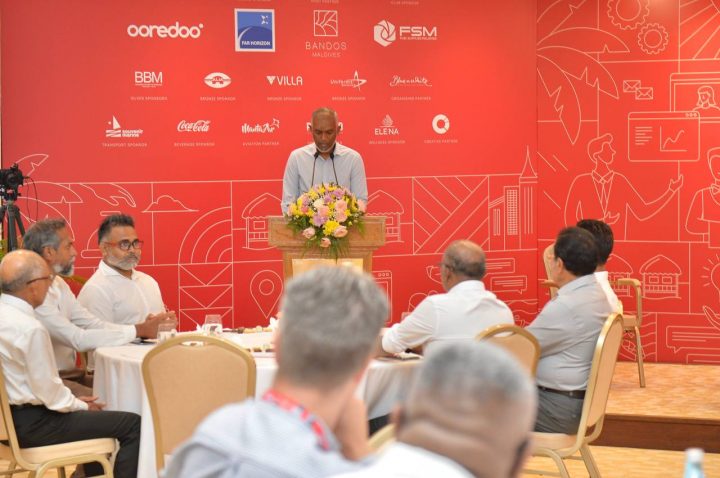 Hotelier Maldives GM Forum 2023: President-elect says aim to complete VIA new terminal by 2024 peak season
President-elect Dr Mohamed Muizzu on Thursday revealed plans to expedite the construction of Velana International Airport's (VIA) new terminal, with the goal of finishing the project by next year's peak season.
Speaking at the Hotelier Maldives GM Forum held at Bandos Maldives resort, Muizzu emphasised the crucial role the new terminal plays in the tourism sector's expansion in the coming five years.
Addressing contractors and financiers, Muizzu expressed his hope that the project would be completed in time for the 2024 peak season, ensuring that both the tourism and aviation industries can reap the benefits.
The contract to build the new terminal was awarded to Saudi Arabia's Bin Laden Group, which, in turn, has enlisted the China Harbour Engineering Company (CHEC) for the construction work. Saudi Arabia recently pledged an additional $100 million loan to facilitate the terminal's completion.
Key details about the airport's new terminal include:
Handed over to Saudi Bin Laden Group in May 2026
Total investment of $350 million (MVR 5.3 billion)
Capacity to serve 7.5 million passengers
40 departure gates and 38 immigration counters
Aero bridges for boarding flights
Muizzu also disclosed plans to open 13 more domestic airports and establish a seaplane hub in the south in conjunction with VIA's development. This expansion is expected to significantly increase the bed capacity of resorts and guesthouses.
In addition, Muizzu outlined initiatives to enhance the national airline, Maldivian, and attract more tourists. He revealed plans to bolster the airline's fleet by purchasing wide-body aircraft next month, primarily targeting tourists from the recently opened Chinese market and other source markets. This strategic investment aims to inject new energy into Maldivian's operations and benefit the Maldives Airports Company Limited (MACL).