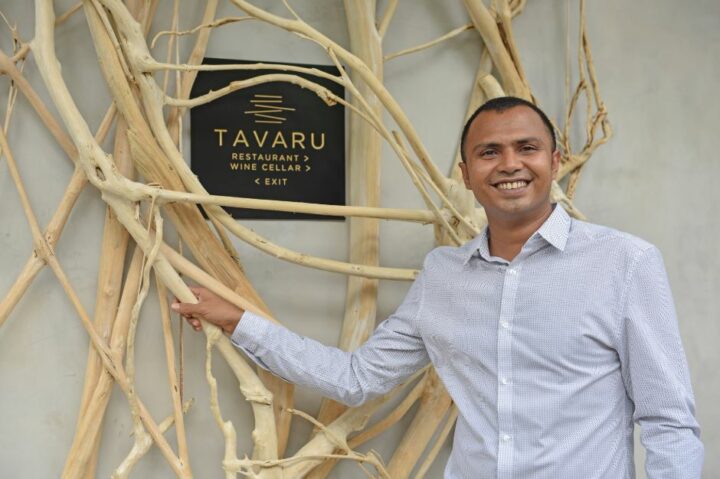 Careers: Ibrahim Waheed, Director of F&B at Velaa Private Island
From a life of deprivation to the vineyards and wineries of France, Ibrahim Waheed has had quite a journey, overcoming some austere challenges in life to become what he is today. As Director of Food and Beverages at Velaa Private Island, one of the highest rated properties in Noonu Atoll, Ibrahim now caters to the elite of the world.Born to a middle-class family in Addu in the 80s, Ibrahim had a simple childhood with his siblings and friends, the dream of becoming a football player on the national team being his one motivation. Despite being a bright student, Ibrahim missed some school years as his father struggled to pay educational fees for him and his siblings.At the age of 16, Ibrahim moved to the capital Malé with his brother, hoping to pursue his dream of fame on the football field. Unfortunately, his brother was struggling to get settled in the bustling city of Malé, so he sought the position of a Waiter at a resort where another sibling of his was employed.
"A few months later, my brother was still struggling and I realised that sometimes, dreams are just dreams," he says. "I decided it was the time I became the adult I wasn't prepared to be and hoped to provide my younger siblings with everything I wasn't fortunate enough to have. And with time I fell in love with my work and since the age of 16, I have been in the field of F&B and made it a part of my life that I can never let go of."It was more a matter of survival than the interest that prompted him into the field of Food & Beverages and Ibrahim found the hands-on experience appealing. His career began in 1999 as a Bar Waiter at Club Rannalhi and shortly afterwards, he got an offer from management to transfer to a pre-opening team in Meedhupparu Island Resort as a Senior Waiter.In two years, he was promoted as the Restaurant Captain and headed to Huvafen Fushi Maldives in 2005 where he was selected to attend different courses and field training trips throughout regions of France where he visited vineyards & wineries, rubbing shoulders with the connoisseurs of wine. And he was fortunate enough to visit some of the most prominent restaurants in Europe.
In 2009 he joined Hilton Irufushi Island Resort & Spa as a Beverage Manager and Restaurant Manager where he handled three speciality restaurants; the main bar, two pool bars and took full responsibility of managing all beverages. It was an extremely challenging and educational experience which prepared him for his next challenge in Waldorf Astoria Manafaru, where he was employed as a Secondment for two months and was obligated to host certain events.It also equipped him with the necessary expertise required for his first position at Velaa Private Island, where he began as a Beverage Manager and a Restaurant Manager. During the pre-opening, he had the opportunity to develop the restaurant concept and tackle the challenge of creating one of the most exclusively intensive beverage collections in the Maldives, if not in South Asia.From then onwards, he climbed the ladder from Beverage and Restaurants Director to Assistant Food and Beverage Director and then Director of Food and Beverages, his current position.
"This is a field where you learn… and the learning never stops, which inspires me to improve and develop my skills, every single day. You get to meet a lot of inspiring people," says Waheed. "I suppose my motivation is that I have challenged my difficult youth and not allowed myself to be left behind simply because I don't have academic certificates and the fact that I truly enjoy the field of F&B in the hospitality industry.
"I have dedicated more than half of my life to this industry, with a genuine passion for what I do and I love being able to contribute to the career growth of those who work under my supervision."Ibrahim is thankful for those who invested in his professional development, the most notable being his former employers Nihal Fonseka and Sunny Chuang, who supported and mentored him in his career.
And he is grateful for the opportunities he had been given by all the management he has worked with, in the Maldives and abroad as a Consultant on a barter agreement basis."During the past few years, I have had the opportunity to gain experience at some of the most iconic places to work at, such as Raffles Grill in Raffles Singapore, Fregate Island in Seychelles and Alain Ducasse au Plaza Athénée, Paris, France," he adds.