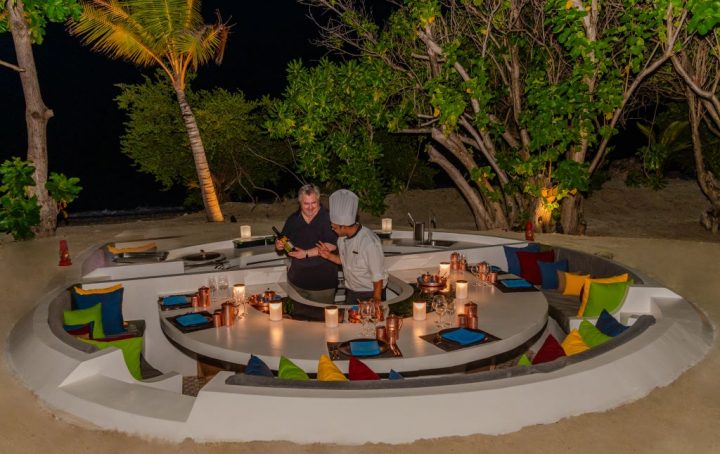 JW Marriott Maldives Resort & Spa's Week of Gastronomic Bliss with Michelin Star Chef Bernd Bachofer and Winemaker Kai Schubert
JW Marriott Maldives Resort & Spa recently concluded its remarkable week of gastronomic excellence in collaboration with Michelin-starred Chef Bernd Bachofer and renowned winemaker Kai Schubert. This exclusive event, which took place from October 4 to October 8, brought together culinary enthusiasts and wine connoisseurs for an unforgettable experience.
Hailing from the distinguished Bachofer restaurant in Germany, Chef Bernd Bachofer's culinary journey is a blend of French haute cuisine and diverse Asian influences. On the other hand, award-winning winemaker Kai ventured to New Zealand to establish the renowned boutique winery, Schubert Wines. Kai's wines, including his iconic Pinot Noir, have consistently ranked among the finest in New Zealand, making him a true visionary in the world of oenology.
Guests at the resort were treated to a series of exclusive events, each offering a unique culinary and oenological journey:
Exclusive Collaboration with Kai Schubert at RIHA
The gastronomic week kicked off at RIHA, the new destination dining and private experience at JW Marriott Maldives Resort & Spa. The menu featured a blend of exquisite ingredients, including gourmet products such as foie gras, scallops, lobster, and wagyu beef, all paired with selected Schubert wines, and was personally hosted by the visionary winemaker himself.
Michelin Star Dinners, hosted by Chef Bernd Bachofer and Kai Schubert
The highlight of the week was on October 5 and 6, when guests were treated to an exceptional dining experience featuring a limited-time menu crafted by Michelin-starred Chef Bernd Bachofer and winemaker Kai Schubert. From langoustines in tempura batter with Thai basil gel and pak choi to scallops with Japanese hollandaise and shiitake dim sum and Wagyu short ribs with green curry, smoked potato cream, and yuzu melon, each dish was expertly paired with wine varieties selected by Kai Schubert.
Private Masterclass and Wine Tasting with Kai Schubert
On October 7, guests had the opportunity to participate in a private masterclass with winemaker Kai Schubert. This was an opportunity to delve into the art of winemaking and appreciate the nuances of his exceptional wine production.
Mohit Dembla, Resort Manager of JW Marriott Maldives Resort & Spa, expressed his excitement, saying, "We are delighted to have hosted this collaboration between Michelin-starred chef Bernd Bachofer and winemaker Kai Schubert. It was a week filled with gastronomic excellence and fine wines, and I'm sure it left our guests with unforgettable memories."