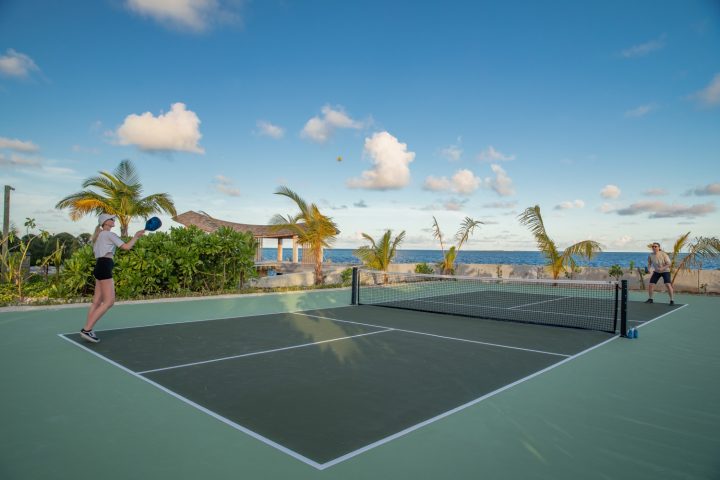 Kagi Maldives Resort introduces Pickleball
Kagi Maldives Resort & Spa, the five-star, 50-villa boutique resort in the North Malé Atoll, has just launched the first pickleball court in the Maldives adding a new dimension of sports and recreation to this luxury boutique island.
For the third year in a row, pickleball is the fastest growing sport in the United States. There are currently 36.5 million pickleball players estimated in the U.S. It is also growing in popularity in the rest of the world with over 270** courts in the UK. The International Federation of Pickleball now lists more than 60-member nations, from India and Germany to Sweden and Peru.
With the introduction of the Maldives' first pickleball court, Kagi Maldives Resort & Spa continues to raise the bar by offering guests a unique and fun way to stay active in this idyllic setting. Pickleball combines elements of tennis, badminton, and table tennis. It is easy for beginners to pick up yet provides a thrilling and competitive experience for those with more experience. Kagi is now also welcoming families with guests of all ages.
The court at Kagi Maldives Resort & Spa is built to international standards and features an all-weather surface, ensuring guests can enjoy the sport year-round. The resort provides complimentary equipment for its guests, ensuring that they have all they need to fully enjoy this fast-paced and exciting sport.
"Our newly unveiled Pickleball Court is yet another testament to our dedication to providing diverse leisure activities for all ages and interests," said Areef Ahmed, General Manager of Kagi Maldives Resort & Spa.
After a game of pickleball, guests can relax at the Baani Spa, the largest over-water spa in the Maldives. Designed by the award-winning New York -based Japanese architect Yuji Yamazaki, the 1500 m2 Baani Spa has a beautiful, open-air teardrop-shaped roof and a yoga pavilion which sits on stilts above the ocean. The meaning of Baani is healthy and joyful living.
In addition, Kagi is surrounded by one of the Maldives' most diverse and untouched house reefs, home to over 150 different marine creatures. Snorkelling is accessible straight from the beach or directly from the stairs of the overwater villas showcasing healthy corals, a plentiful variety of tropical fish, sea creatures, sea turtles, rays, reef sharks, moray eels and even nurse sharks to guests.
Kagi is committed to its sustainability efforts and to preserve the pristine nature of the previously undisturbed house reef, all water sports offered at the resort are non-motorised. Kagi's first coral nursery of over 15 coral fragments has also been established, all growing under supervision before being transported back into the ocean reef.
With just 50 villas, guests can choose from three room types: a Beach Pool Villa, a Lagoon Pool Villa, or an Ocean Pool Villa, all of which are distinguished by their unique locations and house a private pool, a sun deck, and an expansive indoor-outdoor bathroom.