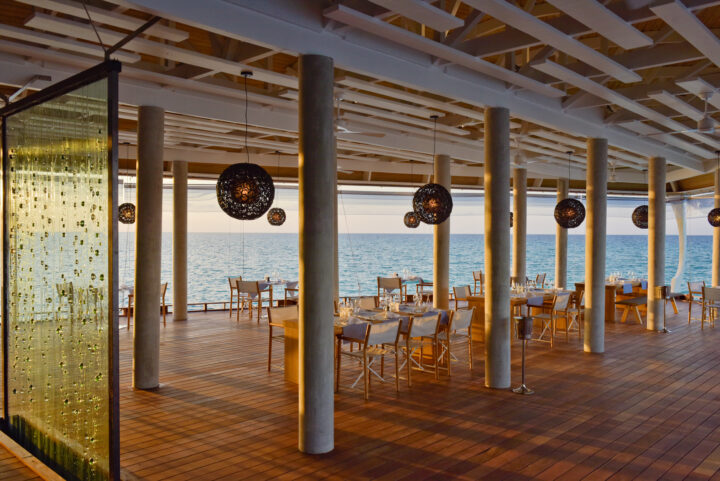 Kuramathi unveils Champagne Loft, upgraded seafood restaurants
The newly renovated Kuramathi Island Resort now boasts a champagne loft and two seafood restaurants.
The resort unveiled its new villas and beautifully designed restaurants in March this year as part of its efforts to deliver a more refined experience to its guests.
"With value added all-inclusive plans, the island has built a continuous rapport with the many food connoisseurs that stay under the Select All Inclusive package; a passport to dine in any of the 9 à la carte restaurants all offering diverse culinary experiences," the resort said in a press statement.
The resort's Reef restaurant, famed for its seafood dishes and fresh 'catch of the day' specials, is now located over the water. Overlooking the lagoon, the restaurant's hallway and ceiling are beautifully decorated with century-old refined oak wood.
The center of the restaurant, with its teppanyaki grills, offers a new outlet named Kobe, specialising in authentic Japanese cuisine. Apart from seafood, both the restaurants serve quality meat cuts, fresh garden greens from the resort's hydroponic garden as well as a wide selection of fine wines.
"The lagoon views and the sound of the lapping waves with balmy breezes makes for a perfect dining experience in The Reef and Kobe. Guests who visit Kuramathi make it a must to try these restaurants and we are quite certain why."
Overlooking the ocean, the Champagne Loft meanwhile offers an eclectic collection of over 45 varieties of carefully selected champagnes. Guests on the 'All-inclusive' meal plan will enjoy preferred pricing at the Loft. Guests can also take advantage of the Happy Hour and enjoy a glass of bubbly at a discounted price.
Catering especially to honeymooners and couples, the Champagne Loft promises a quiet and intimate setting. The outlet is also furnished with comfortable loungers and wooden tables that can seat small groups.
"Furnished with an elegant ambiance and interior; local architecture is inspired and infused with a contemporary touch. Reused oak wood, dating back 100 years flown all the way from Mississippi make its exteriors with a high ceiling, artfully created with a glass mirror," the statement continued.
"We are excited to unveil this new outlet to our guests and look forward to offering a romantic evening for our guests."
The Champagne Loft is open from 5pm onwards until late.