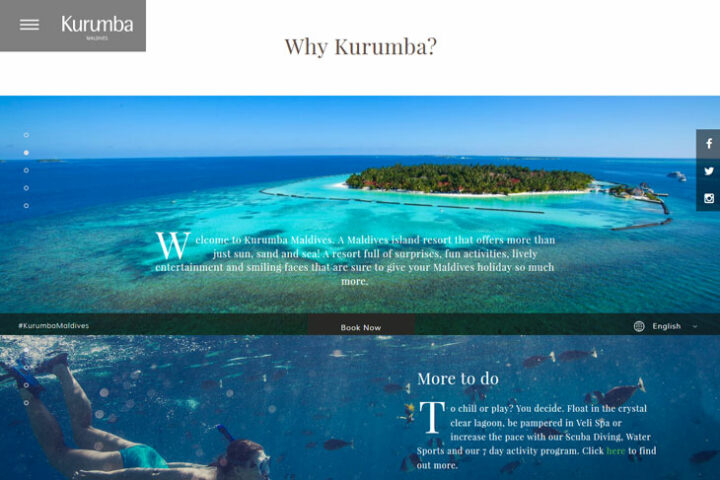 Kurumba Maldives launches new website
Kurumba Maldives has launched a new website with fresh video content for exploring the experiences, facilities, and services on the resort.
Developed by QUO, the website was designed to be more user-friendly, particularly for tablet and mobile users.
According to the resort, the second stage of development will be launched in the coming weeks, with an upgraded booking engine, a live chat function, an interactive blog site and an updated guest reviews page.
"It is Kurumba Maldives' wish to offer an accurate and complete overview of Kurumba Maldives, the Maldives in Full Colour brand, and the guest experience whilst managing guest expectations and queries. It has become more user-friendly, with simple navigation and clear features. We strive to give our guests as much information as possible, which will be very useful for those who wish to prepare their holiday in advance, as well as those who can't wait to arrive, with menus, excursions, night entertainment and facilities, etc," said Jason Kruse, General Manager of Kurumba Maldives.
Kurumba Maldives is set on a tropical island in the North Male'Atoll, conveniently situated a brief 10 minute speedboat ride from the airport. Dotted with coconut trees that are the island's namesake, Kurumba was the first private island resort in the Maldives.
The resort offers nine styles of accommodation, ranging from comfortable Superior rooms to the spacious Royal Residence, and eight restaurants, spread amongst the island's lush tropical gardens .Over the years, Kurumba has played host to a variety of foreign dignitaries and Heads of State, including Indian Prime Minister Dr. Manmohan Singh, former UN Secretary-General Kofi Annan,and former US Presidents Bill Clinton, George H.W. Bush and George W. Bush. It has also been the recipient of numerous accolades and awards, including Maldives Leading Hotel (World Travel Awards) in 2010 and 2011, and Trip Advisor's Travellers' Choice Awards for Best Service and Luxury (2013) as well as the number one All-Inclusive resort in Asia (2014 and 2015), and number one best All-Inclusive resort in the world (2015).