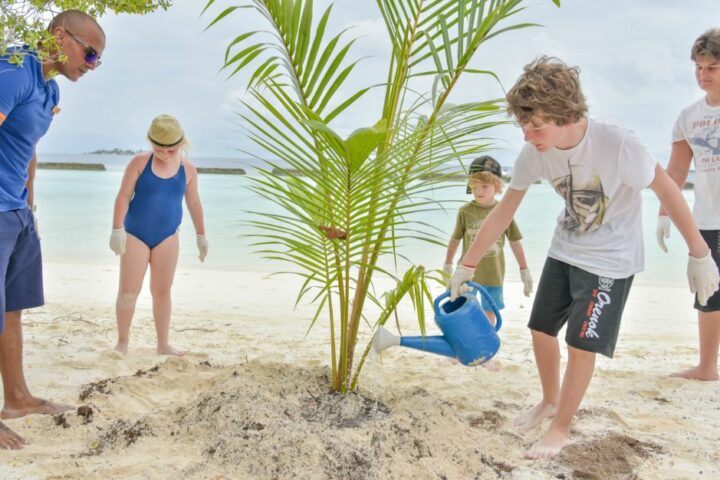 Kurumba Maldives pays homage to Mother Earth with Earth Day celebrations
Kurumba Maldives has joined up with millions of others from across the globe to celebrate Earth Day, holding different activities to honour our home planet. On April 22, celebrated as Earth Day every year, Kurumba Maldives hosted a number of activities for guests and team members to enjoy.
The day started with the house reef and lagoon cleaning organised by Kurumba's team followed by the activity of tree planting around the island. A special Green & Back of House Tour was also conducted by the Recreation team which coincides with the Grand Opening of our second Green House on the island, according to the resort.
To end the day's celebration, a traditional Maldivian Bodu Mas show was held during the resort's weekly Management cocktail which left guests in awe of this unique performance. Also to commemorate this event, two of the resort's restaurants, Café & Thila, offered a special discount on their Vegetarian menu.
Glass bottles were used in place of plastic bottles in all the food and beverage outlets as well as the rooms' minibar, according to the resort. Kurumba was the very first private island resort in the Maldives when it opened its doors in 1972, and celebrated its 45th-anniversary last year.Opened by four young Maldivians on an uninhabited coconut plantation island in October 1972, Kurumba marked the beginning of the tourist industry in the country. Kurumba began with 30 huts built of coral and thatched with coconut leaves; the first guests were barefoot backpackers in search of sand, sea and sun.Today the resort is still Maldivian owned and managed. For more information on Kurumba Maldives' CSR program, which includes environment initiatives, please visit kurumba.com/maldives-csr-activities.