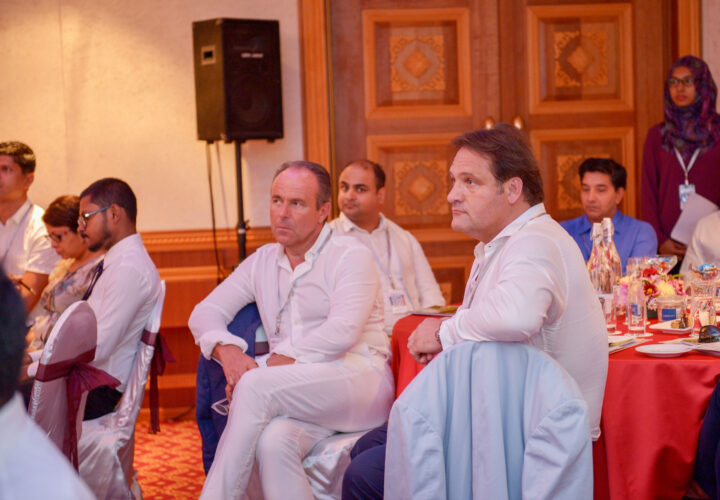 Leading Hoteliers to meet in April at the Hotelier Maldives GM Forum 2017
Leading hotel industry professionals are set to meet next month at the GM Forum 2017 – an annual gathering of general managers and hospitality industry stakeholders. The second edition of the forum, organized by Hotelier Maldives, would be held on April 19 in Hulhulé Island Hotel (HIH).
The forum this year would include Hussain Afeef (Champa) – a tourism industry pioneer and Chairman of Crown Company, and Jesper Palmqvist – Area Director for the Asia Pacific Region at STR Global, as keynote speakers.
Palmqvist would also give a presentation delving deeply into data on the Maldives – both recent and long term – to understand the main Key Performance Indicators, and supply and demand balance, and compare that to other relevant markets. He would also look into Profit and Loss data to foresee a profitability performance comparison, and analyse what lies ahead for the country's hospitality industry with regard to its performance over the past two years.
The summit would also feature special presentations by Mohamed Solah – Manager, Infrastructure Development at Maldives Airports Company Limited (MACL), and Mohamed Shahdy Anwar – Senior Counsel at Suood Anwar and Co. LLP.
This year's forum would also include panel discussions facilitated by general managers focusing on employment law, sustainability in resort management, importance of reinvesting in properties, new openings, and destination marketing. The panels would also be themed around transportation, statistics and forecasting, environment and sustainability.A total of 50 general managers have confirmed their attendance at the summit, which brings together industry leaders, policymakers, resort operators and owners, and other hospitality industry stakeholders including suppliers. Registration in the GM Forum for general managers expire on March 31; the initial deadline extended due to increased demand for registrations.
World of Outdoor – a Sri Lanka-based provider of outdoor and indoor furniture products and solutions, and Allied Insurance – the leading insurer of the Maldives are Platinum Sponsors of the event, while Evo Home and Sonee Hardware have been confirmed as Gold Sponsors. Mauritius Commercial Bank (MCB) and Cyprea Card Centre are Silver Sponsors of the annual gathering this year.
GM Forum 2016 was held May 25, 2016, and saw the attendance of over 100 delegates including over 20 general managers. William Harley-Fleming – Group Development Director and General Manager at JA Manafaru and a member of the GM Forum Advisory Committee, expressed his honor to have attended last year's forum. He said: "I know the other members of the committee and myself were extremely pleased by the attendance at the event, the event running order and the discussions which took place, which were very interactive and relevant to the hospitality industry."
Winter John Alexander – Manager, Maldives & Seychelles Operations at Ranjanas Ceramics was pleased to have been a partner of the forum last year. He said: "To put some people in a room and hold an event is easy, but to have the right people, right topics and the right atmosphere is different – that is what the Hotelier Maldives GM Forum 2016 provided."
For media and general inquiries, please contact Fathimath Nashaya on nashaya@167.172.155.58 or mobile +960 791 0878.