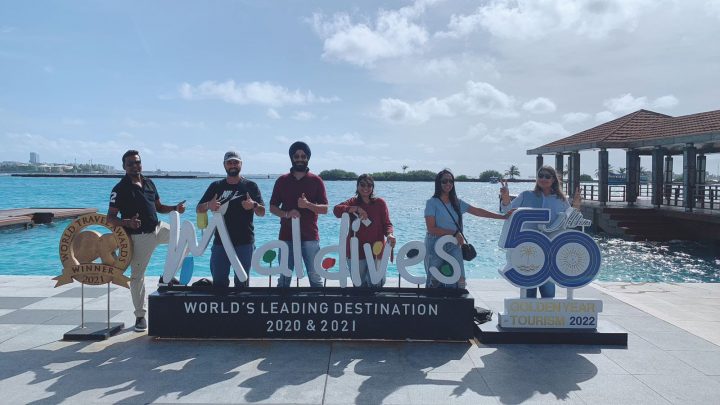 Leading Travel Agents from India in Maldives for FAM Visit
Travel agents from leading travel agencies from India has arrived in the Maldives by invitation from Maldives Marketing and Public Relation Corporations (MMPRC / Visit Maldives) for a familiarization trip. The team will stay in the Maldives from 16th to 22nd July 2022. This trip is conducted with the aim to maintain the Maldives' position as the top-of-the-mind destination in the Indian market.
Professionals from the media outlets which includes I'm Travel Agent, MakeMyTrip, Nivalink, Aspen Vacations, and Holiday Karma. The team is hosted at Grand Park Kodhipparu, Crossroads Maldives and Hideaway Beach Resort & Spa. The purpose of this trip is to create awareness in the Indian market about how the Maldives has recovered as a destination after the pandemic and the unique products and experiences on offer for visitors.
The trip is forecasted to increase arrival figures and bookings from India to the Maldives. In the year 2022, MMPRC has held a destination e-learning campaign with 2HUB, influencer familiarisation trips, and celebrity familiarisation trips. They have also attended fairs such as OTM 2022, Satte 2022, TTF, Maldives roadshow in India and followed participation at MILT Congress 2022. There are two digital campaigns ongoing, with Thomas Cook and PickyourTrail, and a promotion on Vistara Inflight magazine. There are several other marketing and advertising activities in the pipeline for this market for this year.
As of 29th June 2022, India is the leading source market for the Maldives this year with over 119,967 tourists visiting the destination from this market. India contributed 14.8% to the market share from the total 809,603 arrivals recorded to the Maldives during this period. India was also the largest market in 2021 with over 278,740 travellers and a market share of 22.6%. Similarly, India was the largest market in 2020 with an arrival figure of 62,960 and a market share of 11.3%.