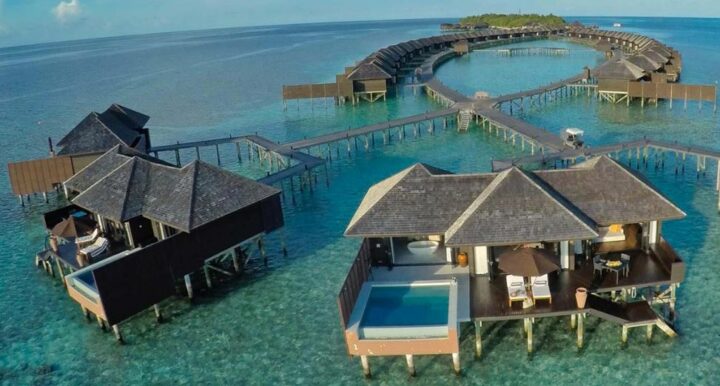 Explore the ocean around Lilly Beach on glass-bottom canoes
Lily Beach Resort & Spa has unveiled glass-bottom canoes and the 'Penguin' – a semi-submersible vessel giving guests stunning views of the islands magnificent lagoon.
Home to whale sharks, dolphins, mantas and a variety of coral, the waters around Lilly Beach Resort is teaming with life and regardless of whether you are confident in the water. Lilly Beach Resort offers guests a universal method to gaze at the Maldivian Wanders lying in wait under the sea.
Paddling on the Indian Ocean is a delight in itself but the opportunity to explore the surrounding lagoon, and immerse in the fascinating beauty of the sea creatures below with glass-bottom canoes is just something else altogether. The translucent canoes allow guests to take a glimpse of the ocean underneath while keeping comfortably seated and dry.
It offers a truly unique perspective of the ocean and tops the must-do activity lists of our guests – especially those who aren't strong swimmers yet still wish to fulfil their dream of being able to marvel at Maldives' sea life they have heard so much about, says the resort in a statement.
Lily's see-through canoes have become a big hit at the resort, with guest expressing their amazement at all the creatures that swam just below them.
Similarly, the resort also offers 'Penguin' Rides for a unique underwater eye gazing experience. The Penguin is a semi-submersible vessel that allows guests to step down into its hull and admire the real-life aquarium through glass windows. The roof of the semi-submarine is above the water surface, allowing you to also enjoy stunning views of Lily Beach from the viewing area on the Penguin's deck.
The Penguin excursion is one of the most popular activities at Lily Beach as it provides a chance for everyone to peek below the ocean – children, honeymooners and elderly people alike repeatedly review it as spectacular, the resort says.
Set on Huvahendhoo Island in South Ari Atoll, Lily Beach Resort & Spa is a 25-minute seaplane ride away from Velana International Airport. The 5-star all inclusive Lily Beach Resort and Spa presents luxurious villas and suites, 2 outdoor pools and a dive centre. The resort's convenient location allows easy access to more than 40 dive sites.