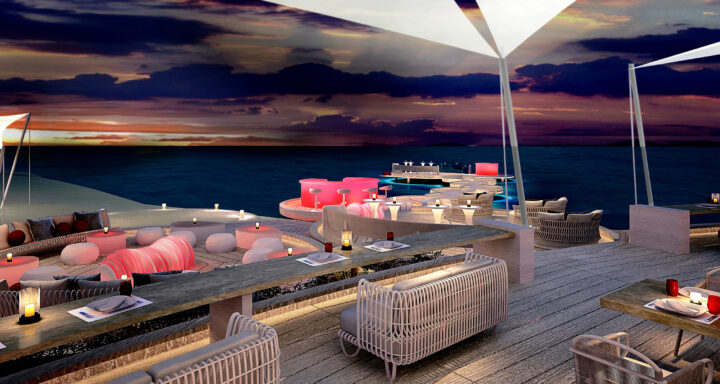 LUX* South Ari Atoll set to re-open in September
LUX* Resorts & Hotels has announced the re-opening of its largest property, LUX South Ari Atoll in the Maldives, in September 2016. Following a complete refurbishment, the resort has been "entirely reimagined in stunning beach house chic".
"After being recognised among the top ten resorts in the Maldives by both industry leaders and consumers, LUX* South Ari Atoll is now ready to take the resort's experience to the next level by introducing not only a fresh and exciting new look but most importantly an incredible team committed to deliver world class service to our guests," said Glenn Daniels, General Manager of LUX* South Ari Atoll.
Accoring to LUX*, the resort's 193 pavilions and villas were completely redesigned by renowned design studio, P49 Deesign to introduce a nautical vibe to the property. Designed by the award-winning landscape architect Stephen Woodhams, the island abounds with fragrant plant life.
On the island's east side, 46 Romantic Pool Villas each with private pools, and 3 Temptation Pool Water Villas, each featuring an infinity pool, will offer an adults-only sanctuary. These villas offer twin showers, private terraces, and small steps to the lagoon, incorporating a unique couples' love nest.
Two kilometres to the west, 38 Water Villas and a two-bedroom LUX* Villa will complement 105 Beach Villas, twelve of which featuring private pools. According to the resort, both villa types were designed to become an excellent home base for families or small groups.
"The resort's unparalleled offering of seven restaurants and five bars are all undergoing a major conceptual upgrade under the expert and caring hands of Corporate Chef, Walter Lanfranchi, and the design collaborators from P49," LUX* said in a press statement.
The East Market will feature a contemporary take on a bustling local night market, offering new Asian flavours. The island's Japanese restaurant, Umami, will meanwhile serve refined Japanese dining in an elegant setting. Highlights include sushi, teppanyaki and robatayaki counters accompanied by the largest selection of sakés and Japanese whiskies in the Maldives.
Several beach dining options are also on offer. The Allegria restaurant (Italian), Senses (Indian and Arabic) and Mixe (International Buffet) promises to stimulate every palate.
According to the resort, the island's beach club, Beach Rouge, will be the latest incarnation of the LUX* brand's dynamic beach-club concept, first seen at flagship LUX* Belle Mare in Mauritius.
"Injecting the laid-back energy of a fashionable Mediterranean beach club to this private Maldivian island, Beach Rouge will become a favourite to the winter jet set. Expect ceviche, carpaccio and grilled fish, washed down with chilled rosé and lazy afternoons danced away to chilled island beats."
The LUX* Me spa and its overwater treatment villas will experience a Zen-inspired reboot of its own. A Zen wellness pavilion will offer a wide range of wellbeing activities including yoga, meditation, Pilates, Tai chi and Qigong, overseen by an expert wellness concierge. An updated treatment menu will offer the full range of LUX* Me signature treatments.
"The facility intends to incorporate a traditional Chinese teahouse, a dedicated zone for brand new skin and body care experiences and an extended lagoon-view relaxation area."
According to the company, the newly renovated LUX* South Ari Atoll will be the setting for a fresh collection of 'Reasons to Go LUX*' guest experience innovations.
"To mark the occasion, six new Reasons To Go LUX* are in the starting blocks, to be premiered at the resort, heralding yet another round of product revolution, which will be rolled out across the entire portfolio of LUX* properties in Mauritius, La Réunion, the Maldives, China, the Middle East and Turkey. Get set to be surprised!" the statement continued.
To enhance the guest experience, LUX* South Ari Atoll will introduce a series of Expert-led Workshops. Each month, the resort will host a residency with leading practitioners from diverse, creative and inspiring walks of life.
Guests will be able to brush up on their watercolouring skills with painter Corinne Dalle Ore, focus on their framing and lighting with world-renowned travel photographer Michael Freeman, breathe more deeply and master the art of meditative therapy with Bhavnath Gansam, to name a few.
"Despite all that is new and exciting at LUX* South Ari Atoll, what remains unchanged is the passion of the people who work here and the heartfelt service they provide because, ultimately, LUX* will always be about its people and their spirit," the company said.
"At the new LUX* South Ari Atoll, 650 Team Members, rested and retrained, are primed and pumped to showcase their revitalised resort. They cannot wait to deliver the shining service of LUX* to their guests and to help all of them to celebrate life! Intuitive, friendly and unpretentious, they create an atmosphere that is as soulful as it's sybaritic."
"The brand vision is to offer our guests different luxury hospitality experience; helping people celebrate life, by making each moment matter. I have no doubt LUX* South Ari Atoll will become a real spot in the Maldives, with its fresh and exciting new look and its incredibly passionate team, getting ready to welcome guests. We have a winning combination," said Paul Jones, CEO of LUX* Resorts & Hotels.
LUX* Resorts & Hotels is a member of Lux Island Resorts Co Ltd, a major economic player in the Indian Ocean, leader of the "Top 100" Mauritian companies.
LUX* Resorts & Hotels helps people to celebrate life by delivering consistently on the promise of a different kind of Luxury; hospitality that is 'Lighter. Brighter.'
The resorts and hotels in the LUX* portfolio include LUX* Belle Mare, Mauritius; LUX* Le Morne, Mauritius; LUX* Grand Gaube, Mauritius; LUX* South Ari Atoll, Maldives; LUX* Saint Gilles, Reunion Island, LUX* Tea Horse Road Lijiang, Yunnan Province, China, and LUX* Tea Horse Road Benzilan, Yunnan Province, China.
Other properties managed by LUX* Resorts & Hotels are Tamassa, Bel Ombre, Mauritius; Merville Beach, Grand Baie, Mauritius and Hôtel Le Récif, Réunion Island, as well Ile des Deux Cocos, Mauritius, a private paradise island.
New properties in the pipeline and opening soon include LUX* Al Zorah, United Arab Emirates; LUX* North Male' Atoll, LUX* Sud Sauvage, Reunion Island, LUX* Bodrum, Turkey and LUX* Dianshan Lake, China.