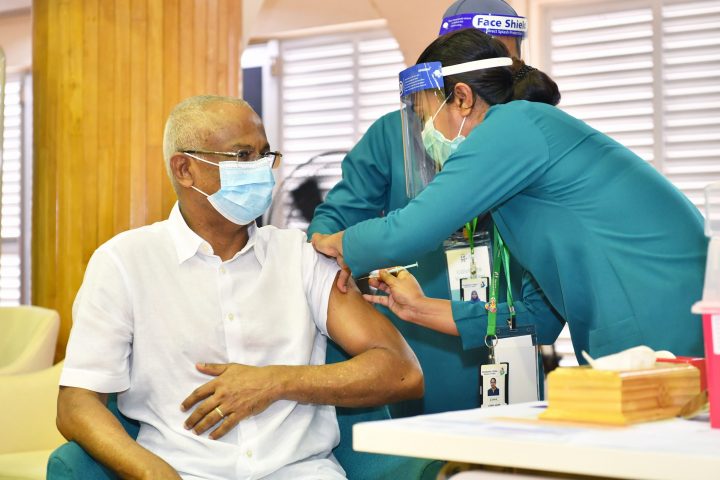 Maldives Begins Drive to Vaccinate Entire Population Within Six Months
The island nation of Maldives welcomed its first shipment of COVID-19 vaccines on 20th January 2021 from the Indian government. The 100,000 doses of the Oxford AstraZeneca's COVISHIELD vaccine produced by Serum Institute of India will be sufficient to inoculate 50,000 people; two-doses for each person which must be administered in between a gap of 4 to 12 weeks.
The COVISHIELD vaccines, which show an efficiency between 90% and 62%, was transported to Male' City, Addu City and Kulhudhuffushi City to begin vaccination across seven hospitals. Before the shipment, Health Protection Agency (HPA) announced that priority in vaccination will be given to health care personnel in the country and those individuals who are at high risk.
According to President Ibrahim Mohamed Solih, the nation plans to vaccinate its entire population against the coronavirus within six months. The president inaugurated the COVID-19 vaccination drive on the 1st of February. On that day, 36 individuals, including the President, Speaker of Parliament, Chief Justice, frontline healthcare staff, state dignitaries and high-risk people received their initial dose of the two-dose vaccine.
Minister of Health Ahmed Naseem announced the vaccine dozes provided under the World Health Organization (WHO)'s COVAX programme will arrive mid-February and the 700,000 doses purchased from AstraZeneca's Singaporean company will come in during March. He revealed that the government aims to vaccinate 10,000 people every day.
As of 2nd February, a total of 880 people were vaccinated with 554 vaccinated on the first day itself. Currently, 6 centres have been established in the Greater Male` Region for vaccination. As per the latest statistics, over 16,000 COVID-19 cases have been reported in the Maldives with about 14,200 recoveries and 52 deaths.
Main Photo : www.presidency.gov.mv