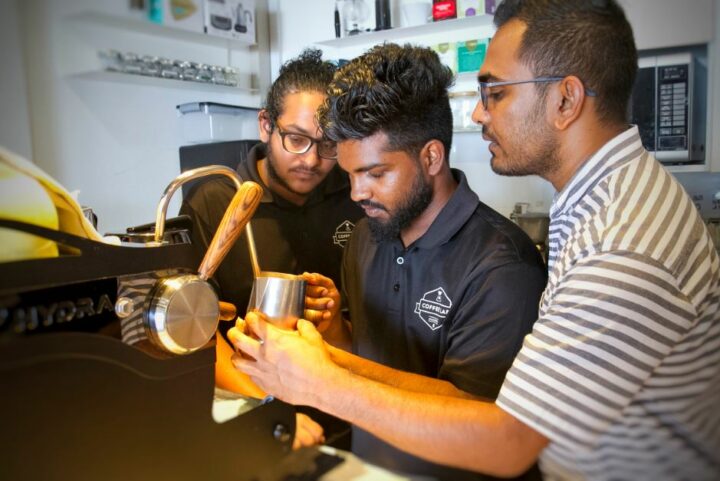 Maldives Coffee Academy, by the first Maldivian Q-Grader and Authorised Specialty Coffee Association Trainer
Coffee Lab Maldives has announced the certification of Ahmed 'Afrah' Mohamed – the Managing Director of Coffee Lab Maldives – as an Authorised Specialty Coffee Association Trainer (AST) by the international renowned Specialty Coffee Association (SCA). Afrah is the first Q-grader in the Maldives. Speciality coffee was first introduced to the Maldives in mid-2014 and has over the years developed into a growing industry with the establishment of a number of local speciality roasters and cafes in Malé.
"In the last two years, we have also seen a couple of early adopters in luxury resorts and liveaboard safari boats such as Huvafen Fushi, Soneva Fushi and Scubaspa Liveaboard serving speciality coffees," says Coffee Lab Maldives, in a statement.
"Gone are the days where knowledgeable world-class travellers would settle for commercial coffee brands as premium coffees, as the global coffee trend moves towards boutique, artisanal, speciality roasters and cafes."
It is in this third wave global coffee trend that Afrah started pursuing professional advancement in speciality coffee. As a Maldivian, achieving the Q-grader and AST puts the Maldives on the radar of the global speciality coffee industry, a sign that our own speciality coffee industry is slowly coming of age.
With this accreditation, Afrah plans to launch the Maldives Coffee Academy in the next few months to continue his passion to nurture young Maldivians into world-class coffee professionals. Now, Maldivians will not have to travel overseas to achieve this internationally recognised certification.
Maldives Coffee Academy (MCA) will launch the following SCA Coffee skills programme modules and offer certifications in; Introduction to Coffee, Barista Skills Foundation, Intermediate and Professional Level. MCA will also steer away from traditional classroom teaching style to adopt a more inclusive, small group learning methodology, which would enhance effective learning. For more information about Maldives Coffee Academy, please email connect@maldivescoffeeacademy.com.