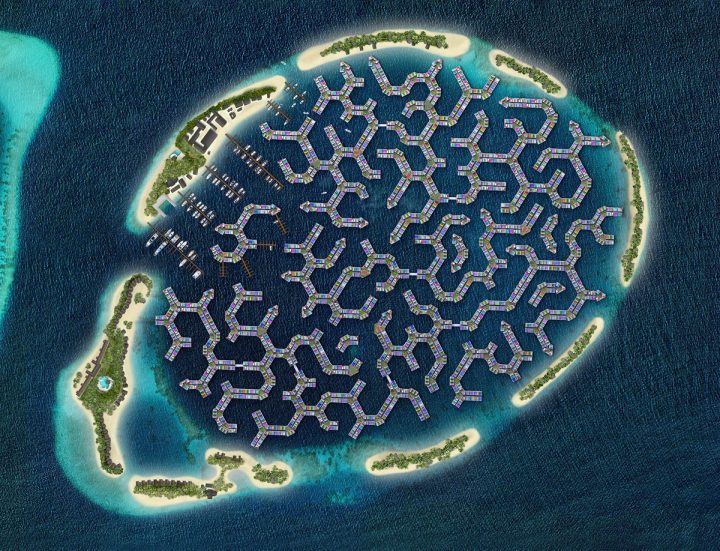 Maldives Floating City Project Receives International Recognition
The Maldives' Floating City reached the finals of the MIPIM Award, an important milestone for the project. Created in 1991, the MIPIM Awards is an internationally renowned real estate competition at MIPIM, the world's property market. It honors the most outstanding and accomplished projects, completed or yet to be built, around the world, the very best of the real estate industry. This is dubbed the 'Oscars for Global Developments', it has beat 161 development projects worldwide, under the category of 'Best Futura Mega Project.' It is an amazing recognition of the efforts of this small island nation to provide innovative housing solutions for the future that would ensure its survival.
As rising sea levels and coastal erosion pose a threat to the very existence of the Maldives, this project, designed by Dutch Docklands, is set to begin this year. It will see the construction of a series of waterfront residences that will float on a flexible grid across a 200-hectare lagoon and such innovative developments could prove vital in helping atoll nations, such as the Maldives, fight the impact of climate change.
Maldives Floating City is in development in a lagoon, just 15 minutes boat ride from Male'. Using the latest in floating technology from the Netherlands, the floating city will comprise of 5,000 housing units, tethered to the lagoon floor and linked together to create a safe and comfortable environment.
The other three finalists in MIPIM Award 'Best Futura Mega Project' category were: LaMercedes Barcelona, a project to convert a former Mercedes car factory in Barcelona, Spain, into a mixed-use eco-district; a new Siemens Healthineers campus in Bangalore, India; and an academy for Alibaba in Hangzhou, China.
Commenting on reaching the MIPIM Award finals, Maldives Floating City director Ibrahim Riyaz said: "The MIPIM Awards are the world's most prestigious prize for global developments. That the Maldives Floating City has reached the finals is a huge vote of confidence in our project, and underlines how cutting-edge our technology is. We are delighted and honour to be selected for the finals of this award."
Featured Image by maldivesfloatingcity.com