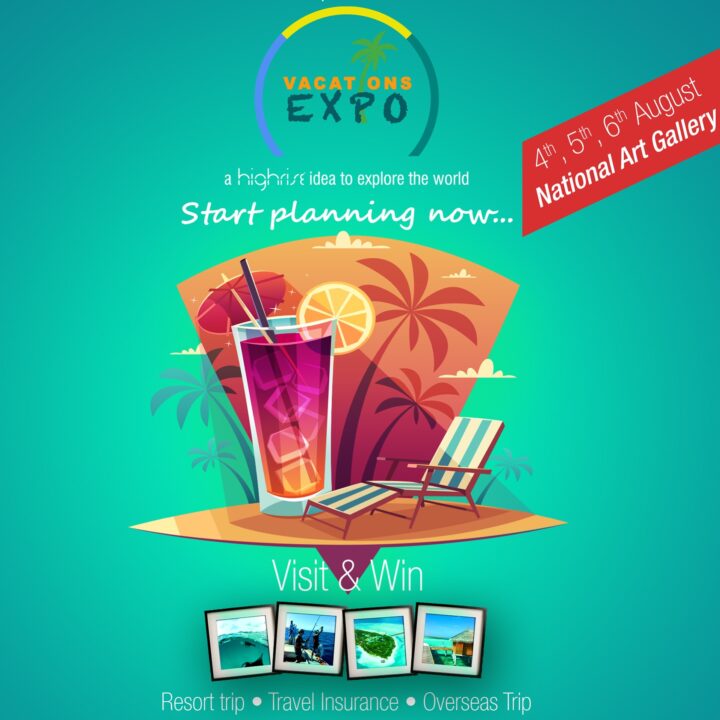 Maldives' first ever travel exhibition 'Vacations Expo 2016' to launch soon
Maldives is hosting its first ever travel exhibition 'Vacations Expo' this August, organized by event organizer Highrise Pvt. Ltd. Set to launch on the 4th of August 2016 lasting through the 6th, the event will exhibit a variety of services that mainly target business travellers as well as locals, diplomats and expatriates living in the country.
Anticipation runs high, as the Expo has already sold out. The event will showcase an array of desirable destinations via the Singaporean and Malaysian exhibitors, as well as major airlines that are introducing exclusive offers. Visitors can look forward to various attractive travel packages and services from Singapore Airlines, renowned Hotels, Guesthouses, Excursion Agents, Surf and Dive Schools from Maldives, Sri Lanka, India, Singapore Malaysia and Thailand as they compete to offer the very best in today's market deals.
One of the highlights of Vacations Expo 2016 are the high value prizes of the daily raffle competitions. Airline tickets to destinations such as atolls in the Maldives, Kuala Lumpur, Singapore and China from Maldivian, Air Asia, Mega Maldives and Singapore Airlines are up for grabs for the luckiest visitors. Other prizes include gift hampers from Kaashitheyo, Watersports Excursions from Dive Club Maldives, all inclusive group and couple travel packages from operators such as Kraken Adventours, MV Hotels and Aveyla Manta Village and Musafireen Umra Service, and a year's worth of Travel Insurance from Allied Insurance Company.
As the Expo shapes up to become the hotspot for avid travellers to find great deals, organizers also aim to engage industry professionals and present a networking platform for the exchange of ideas and to expand the horizons for what the Maldives has to offer.
Highrise's Director of Marketing and PR, Ismail Hameed describes the event as a market place where potential tour operators can also come and meet property owners and services providers directly.
"This will be a unique experience – we assure it", said Ismail.
The principal sponsor of Vacations Expo 2016 is Inner Maldives Holidays, with Moodhu Holidays as its gold partner and Tourism Malaysia , Catch Maldives , MV Hotels and Allied Insurance are this year's silver partners, (respectively).
Endorsed by Maldives Marketing and PR Corporation (MMPRC), Maldives Association for Travel Agent and Tour Operators (MATATO), Liveaboard Association of Maldives (LAM) and the Maldives National Chamber of Commerce and Industry (MNCCI), Vacations Expo aims to promote, lead and advance the travel and tourism industry at large.
Vacations Expo's organizer, Highrise Pvt Ltd, is regarded as one of the leading event managers based in the Maldives, and has to date successfully delivered high profile events such as the Maldives Travel Awards, Maldives Film Awards, Maldives Living Expo, Sounds of Maldives and Maldives F&B Show, in addition to events that have been held in locations as diverse as Colombo, Kerala, Bangalore, Malaysia and Dubai.
For more information visit www.vacations.mv