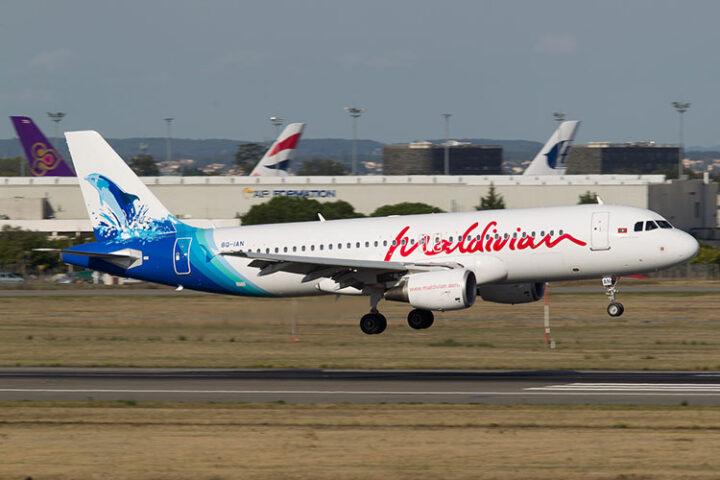 Maldivian commences flights to Fuzhou
The Maldives' national airline has commenced weekly flights to Fuzhou, the capital city of Fujian Province in China. Maldivian's inaugural flight, carrying 146 passengers landed at Ibrahim Nasir International Airport at 6am today.
The passengers on the maiden flight from Fuzhou received a warm welcome at the airport by a delegation including the Chinese Ambassador to the Maldives, Wang Fukung, Haris Mohamed, acting managing director of Maldives Marketing and Public Relations Corporation (MMPRC), and Abdul Haris, managing director of Island Aviation Services (IAS), as well as senior officials from IAS, MMPRC and the Chinese Embassy.
With this new development, Maldivian anticipates a major boost to the tourism industry with an increase in arrivals from China, currently the largest source market for tourists to the Maldives.
"This opens another door to bring in foreign currency to the Maldives' economy," said Abdul Haris.
In addition to Fuzhou, Maldivian operates flights to five major cities in China, including Nanjing, Xian, Changsha, Chongqing, and Wuhan. Maldivian will operate flights to and from Fuzhou every Wednesday, and plans to increase the frequency of the flights depending on the demand.
Chinese Ambassador Wang Fukang remarked on the popularity of the Maldives amongst the Chinese as a holiday getaway and assured that the number of tourists from China to Maldives will continue to grow with the rise of China's economy.
Speaking at the special ceremony held to mark the Chinese New Year on Tuesday, the ambassador had estimated that around half a million Chinese tourists will arrive in the Maldives this year.
"The Chinese market being the number one market in terms of arrivals to Maldives is expected to grow in the year ahead based on recent forecasts. This new route from Maldivian will help maintain the growth pattern and is also an opportunity to focus and promote more in a new segment of the market. Since being positioned as the top market to Maldives, the market has shown continued growth over the recent years, and by using the right marketing techniques, the Chinese market is expected to continue being the number one market," the MMPRC said in a press statement.
The number of Chinese tourists visiting the Maldives has tripled since 2010. A total of 359,514 Chinese tourists visited the Maldives last year, representing a market share of 29.1 percent.