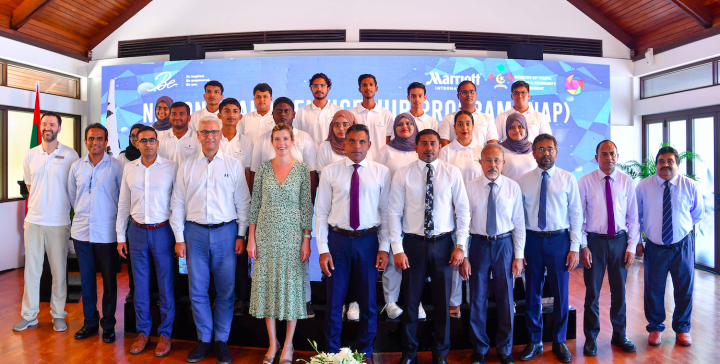 Marriott International Maldives Celebrates Inauguration of Apprenticeship Program
Marriott International Maldives held an inauguration ceremony on May 8, 2023, to mark the start of its Apprenticeship Program, which will provide 100 new apprenticeship opportunities under the National Apprenticeship Program. The event was held at Sheraton Maldives Full Moon Resort & Spa and graced by the presence of His Excellency Faisal Naseem, Vice President of the Republic of Maldives, Honorable Ahmed Mahloof, Minister of Youth, Sports, and Community Empowerment, and Emma Jones, Area Director of Human Resources Singapore, Malaysia & Maldives, Marriott International.
The inauguration ceremony is a significant milestone for both Marriott International and the government of Maldives, with Marriott International being the first international hospitality brand to collaborate with the government apprenticeship program. This initiative is a step towards developing local talent to have a positive impact on the country's tourism industry.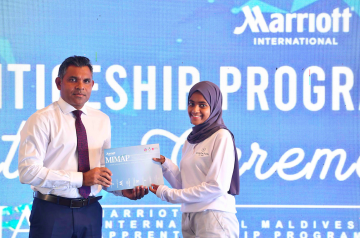 Featured Image: Vice President Faisal Naseem giving admission certificates to apprenticeship program participants
During the event, the apprenticeship program participants were given admission certificates. The participants will receive work experience at Marriott International's portfolio of seven resorts in the Maldives and attend theory sessions by Maldives Institute of Technology that will be taught to fulfill the requirements of a Maldives Qualification Authority (MQA) approved level-3 certificate. Upon completion of the program, apprentices will be equipped with skills that will make them highly employable in the hospitality industry and they will receive the level-3 certificate, which adheres to the Maldives National Skills Development Authority (MNSDA) national competency standards.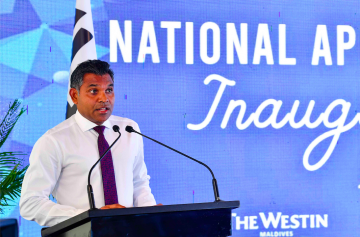 Featured Image: Vice President Faisal Naseem speaking at the ceremony
Speaking at the function, the Vice President reiterated the administration's commitment to the development of youth and to providing higher education and training opportunities to build a resilient and robust workforce prepared for the ever-changing world. He emphasized that the administration had diligently invested in youth development, leading to a more prosperous and sustainable future. The Vice President stated that the government had identified the nation's requirements for youth to focus their talents and that the administration had launched several programs targeting these requirements. He stressed that the Marriott International Maldives Apprenticeship Program is one such program aligned with the administration's goal. Recalling his time working in the hotel industry as a youth, the Vice President called on the program participants to make the best use of this opportunity to fulfill their dreams.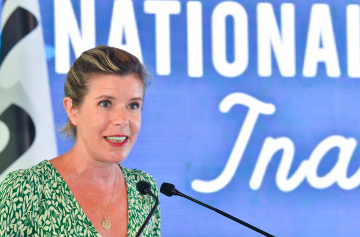 Featured Image: Emma Jones, Area Director of Human Resources Singapore, Malaysia & Maldives, Marriott International
"We are embarking on a mission to join hands with the government and youth of this nation to build a future generation of highly qualified hospitality professionals from this global brand," said Emma Jones, Area Director of Human Resources Singapore, Malaysia & Maldives, Marriott International. Expressing her enthusiasm on the program, she added, "We are thrilled to have our new apprentices join us today, and we are excited about the contribution they will make to our company. We are confident that their experience with Marriott International will be both challenging and rewarding, and we hope that it will help them achieve their career aspirations."