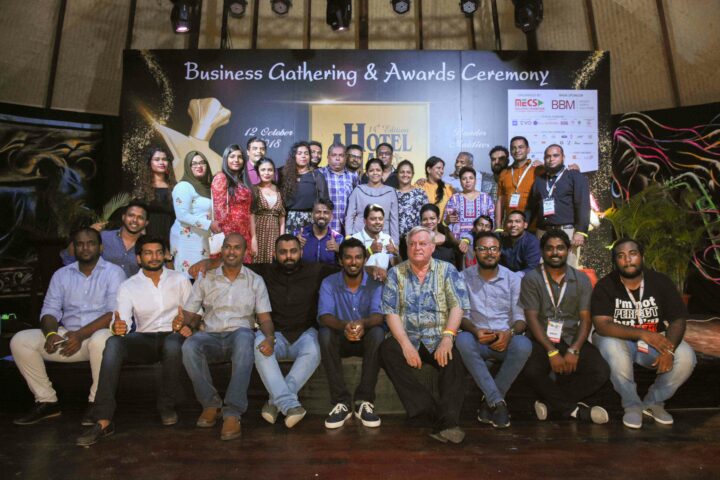 MECS, BBM close yet another successful edition of Hotel Asia
Yet another successful edition of the Hotel Asia Exhibition and International Culinary Challenge has come to a close. The annual event, organised by Maldives Exhibition and Conference Services Pvt Ltd (MECS) and main sponsor Bestbuy Maldives (BBM), was held from October 9 to 12 at the Dharubaaruge Exhibition Hall.
The event stands as one of the largest and leading exhibitions that showcases many top brands which have excelled in the hospitality industry. "Since its inception in the year 2000 the high-profile tradeshow is a 'top-notch' event and is on par with other world-class trade-shows," said Arjun Dharmadasa, Managing Director, South Asia Exhibition Services.
The hospitality industry in the Maldives is cosmopolitan and renowned for its starlit clientele, exuberant hotels, luxurious services and the eminent fact of being a perpetual holiday destination. This year, the exhibition attracted over 3000 visitors to its 170 stalls from 150 companies featuring over 10,000 products.
The International Culinary Challenge held as part of the Hotel Asia Exhibition attracted over 680 participants representing 61 resorts this year. "We hope to increase this to 1000 next year," said Alan Palmer, Chief Judge and Project Director of the International Culinary Challenge. Endorsed by the World Association of Chefs Societies (WACS), the event, with its world-class judging panel, is considered equivalent to the most recognised hotel shows in the world.
"It has always been our goal being committed to imparting knowledge to the younger generation of those in the culinary industry and carrying a world-class portfolio which fits with the market trend. We strongly believe that the Culinary Challenge which is held every year brings the talented local chefs, one step closer into becoming a more well-versed chef and helps reach their true potential," said Mohamed Mazloom, CEO and Director at BBM.
"This was seen this year, as the top winners of the Culinary Challenge 2018 were majorly Maldivians. In addition to the knowledge they receive from the Culinary Challenge itself, BBM also aids in opening new doors for their future. This year, the top two winners of the Culinary Challenge will be sent to the SIAL Abu Dhabi in order to elevate their skills and go head to head with Chefs from all over the world."
Alongside Chief Judge Alan Palmer, this year, the judging panel was made up Chef Otto Weibel, Chef Erich Roos, Chef Rohan Fernandopulle, Chef Leslie Teong, Chef Kristine Øvrebø, Chef Michel Saelen, Chef Devika De Alwis Saelen, and Maldivian Chefs, Chef Ahmed Fatheen, Chef Abdulla Sobah and Chef Aminath Shaanee.
Similar to previous years, BBM was the official sponsor of the event, alongside other partners; Culinary Equipment partner EVO, Uniform Partner Rateria, Logistics Partner TTS Maldives, Official Magazine Hotelier Maldives, Online Media Partner Avas, Telecommunications Partner Dhiraagu, Hotel Partners The Somerset and The Somerset Inn, and the Culinary Challenge Media Partner Taste.Winners of the International Culinary Challenge (in no specific order):
Most Outstanding Chef
Ibrahim Nathif, Baros Maldives
Most Outstanding Pastry Chef
Manoj Suranga, W Maldives
Top Maldivian Chef
Mohamed Adil, Vakkaru Maldives
Best Artist
Sisira Kumar, Hulhulé Island Hotel
Best Culinary Establishment
Baros Maldives
Dress the Cake           
Rajaselvam R., Amari Havodda Maldives
Fruit & Vegetable Carving
Sisira Kumar, Hulhulé Island Hotel
Artistic Showpiece
Indra Kumar Limbu, Hulhulé Island Hotel
Novelty Cake
H. G. S. Vijitha Kumara, G. H. G. S. Vijitha Kumara
Bread & Pastry
Sisira Kumar, Hulhulé Island Hotel
Desserts (Display)
Vinod Sandaruwan Jayawardana, Four Seasons Resort Maldives at Kuda Huraa
Tapas/Finger Food
Sandeep Rangana, Vakarufalhi Island Resort
Hot Cooking Fillet
Don Lenard Villa Real, Amilla Fushi
Hot Cooking Beef
Musthafa Adnan, Hulhulé Island Hotel
Hot Cooking Lamb
Manali Sunil Naik, Taj Exotica Resort & Spa
Desserts
Sydney Silva, Kurumba Maldives
Hot Pasta Appetiser
Sandeep Rangana, Vakarufalhi Island Resort
Creative Asian Dish
Nguyen Truong Luat, Four Seasons Resort Maldives at Kuda Huraa
Creative Sandwich
Isuru Jayarathna, Cinnamon Dhonveli Maldives
Team Challenge
Ahmed Naseem, Baros Maldives
Ibrahim Nathif, Baros Maldives
Maldivian Dish
Ahmed Faisal, Baros Maldives
The Perfect Omelette
Nanda Kumar, Kurumba Maldives
Young Chef
Kukuh Putra Rubiyanto, Baros Maldives
Tea Challenge
Patrice M Dela Cruz, Cinnamon Dhonveli Maldives
Iced Mocktail
H. Charitha Lakmal, Milaidhoo Island Maldives