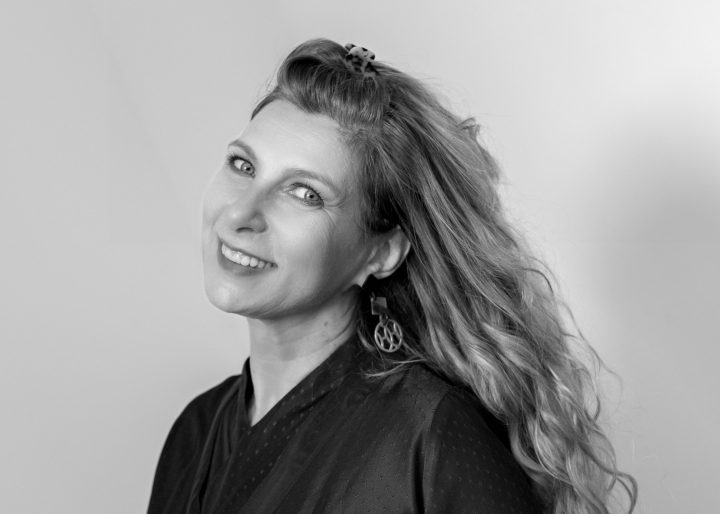 Meet Isabelle Miaja the Maldives Hotel Design Guru
French interior designer Isabelle Miaja is the creative force behind many five-star resort projects in the Maldives. Beginning her career in the US working on homes in Beverley Hills, Los Angeles and Park Avenue New York, she later moved to Singapore and extended her savoir faire to hotel design. Blending east and west into her creativity with her unique personal signature, today, Isabelle Miaja is the managing and creative director of Miaja Design Group. She is considered one of the world's most influential designers, her portfolio includes award-winning city hotels and resorts. When creating hotels, she draws on culture and art and creates stories which take root in the fabric of each building. Each design reflects her passion for everything beautiful and meaningful.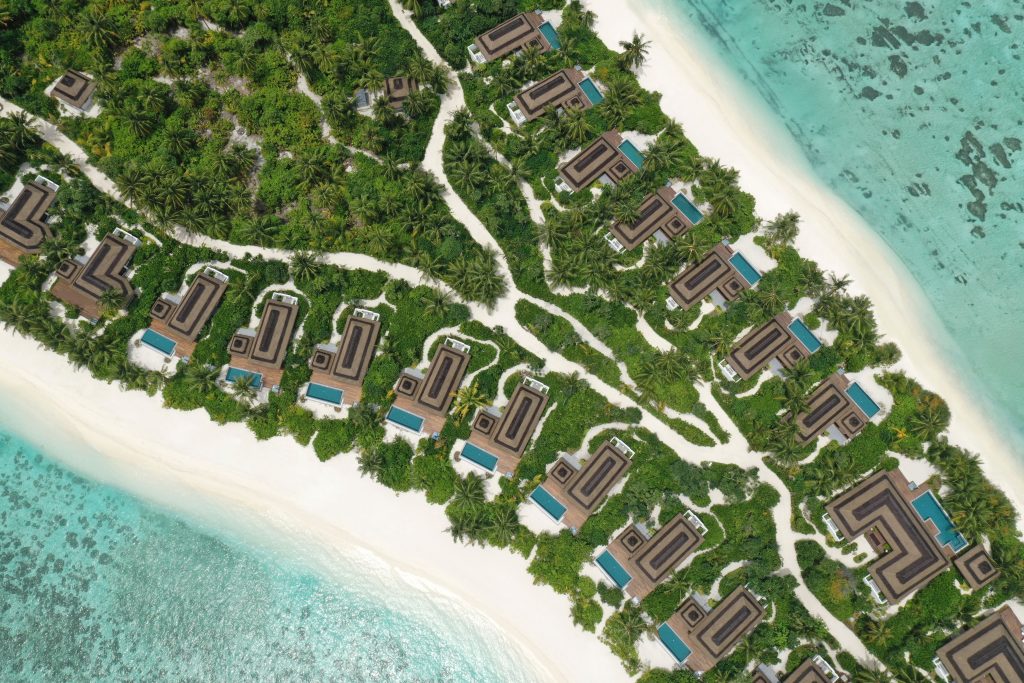 Miaja Design Group has worked on various resort projects in the Maldives over the years. The archipelago's immaculate environment provides much inspiration for the architectural design company with its natural beauty, privacy, and luxury. Miaja has conceptualised some of the most iconic properties in the Maldives – personally designing up to ten hotels across the country- each one representing a different canvass on which to express her creativity.
"What inspires me? A passion for the unique and distinctive, that's what I live by," she says.
"At Miaja Design Group, we are passionate, multicultural, thirsty for inspiration, stretching our imaginations every day."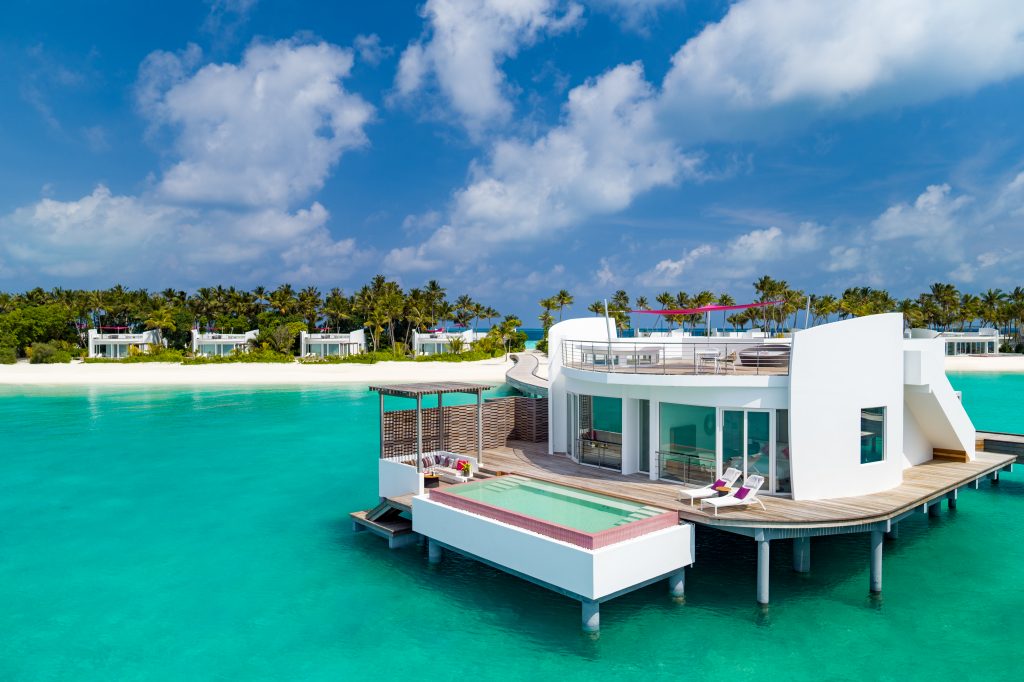 When it comes to the Maldives resorts, each island is different. She says "Not only are you competing with yourself, but you are also vying with other developers and designers and all the brand requirements. It really is a competition between the others and yourself. You never design the same hotel twice -each one has to be unique. At one time I was designing three different resorts all at the same time and I had to think distinctively for each one – so when they came out at the same time no one could tell I was behind them."
For Isabelle, the essence of style is to live the art of being unique. Art has always been part of her life as a child growing up – Her French grandfather being a bronze sculptor, her grand-uncle being the national poet of Spain, and father a jewellery designer has played a big part in her upbringing. She is an avid art collector and paintings and art objects surrounded her since birth and Isabelle naturally developed inspiration for art. Integrating her past into her designs came naturally and gives her work that unique style. To this end she has two art galleries- Miaja Gallery and Miaja Art Collections to support known and upcoming artists she encounters as she travels the world.
"I have always been raised around art and appreciated it but I didn't make art the centre of my projects, until about fifteen years ago and we designed the Sofitel in Mumbai where art was part of the design," she explains.
When it comes to injecting art into her Maldives hotel designs none epitomise this more than the Pullman resort and spa. Here fine art was central to the resort's design. Here Miaja took a bold and unique approach employing Street Artist Mad C, a renowned artist who painted the resort's facades with her amazing colourful strokes. From selecting paintings to painting buildings, art helps enrich each project with individuality. According to Miaja, the arts and culture represent one of the few areas in society where people can come together to share an experience.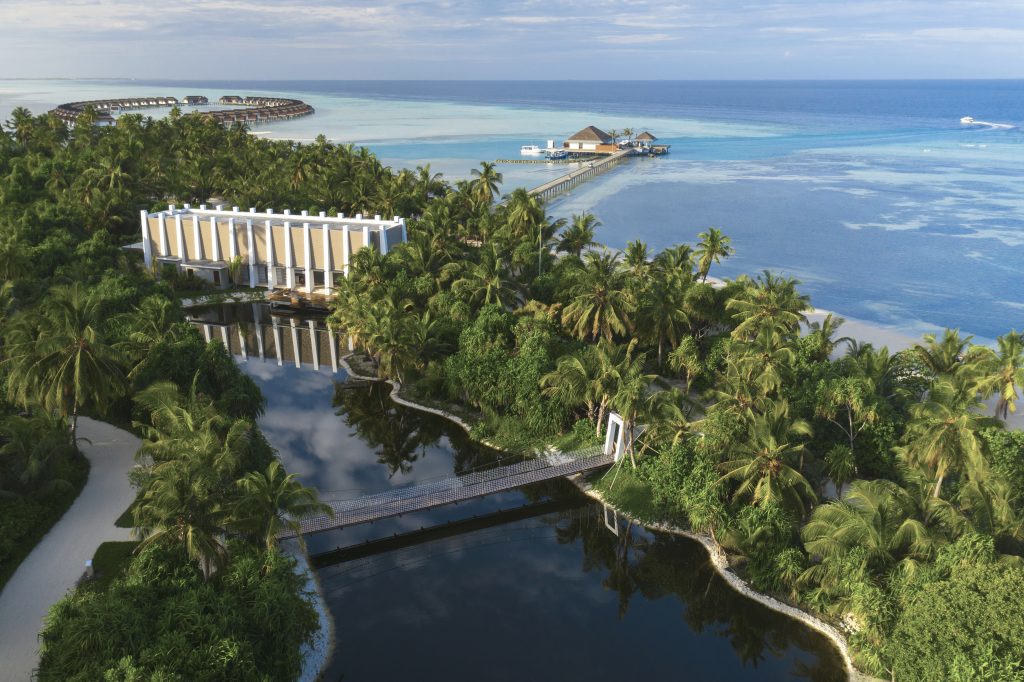 Here architecture and interior design is based on nature and fauna with organic elements and modern lines, with a splash of art, she explains.
"I was given an artistic license to do what I wanted and because I have art galleries. I loved that, for Pullman the owner brought over a street artist and had the side of the buildings painted. We work with international artists as well as local ones from Sri Lanka. Each villa has its own flavour. Many have the feeling of being in the Maldives but having an international theme."
She explains: "At JW Marriott I dreamt of the Maakanaa herons on the island and imagined the rooftops looking like beaks of these birds. We worked a new design palette and revamped the kid's club and family area as well as the exclusive swimming area for couples and the bar in the trees."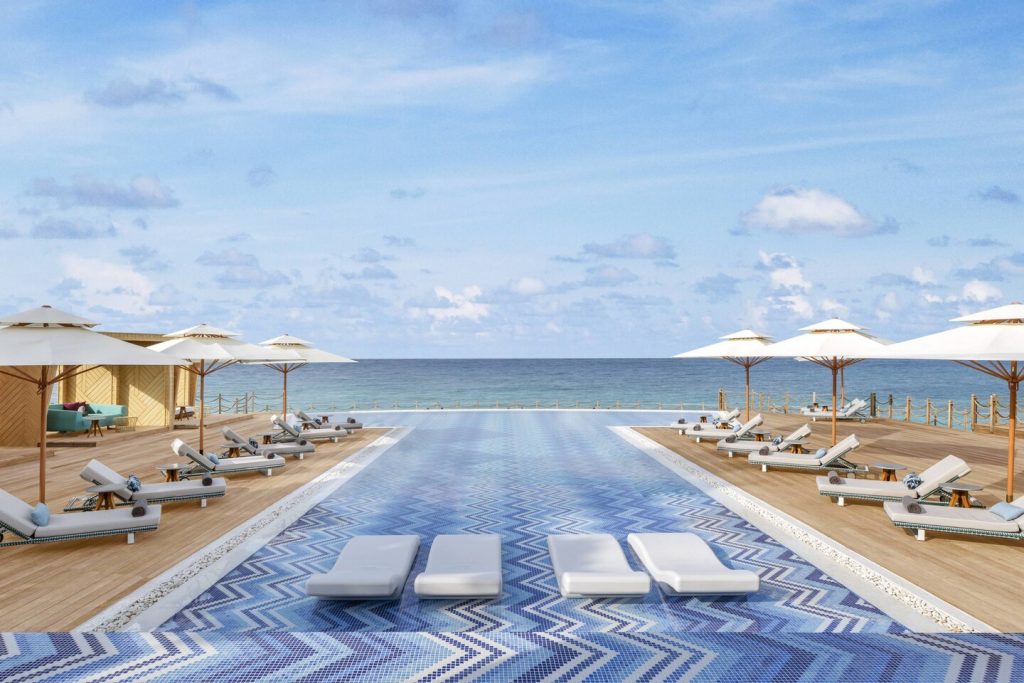 A striking example is LUX* North Male resort, where Miaja introduced sleek lines inspired by the glamour of boat life. Here one can find white modern buildings juxtaposed against the pristine waters of the Indian Ocean. As a result, the resort is a visual feast of nautical forms and tones. It sweeps away the thatched-roofed Maldivian footprint of old, replacing it with a dazzling paradise of penthouse villas with all the curves, lines and immaculate finish of a luxury boat and its sails. This is located on Olhahali, a six-hectare island fringed by white-sandy beaches.
"LUX* because it was a total departure for me from the world of the Maldives," she says. The resort evokes the image of James Bond arriving in the Maldives with his own yacht. Architecturally each building is a yacht, so the entire atoll represents a full marina. The resort has an edgy feel. All the interiors are clean and white, and each yacht building has a fuchsia sail.
Miaja was also the brainchild behind the Pullman Maldives Maamutaa resort set amidst eighteen hectares of lush tropical flora and fauna on the Gafu Alifu atoll. The all-inclusive resort boasts 122 decadent villas, including two exclusive Aqua Villas featuring bedrooms submerged beneath the turquoise waters for a truly memorable experience of the region's marine life up close. They have been awarded the 2020 World Luxury Award for best luxury new hotel.
Miaja describes the Pullman as 'a beautiful adventure'. Owned by a Singaporean owner under Accor, this was the first of its kind in the Maldives, working with the DNA of the Pullman but being In the Maldives.
"From all the drama of LUX* and the charm of JW Marriott, the whole atmosphere for Pullman was about restrained elegance. Suddenly, I was pulled into a new universe. As you take a seaplane over the rooftops you can identify each resort, so that inspired my design to have sarongs strung across the rooftops of the villas. Of all the resorts I have done, this one has the most unique signature."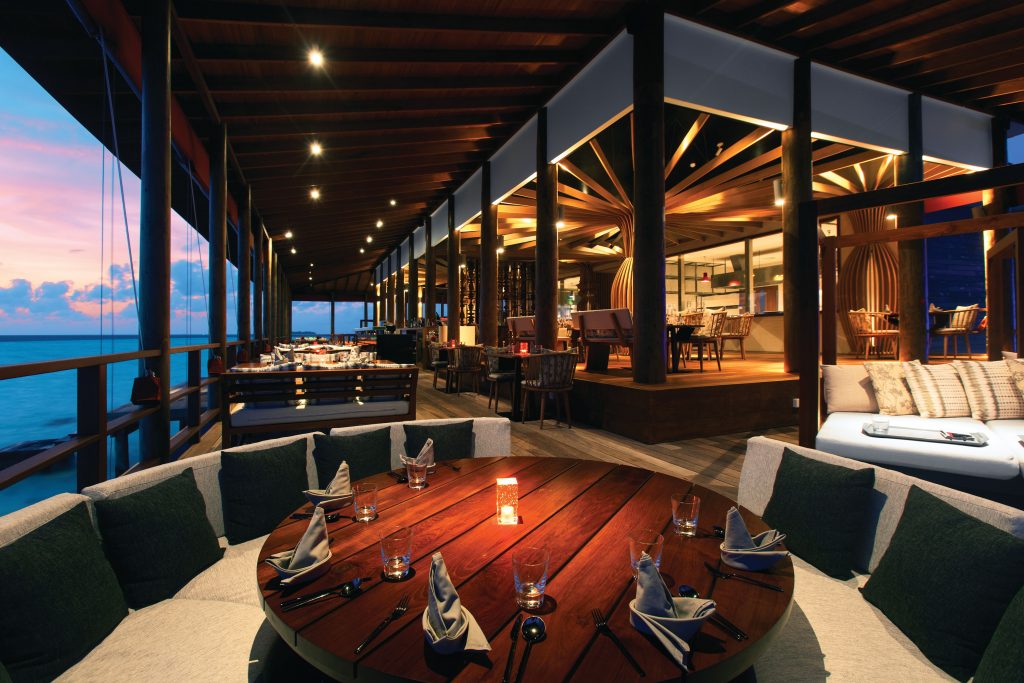 Miaja is also responsible for the architectural design concept, interior design, OS&E and art consultancy of the OZEN by Atmosphere Resort. "Ozen has its own signature, and the one where I went totally out on art." This five-star island resort was completed in 2016 and includes the incredible earth villas.
In the early days she designed the Centara Grand five-star island resort's interior design completed in 2008 and Amari Havodda's architectural design concept, interior design, graphic design and signage, lighting and art consultancy. And then Amari Havodda Maldives was with a Sri Lankan client who wanted it to be Maldivian in style – but much simpler. This family-friendly resort had its own distinct signature.
"When planning a resort, we need to look at the natural island and identify the trees that are important to keep, look at all the angles, views and privacy ," she explains.
"Coming up with a harmonious way of entering the villa is important. Everything is about the wow factor. Here you must design where everything from the outside comes in. After that it is a matter of choosing the colour palate and finish. Matching your design with the natural flora and fauna is the right thing in the Maldives. My job as a designer is to help them relax through the senses, sight, scent and hears and lighting is important.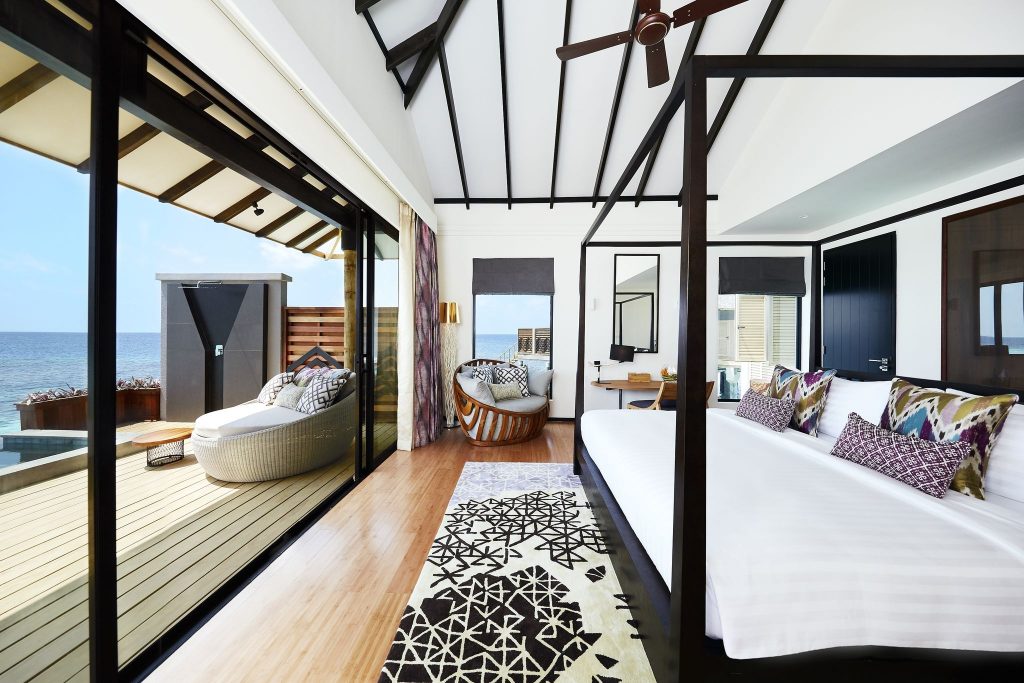 "So, we start with what is there and build on that. You need to keep in mind privacy and how to connect the back of the house with the resort. Both should integrate to ensure the people who live and work there can relax. The back of the house is an important factor in planning. We also must plan for the weather and the depth of the lagoon before building. I've visited in all types of weather and if you go to one of the villas in the sea it is not safe to be walking on the wooden pathway during monsoons. You must make the island self-sufficient. There is a lot that can be done to help sustainability. The exteriors are so striking that if you can use it designing interiors is the easy part."
Sometimes Miaja has to juggle multiple projects at once: "At one time I was working on three different resorts in parallel. People say you have done so many resorts we don't want them to look the same."
Thus, putting her flair onto the resort it is 'like having children', she explains, "you raise them and at one point they must go out there and fly'. That is why she doesn't have a favourite design: "It is difficult to choose among your own children. Sooner or later the kids must fly. At times you must step out and let others lead. The most important thing is to design with the client in mind and to take into account the owner's pride. It is important that the owner thinks it is their island. I spend a lot of time checking back to ensure they are happy.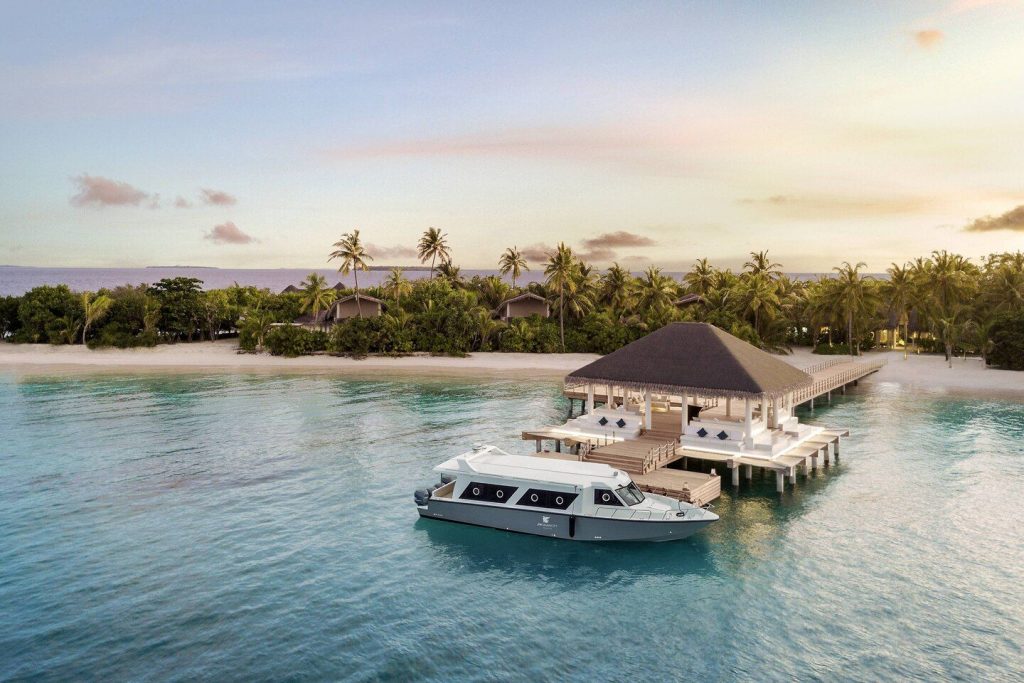 "When you design each project, everyone puts ideas on the table, and you need to decode them and crystalise it into a design. It is like a child with a Christmas wish list, and you must decide which is the most important. I do not look at any of the resorts and specifically say that's mine, I think of the people who helped make it.
"Because everyone comes with a lot of adventures and a lot of personal interaction there is a lot of  storytelling that goes with each resort. All are different  and each have their own special feature. One might be designed for family, another for couples, the other diving or spa. Some are boutique, others groovy and fun. Each island has its own atmosphere, and you choose it because that is how you want guests to feel in that special place.
"Each resort essentially is me, because I have designed it from scratch; but more importantly each island is a team effort. They bring that extra energy which is so special. We don't only think in lines and colours but also feelings.
"You cannot separate the architecture from the design because the Maldives is about nature and the trees and the water and the beach. Each element makes a whole, it feels that something is missing to approach it that way. It is about giving birth to a concept and a design.
"Every time, the Maldives makes me feel like a little girl with a new lollypop. I am ready to take out my hat and start all over with a beautiful new story each time I arrive at the airport in Male'. I am greeted by the resort staff waiting for guests like an old friend. It makes me feel so happy to be in the Maldives and it has a special place in my heart."