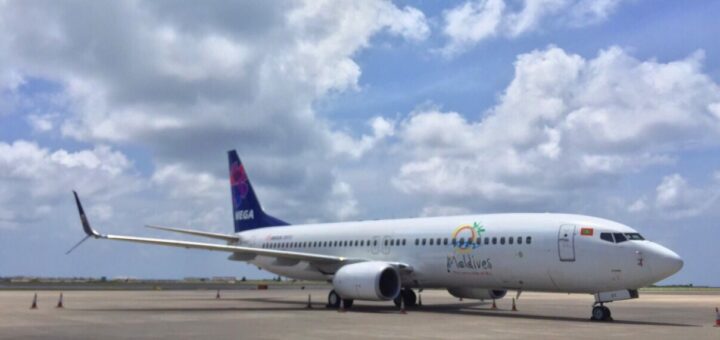 MEGA Maldives Airlines introduces Boeing 737-800 to its fleet
MEGA Maldives Airlines has introduced a Boeing 737-800 aircraft to its fleet as part of its fleet modernisation drive.
According to the airline,the aircraft is just over 4 years old with 12 business class seats and 156 economy class seats with the latest Boeing Sky™ interior and new extra fuel saving "split scimitar" winglets. It is part of an overall strategy for the airline to update and re-structure its fleet over the next year.
The aircraft will support MEGA's plans for increased connectivity between the Maldives and short to medium range markets. This includes India and Sri Lanka, with new routes starting within the 4th quarter. MEGA also plans to restart its Kuala Lumpur and Jeddah routes, although these routes will operate primarily on larger 767 aircraft in MEGA's existing fleet.
The new B737 aircraft is wet-leased from Czech operator Travel Services, but will fly in the MEGA Maldives Airlines colours and livery and MEGA Maldives cabin crew will service the flight onboard. This is the third time MEGA has wet-leased an aircraft from Travel Services. Furthermore, in support of the national drive to increase tourism, the aircraft also sports the "Maldives – sunny side of life" logo prominently.
MEGA's CEO, George Weinmann, said, "we've had a great experience with Travel Services in the past and we are sure this operation will be no different. Our agreement includes provisions for a backup aircraft if needed as well. The new winglets will allow us to increase payloads on our longest route for the aircraft between Hong Kong and Male', which is fantastic for both us and our customers."
Founded in 2009, Mega is a US-Maldives joint venture that combines the deep experience of airline professionals from around the world with a unique Maldivian service to give passengers a fun and fantastic journey.
Since opening its first routes in in 2010, Mega Maldives has now become the fourth largest international airline to the Maldives. Almost 10% all of the tourists now arrive to the Maldives on Mega.
In 2014, the airline flew more passengers to the Maldives than Qatar Airways, Malaysian Airlines, and Island Aviation. It is also the market leader flying between China and the Maldives. Mega pioneered direct services to China, and now fly to 5 destinations in China.