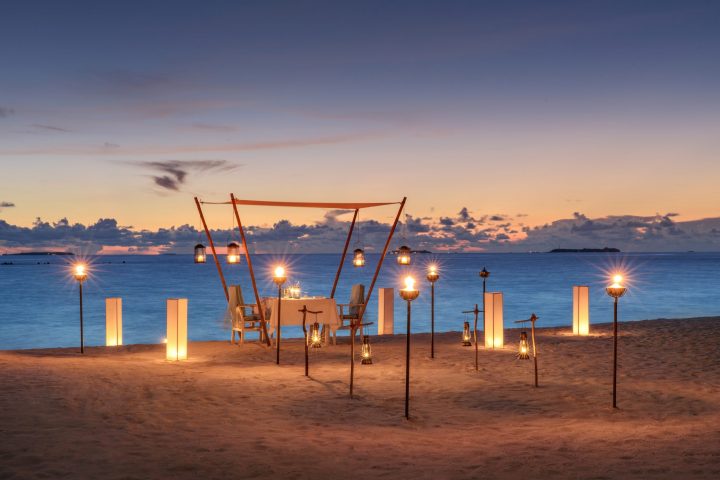 Milaidhoo Maldives' Special Valentine's Day Offerings
Milaidhoo Maldives is set to celebrate Valentine's day in February 2023, offering special experiences curated for individual preferences. From new treatments at the resort's Serenity spa, to romantic dinners by the pristine white beaches, Milaidhoo Maldives has something to make honeymoons, babymoons and weddings unforgettable.
'Couples Connect', a new treatment at the Serenity spa is designed for couples with the focus on calming the nervous system and promoting physical, emotional and spiritual reconnection. The treatment by ila, an all-natural skincare brand, draws on the strength of three essential oils; rose, orange blossom and jasmine oil. For 120 minutes, Couples Connect spa experience includes a Himalayan salt body scrub, Kundalini back massage, an Ananda facial and warm oil pouring into the hair.
Milaidhoo Maldives also offers romantic dinners where guests can dine on the white sandy beaches with a five-course set menu. The dinner can be tailored to the personal preferences of each guest. Whether one is looking to surprise their lover or commemorate their love with a memorable feast, the resort hosts will help make the occasion special.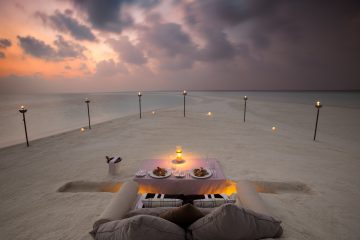 Featured Image: Dinner at sandbank, Milaidhoo Maldives
Featured Image: Dolphin Cruise, Milaidhoo Maldives
For adventure seeking couples, the resort offers getaways to a nearby sandbank including a sunset cruise on a luxury yacht, a special dinner and many other personalised details. Guests can also arrange for a romantic surprise in their private villa. A bottle of champagne and chocolate gift packs will be placed in the villa up on request.
Located in Baa Atoll, Milaidhoo Maldives is an adults-only resort featuring fifty pool villas where each guest is assigned an Island Host, catering to their every need. The three restaurants on the island offers a range of dining experiences. At the resort, guests can enjoy sunrise yoga classes, snorkeling excursions, sunset dolphin cruises, sailing to a sandbank and more.