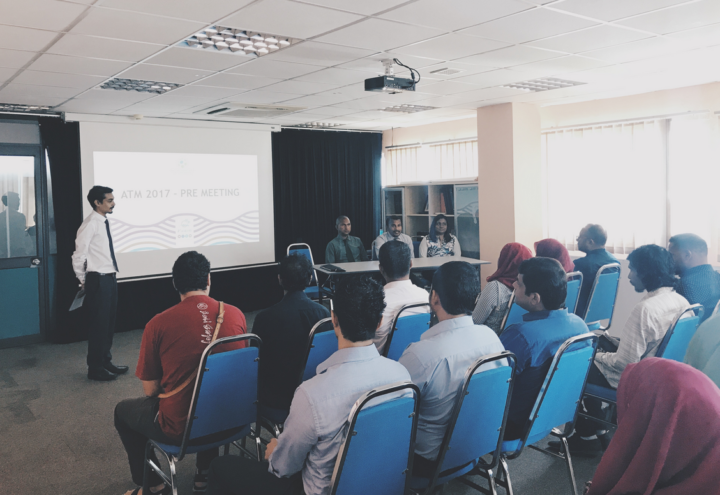 MMPRC hosts meeting with industry partners attending ATM 2017
Maldives Marketing and Public Relations Corporation (MMPRC) has held an information session for the industry partners who are participating in the Arabian Travel Market (ATM) 2017.  The main objective of this meeting was to share important information about ATM 2017 fair and how the industry partners can make the most from event.
More than 100 participants from 57 companies from Maldives will be travelling to Dubai this year to attend ATM. The fair is the largest travel and trade event held in Dubai targeting the Middle East travel and trade. ATM is the ideal platform to build new contacts and at the same time maintain existing trade relations. The annual business-to-business (B2B) exhibition showcases over 2,800 products and destinations from around the world to over 26,000 buyers and travel trade visitors across 4 days at the Dubai International Convention and Exhibition Centre according to the fair organizers.
Middle East market has great potential as this region has excellent connection to the Maldives. Daily flights from UAE, Qatar and Saudi Arabia operates between the Maldives and the region plays as a transit hub for the tourists arriving from Europe. As such Middle East region plays a vital role for the Maldivian Tourism Industry.
In 2016, Maldives received 51,330 visitors from the Middle East region registering a growth of over 22 percent. By the end of February this year a total of 7,350 tourist from the Middle East has visited the Maldives which is a growth of 3.9 percent compared to the same period of last year.