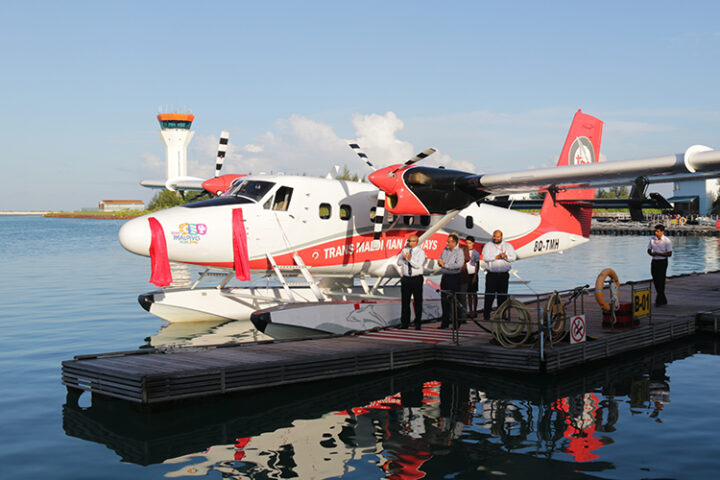 MMPRC partners with TMA to unveil Visit Maldives Year 2016 logo on seaplanes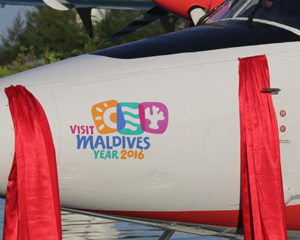 Maldives Marketing and Public Relations Corporation (MMPRC), together with Trans Maldivian Airways (TMA), has unveiled the Visit Maldives Year 2016 (VMY) logo on all TMA seaplanes. This campaign is part of the promotional campaign to break a new record by welcoming 1.5 million tourists to the country next year. In addition to this campaign, MMPRC will be unfolding a series of events throughout the year to help make 2016 a record-breaking year.
The ceremony was attended by key figures in TMA, directors and officials of MMPRC, and stakeholders of the Maldives Airports Company. Speaking at the ceremony, the Managing Director of MMPRC and chief guest of the ceremony Abdullah Ziyath said: "TMA has always been a very strategic partner for MMPRC, and this logo application means that next year's Visit Maldives Year campaign will get much needed additional exposure. TMA catered to around 1 million passengers last year."
"We hope to achieve many targets with this campaign, the most important being to increase the tourist arrivals from 1 million to 1.5 million tourists," he continued, "and I believe that, together with TMA, we can reach this milestone."
Richard B. Saldanha, Chairman of Trans Maldivian Airways, who also spoke at the ceremony, mentioned that the Maldives being the official partner of ITB fair 2016 was indeed a bold step, and that it will help the country attract more tourists in the coming year. He said: "We are always proud to partner with MMPRC, and we are very thankful for all the support we get from you." In concluding his speech, he stated," Let's make 2016 a record year, and we, from our side will do everything we can to help you achieve that target."
The ceremony concluded with the chief guest unveiling the logo on the aircraft and was followed by a refreshments and entertainment.
TMA recently marked 25 years of service and is the world's leading seaplane operator.