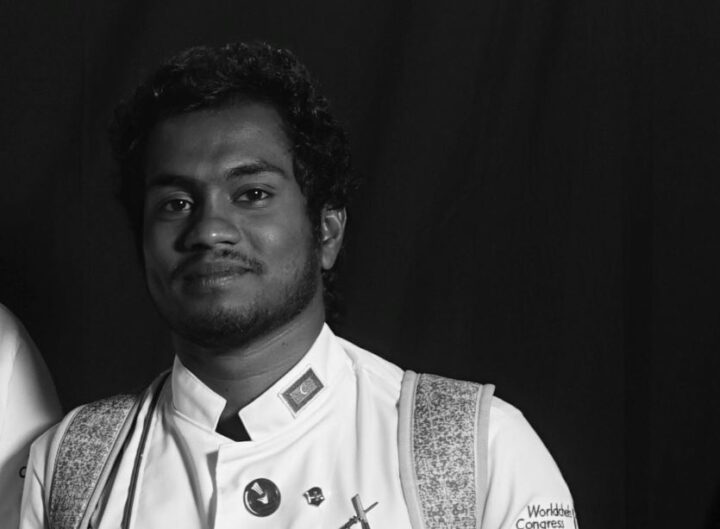 Mohamed Adil, Junior Sous Chef at Vakkaru Maldives
Mohamed Adil is the Junior Sous Chef at Vakkaru Maldives. He was born in Mathiveri Island of Alifu Alifu Atoll and was raised in Hithadhoo Island in Addu City. Growing up, Adil was an active kid, full of energy and always involved in extracurricular activities. He started working with his father in his retail business after completing his secondary education in Sri Lanka. It took Adil all of nine months for him to realise that he wanted to do more.
It was the Four Seasons Maldives Apprenticeship programme that changed his life. Adil went there with a friend of his who wanted to get in. He went inside on a whim as it was hot outside and decided to attend the interview. Adil was fortunate enough to be accepted into the programme and went on spending his training in different kitchens learning about the different cuisines. "Art was something I always saw when I was growing up. Mostly paintings by my dad, but I never thought of art on a plate and that's where I found myself," he said.
Upon completion of the programme, he was offered his first job at Four Seasons as a steward. "In between pots and pans, I developed my basic skills in western cuisine. That's where I made up my mind of someday becoming one of the greatest Maldivian chefs," he stated.
He is very much into the guest experience and says that it gives him a level of great satisfaction when he gets to help turn their stay into a memorable one. In 2011, he started work as a Commis Chef at Four Seasons Resort Maldives at Landaa Giraavaru.
He was promoted to Demi Chef De Partie in 2014, where he was responsible for the Japanese cuisine including Teppanyaki and Garde Manger. Adil says he found it a challenge initially to be accepted as a Japanese chef, which made him more determined to prove his mettle.
In 2016, Adil moved to Four Seasons Resort Maldives Private Island Voavah, for its pre-opening. He helped set up the kitchen and F&B systems, menus, equipment, tableware and was key in conceptualising a variety of cuisines to cater to what high profile guests expected.Adil joined Vakkaru Maldives in 2017 as Chef De Partie for its pre-opening. He helped set up staff meals, assisted the Director of Culinary Operations with the menu planning and food trials, SOPs and in conducting training for the staff.
Adil was promoted to Junior Sous Chef in January this year and acts as Jr. Sous Chef of Lagoon—the Japanese cuisine and Asian tapas restaurant—where he oversees the whole operation including beverages.Regarding his work ethic, Adil stated: "Ethics is not a coat that you can put, it always comes from your upbringing and to be honest, I come from a family who is into business and social responsibilities. I always try to put this in my job to ensure everyone is happy in what I do. I take my self as an ambassador rather than as an employee because what an ambassador brings to the table is passion and he knows what he is representing because again you have a social responsibility as an ambassador whereas an employee is always directed to do certain tasks in a certain way and he gets paid for it.
"I own what I do and will never refrain from accepting the mistakes and learning from them. Nowadays the trend is people only want to show success but they forgot failure is a part of success. I love to accept failure and turn them into success."
Throughout his career, Adil has won awards and medals both on the national and international level, including being awarded the Best Maldivian Chef at FHAM 2016. Adil says the awards made him stronger and made him believe more in himself.When asked about the challenges of working on an island away from his family, Adil said: "We come with a tag of an islander. It symbolises the strength in an individual because it can sustain the strong waves and turbulence only to become better and to contribute to humankind.""I like to think I am also carrying the same characteristics. Yes, there are challenges, sacrifices and tears but also there is a dream, belief, hope, passion and happiness which keeps me occupied. I get to see my family when I want to. In the current world of connectivity, it is very easy to stay connected with your loved ones," he added.
As for the future, Adil wants to be recognised as an imprint of the Maldives around the world. "I aspire to be known as a chef who has a magic to turn the ingredients into gold through my imagination and art of cooking. I want to do what I love to do and years does not matter. I love my jacket and would like to see more accolades on them," he said. Adil recommends that every company should have a dedicated workshop centre for chefs where they are encouraged to be creative through their imagination, which he says will help discover numerous hidden talents around us.