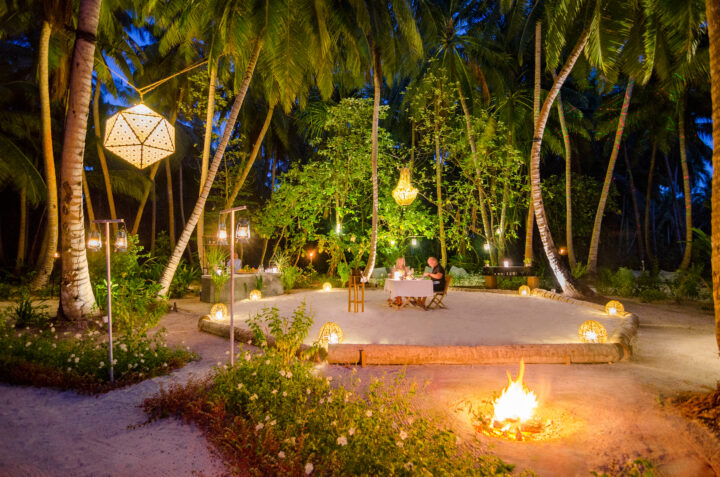 Mystique Garden by Amilla Fushi; a new destination dining experience
Providing a fairytale, festival-inspired sylvan counterpoint to the Robinson Crusoe vibes of Destination Dining on the island's Sandbank, the new Mystique Garden is the latest chapter in the story of culinary creativity currently unfolding at Amilla Fushi.
The Mystique Garden is wreathed in banyans and coconut palms in the lush heart of the island this hidden lantern-lit glade is a reflection of the innovative and creative approach of Amilla's chefs, offering guests an enchanting new personalised dining experience.
Guests entering the garden can let their imagination run wild with a bespoke menu tailored to their personal tastes by a dedicated private chef, or delve into Amilla's carefully crafted, family-style Destination Dining set menus, the resort said.
Mouthwatering options include a succulent Seafood BBQ where oysters, prawns, squid and reef fish take centre stage, an Asian inspired feast featuring Peking duck, Hong Kong noodles and a Royal Tandoori selection  or an Arabian grill showcasing shrimp majboos, lahem meshwi, kofta, shish taouk, lamb ouzi and fish sharmola.
Guests who prefer a vegetarian cuisine will not be disappointed with the vibrant Vegetarian BBQ menu which includes gnocchi, wild mushroom risotto, mixed tandoori with fruit chat, BBQ baked sweet potato and marinated vegetable skewers, it added.
The resort also recently announced a yearlong series of pop-up residencies by some of the biggest names in the business, kicking off with a four-stage partnership with Gordan Ramsay's celebrated Bread Street Kitchen at Barolo Grill at Baazaar. The first Bread Street Kitchen pop-up is underway right now, with three more confirmed for October 16-27; December 19, 2017, to January 10, 2018, and March 23 to April 7, 2018.
The upcoming calendar of residencies further highlights Amilla's reputation for culinary excellence and creativity, complementing the Emperor General Store Café Deli, the Wine Shop & Cellar Door and Amillas signature over-water restaurant Feeling Koi.