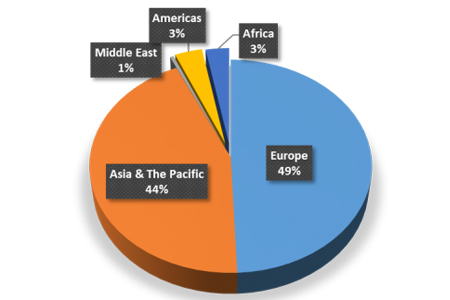 New record set with tourist arrivals in February at all-time high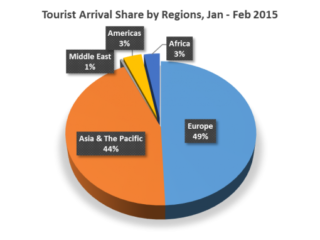 A new record was set in February with tourist arrivals reaching an all-time high for a single month with 120,468 visitors.
Tourist arrivals increased by 8.8% last month compared to February 2014, which saw a record 110,705 visitors, the Ministry of Tourism revealed last week.
The ministry noted in a statement that arrivals in February represented "a significant improvement compared to the negative growth (-7.8%) registered in January 2015."
"With this boost, the total arrivals at end February 2015 was 217,541, an increase of +0.7% compared with the 216,001 tourists that visited during the same period of 2014," the ministry noted.
Arrivals declined in January on the back of a sharp fall in Chinese arrivals, which registered a 33.1% decrease compared to the same period last year.
"With the Chinese New Year falling in February, the market registered a huge increase of +30.5% during the month of February 2015," the ministry explained.
"This sharp increment lead to balance out the negative growth registered from the market during the month of January 2015, at the end of the period from January to February 2015. The market share stood at 29.3% for the period with a total of 63,818 tourists."
In February, Mega Maldives Airlines introduced weekly direct flights to Xian and Changsha whilst national carrier Maldivian Airlines launched weekly direct flights to Nanjing, Xian and Changsha.
At a ceremony held in January to welcome a new 200-seat Airbus A321-200 aircraft to the Maldivian fleet, Maldivian Managing Director Abdul Haris said the airline expects the number of tourist arrivals from China to increase to 900 a week with the introduction of flights to three new cities.
Meanwhile, Europe retained its place as the top regional source market with a market share of 49.3% during the first two months of the year.
However, with Russian arrivals falling 53.4% in February, total arrivals from Europe registered a 1.9% decline compared to February 2014.
With 107,263 visitors during 2015, total arrivals from Europe also declined marginally by 0.8% compared to 2014.
However, strong growth was registered from major European markets, with arrivals from the UK and Germany increasing by 10.6% and 10.3% respectively compared to the same period last year.
Arrivals from Italy also grew by 10.3% in February.
After China with its market share of 29.3%, the other top markets are Italy (7.5%), Germany (7.3%), and the UK (7.3%).
The UK was in fourth position with just 70 tourists less than Germany.
While France overtook Russia to take fifth place with a 6% market share, the tourism ministry noted that arrivals from France have been declining since July 2014.
The French market posted negative growth rates of 11% in January and 15.5% in February.
The Tourism Ministry also noted significant growth of arrivals from Denmark (+82.8%), United Arab Emirates (+47.9%), Brazil (+44.6%), Spain (+40%) and Romania (+33.9%) at the end of the January-February period.
Arrivals from India also increased 17.8 percent in February with 4,235 visitors, representing a market share of 3.7 percent.
The Maldives Marketing and Tourism Development Corporation (MMPRC) conducted roadshows in three Indian cities last month to promote the Maldives as a destination for Indian tourists.
Oceania (Australia and New Zealand) also performed well in February with a double-digit growth of 14.3%, taking a market share of 1.4% at the end of the first two months of 2015.
"Americas was the third largest market generating region to the Maldives at the end of February 2015. With Brazil, and U.S.A posting robust growth rates of 67.6% and 35.9% respectively, during the month of February 2015, the region recorded a strong growth of 29.8% during the month," the ministry noted.
"At the end of February 2015, Americas contributed 3.4% to the market shares and registered a growth rate of 9.6%."
Arrivals from the Middle East also grew 14.7% during the last two months, representing 2.9% of arrivals this year.
Meanwhile, at 80.8%, the average occupancy rate declined 4.8% compared to 2014 while the average duration of stay was 6 days.
The Maldives had 308 registered establishments in operation with a bed capacity of 27,670 as of the end of February.
"The operational capacity included 106 resorts with 23,247 beds, 15 hotels with 1,508 beds, 106 guest houses with 1,568 beds and 81 safari vessels with 1,367 beds," the ministry revealed.
"The total tourist bed nights of these operational establishments at the end of the period was 1,313,259 which was a drop (-3.7 percent) compared with the same period of 2014."