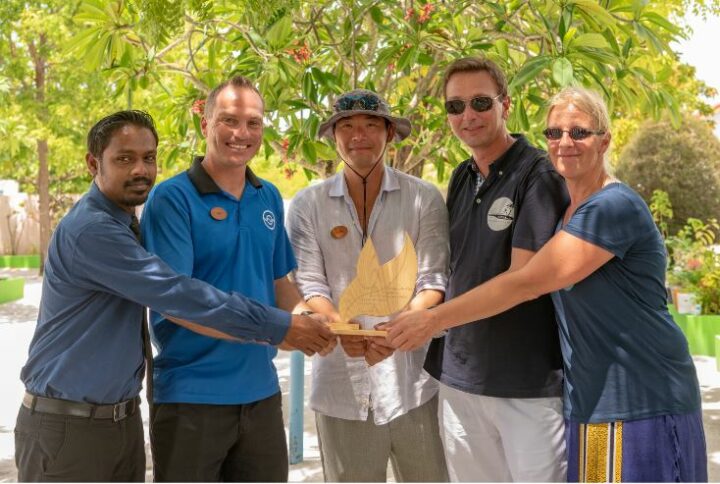 Noku Maldives conducts CSR programme in Manadhoo Island
Since its opening in 2016, Noku Maldives has engaged and supported the local community with various CSR programmes. The resort has recently conducted information sessions and talks focusing on the importance of coral conservation to the students of Noonu Atoll School in the nearby capital island of Manadhoo.
The main topics of these information sessions focused on the importance of corals for oxygen production in the atmosphere, ways to reduce the damage caused by humans to corals, the destruction caused by dumping garbage in the ocean. Noku Maldives has a strong belief that since children are the future it is extremely important for them to learn, care and nurture Mother Nature from a young age.
The resort partnered with Maldivian Forum in order to accomplish this. As part of its efforts on coral conservations, the resort has installed several steel handmade structures in the lagoon in order to aid the regrowth of corals and has plans to conduct awareness programmes in the future as well. The resort has also successfully eliminated the use of single-use plastic packaging by placing coffee, tea, sugar etc., in airtight glass containers.
Community Outreach at Manadhoo Island
As part of the resorts community outreach programme to the island of Manadhoo, the resort has provided furniture to the schools on the island. Noku Maldives has also been purchasing perishable items like fruits and vegetables from the island to encourage agriculture.
The next project by the resort will be to provide support for the freshwater filtration system of the hospital at Manadhoo Island. As the capital of Noon Atoll, the island of Manadhoo is the largest and most populous island of Noonu Atoll with an estimated population of 1300.