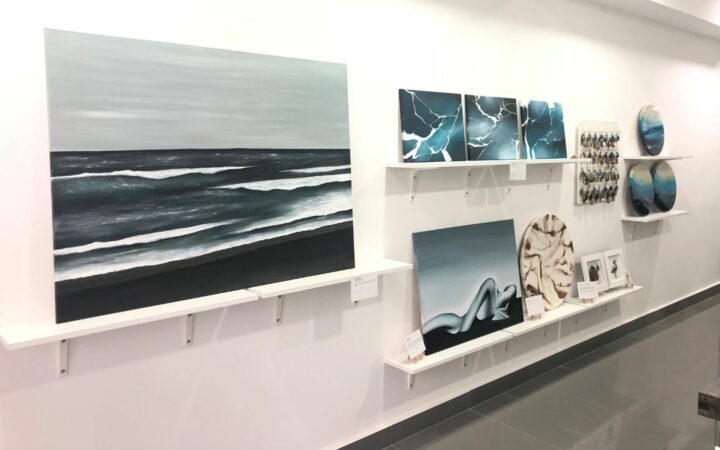 Oevaali Art Shop: a truly Maldivian fine arts studio
Oevaali Art Shop, a fine arts studio owned and managed by four Maldivian artists, has opened its first outlet in Malé. Oevaali Art Shop was first launched in December 2015 as a small art project between sisters Raniya and Raya Ahmed Mansoor, and later joined by artistic brothers Ajuwad 'Imma' Rasheed and Ali Ajeel 'Ajikko' Rasheed. Which started off as an online business, shipping worldwide, now has its first outlet located in H. Gaathu Giri, Bodufungandu Magu, Malé.
"Oevaali Art Shop started up with six paintings and a small pop-up exhibition and a couple of products; and is growing a little bit every day," says Raniya, speaking with Hotelier Maldives.
"As designers and artists, we put a lot of nostalgic emotion into products and art. We make art and products with passion and heart, and we love the community we have created around appreciating how the beautiful Maldives is and being proud of our culture, our ocean, our people, our skin, our life and our heritage. All our paintings and products are 100% Maldivian art and design."
Over the past two years, Oevaali Art Shop had been offering over 10 Maldivian designed products in-store and online, shipping worldwide. And with the best sellers, Oevaali Art Shop introduced premium options such as genuine cowhide leather phone cases, 100% hand-poured natural soy candles, cotton cushions and a variety of other choices for its customers, resort clients and gift shops.
Oevaali Art Shop held its first art exhibition, themed "Heritage Through Folk", in June this year, weaving together a rich, captivating narrative of art from over 10 prolific Maldivian artists, featuring individual iconic styles which delved deeper into Maldives' history. Moving forward, Oevaali Art Shop plans to hold the exhibition as an annual event.
"We offer a suite of services for our resort and hotel partners. For gift shop stockists, we have a catalogue of products at attractive corporate pricing and co-branding. We also have partnered and collaborated with resorts to create bespoke co-branded gifts such as 100% silk scarves for their clients," says Raniya.
"We are also happy to consult with businesses in the Maldives to create made-to-order paintings that suit the mood and aesthetic of their spaces. Our four partners are also the main Artists at Oevaali Art Shop, and we are able to offer art packages in a variety of mediums, such as resin art, acrylic pieces, and clay framed sculpts."Another trend by Oevaali Art Shop is the boutique one-day pop-ups curated for its resort clients. "I think it's such a beautiful way for resort guests to have an authentic souvenir buying experience, where they can actually meet the people who created or designed the souvenir they will bring back home," Raniya adds.
Oevaali loosely translates to 'drifting, with the waves', and its products and the products range from resin artworks, phone cases, notebooks, passport holders, pendants, etc. For more information on Oevaali Art Shop, visit www.oevaaliartshop.com, or email: raniya@oevaaliartshop.com  / raya@oevaaliartshop.com.