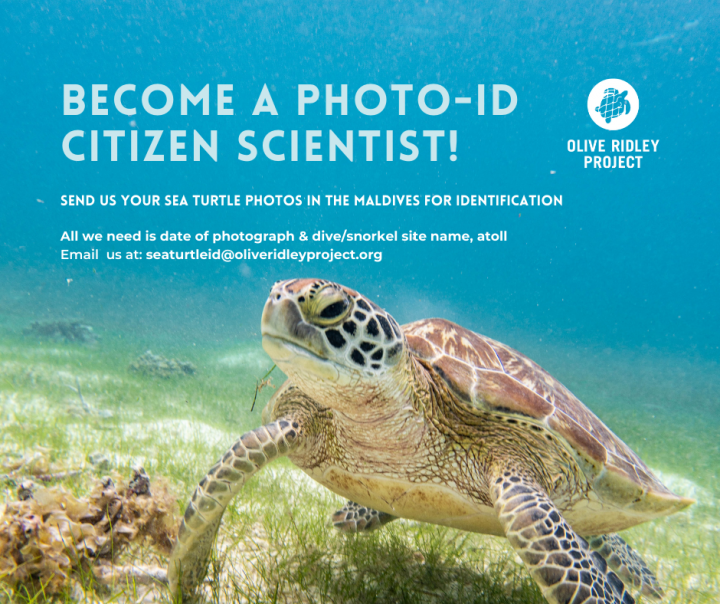 Olive Ridley Project Launches Sea Turtle Photo-Identification Campaign
Olive Ridley Project, an NGO working to protect sea turtles and their habitats, is launching a digital campaign called "Become a Citizen Scientist", to encourage sea-turtle photo-identification submissions in the Maldives.
The campaign will be conducted on ORP's social media and via training events for stakeholders and the public. An open event titled 'The Turtle Talk' will also be held at the Maldives National University this week to educate the public about ORP's work, sea turtle biology, and the sea turtle identification research project, and how to contribute to it. The special guest speaker for the event is ORP's Senior Project Scientist Dr. Stephanie Köhnk.
Dr. Stephanie Köhnk explained that "what we hope to achieve from the campaign is to increase the data coverage to new regions to get a complete understanding of the turtle populations in the country. We would like to get more contributions from local islands, especially from excursion guides and photographers that are in the water. We want to learn about new habitats of significance to sea turtles, and how the population changes over time."
ORP has been collecting sea turtle identification photos in the Maldives since 2013 and the organization's sea turtle database is the largest in the country, with over 5500 individuals identified across 17 different atolls. The NGO is hoping to expand their database with increased citizen science contributions, and they are calling out to all divers, marine biologists, guides, visitors and locals to contribute and submit their sea turtle photos.
Sea turtles can be identified by their facial scales, with each individual turtle sporting a unique pattern, much like human fingerprints. Photo-ID therefore proves to be a non-invasive method of effectively identifying and recording sea turtles, and these data serve a crucial component in making informed decisions on protecting the species at a policy level.
Featured Image: Olive Ridley Project