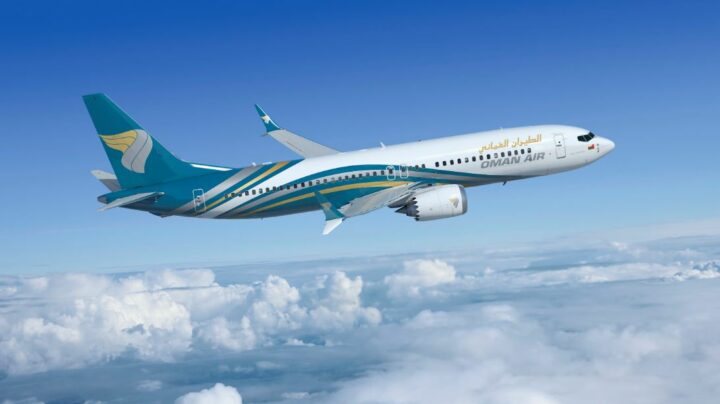 Oman Air resumes flights to the Maldives
Oman Air has announced the resumption of flights to the Maldives. The inaugural flight landed at Velana International Airport on October 28.
Oman Air flights from Maldives to Muscat will operate on Thursday, Saturday and Sunday and from Muscat to Maldives will operate on Tuesday, Thursday, Saturday and Sunday. The Oman Air flight from Maldives WY 384 departs at 1850 on the 28th October and arrives into the award-winning Muscat International Airport at 0035, on 29th October, whilst the first flight from Muscat International Airport, WY 383 departed Muscat at 0850 on 28th October and arrived in Male' International Airport at 1330 local time.
This route will be serviced by Boeing 737 MAX 8 aircraft which has been designed to offer exceptional performance, flexibility and efficiency. Configured with 162 seats in a two-class configuration: 12 in business and 150 in economy with significant enhancements across both cabins, the MAX aircraft is an example of Oman Air's commitment to continually upgrading its products and services to deliver guests' satisfaction.
Speaking at the launch, Chief Commercial Officer of Oman Air, Paul Starrs said, "We are very excited about the relaunch as The Sultanate of Oman has recently completed its new airport and we have recently redesigned our operations in order to provide a quick connection for all of Europe. Oman is increasingly moving towards tourism and we hope these new flights will promote Oman as an up and coming tourist destination along with the Maldives."
Visitors to Muscat are invited to take in the capital's landmarks which include the impressive Sultan Qaboos Grand Mosque and the Royal Opera House which showcases the unique splendour of Islamic architecture. Culture enthusiasts can visit the National Museum, Natural History Museum, and the Omani-French Museum before shopping for souvenirs in the old Souq of Muttrah. For those venturing outside the city of Muscat, the Sultanate features an incredible landscape boasting amazing beaches, rolling mountains, sweeping deserts and mesmerizing oases.
The opening of the new passenger terminal in Muscat offers Oman Air guests a thoroughly enhanced experience and the new terminal building has already won the 2018 World Travel Award's Middle East's leading new tourism development project of the year.
Abdulaziz Al Raisi, CEO of Oman Air said: "We are delighted to be resuming our Maldives route and look forward to welcoming our valued Oman Air guests on board the B738-MAX aircraft. We thoroughly encourage and welcome our friends from all over our network, flying from and to the Maldives to stop over and explore Oman en route. Our new Maldives service offers holidaymakers the perfect opportunity to explore Muscat, the capital of Oman together with the beautiful shores of the Maldives."
Sun Travels & Tours is the appointed GSA for Oman Air in the Maldives. Established in 1990, the company is a strong provider of personalized travel consultancy to its partners and guests. Over the years the company has expanded its portfolio to include safari operations, local representation, transfer service and airline ground handling.