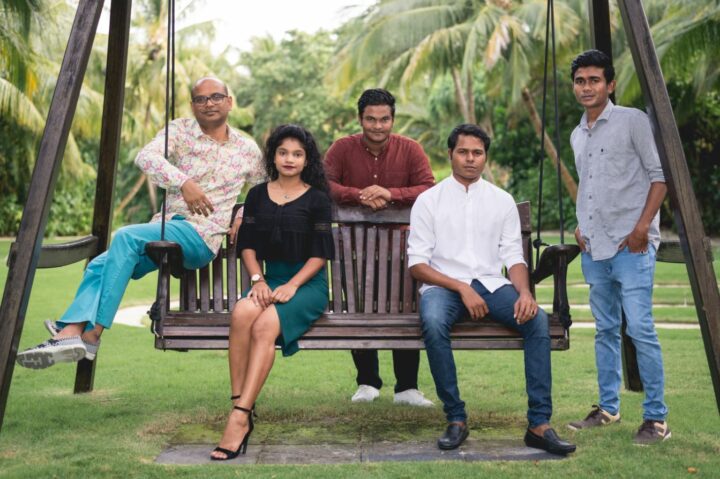 One&Only Reethi Rah OOMoments Photostudio; capturing moments today, creating memories for a lifetime
Surrounded by the crystal turquoise waters of the Indian Ocean, nestled within lush tropical gardens and fringed with pure white-sand beaches, One&Only Reethi Rah in the Maldives is an ultra-luxury, all-villa resort offering an unrivalled level of seclusion, choice and personalised exploration. Situated on one of the largest private islands in North Malé Atoll, there is an abundance of space, freedom and activities to discover.
Reethi Rah, which means "beautiful island" in Dhivehi, has 12 pristine white sand beaches and no less than six kilometres of shoreline, as well as energising water sports, excursions and unique experiences – it is a true water lover's paradise. Even with so much on offer, one of the highlights of every guests' vacation is having their photograph taken in paradise. The One&Only Reethi Rah resort photography studio, OOMoments, is where memories of a lifetime are created. OOMoments is a personalised photography service that captures Reethi Rah guest's special moments. An innovative photography service offering customised and candid images.
In 2016, the Maldivian Government ruled out a regulation stating that photography studios run in resorts could only be owned and operated by locals. Rasa Sangheran, the Director, Finance at One&Only Reethi Rah approached Ali Khalis, who was working at the resort for a third-party photography studio, and enquired whether he was willing to manage an in-house photography business. At first, Khalis could not believe that he would have full responsibility to run the photo studio.
"I couldn't sleep for few nights after speaking to Rasa. I thought he was kidding that I could become the boss of a photography studio in such luxury resort as One&Only Reethi Rah. Several days later I spoke with Rasa and he advised me that the sky is the limit and I can make this business a success," says young and determined Khalis. Eager to continue working for One&Only Reethi Rah, Khalis agreed immediately and has been successfully running the studio since June 2017.
The photo studio name first came about through a resort competition held by Rasa whereby all colleagues came up with name suggestions to select from and the chosen name was 'OOMoments', suggested by Kim Pink,  Learning and Development Manager of the resort taking inspiration from the One&Only Instagram hashtag #OOMoments. Next, an eye-catching logo and collaterals were needed, and this was designed by Mercy Guerva, Marketing and Communications Manager of the resortPrior to joining One&Only Reethi Rah, Khalis had acquired extensive knowledge and experience in his field. In order to begin the in-house business, Khalis offered Ahmed Abdul Rahman, 24, and Ishaaq Naseer, 24, two of his friends and co-workers the opportunity to work with him, with the newest recruit being 19-year-old Aminath Saba Ibrahim the photo studio was open for business and delivered breath-taking photographs to resort guests.
Thrilled with his new role and responsibility, Khalis was involved in the business right from the start, developing his career and the quality of work at OOMoments. With a bright smile on his face and enthusiasm in his voice, he explains: "We started with the latest equipment and were able to cover the budget we spent to renovate the studio and purchase the equipment within two and a half months." He emphasises how supportive Rasa has been throughout the process and how much he had believed in Khalis talent to make the studio a success.
Khalis, who will turn 20 this October, maintains a good connection with his guests and has already received a multitude of positive TripAdvisor reviews, with guests remarkably commenting that they would love to return to the resort purely to have their photo taken by him. Most of the team are self-taught, having learnt from watching YouTube videos and their own practical experiments. Part of Rasa's development plan is to bring in an acclaimed photographer to the resort to further train Khalis and his young team. Moving forward this will later enable the team to hold photography workshops at the resort to train budding Maldivian photographers that are wishing to learn.
Khalis and his team are consistently building up their careers and reputation at One&Only Reethi Rah, with three main focus points are at the heart of OOMoments. Firstly, the team respects the quality of the One&Only Reethi Rah brand guidelines in everything they create. Secondly, they prioritise delivering the ultimate luxury product to their guests and thirdly, their primary focus at every photo shoot is to personalise the guest's experience. The key to Khalis and his young team's success is precise guidance and not overwhelming direction during photo shoots, consequently, guests immediately feel naturally relaxed and free to enjoy.
Khalis explains one of his favourite moments to capture is the sunset, especially as it drops behind the Indian Ocean, which is one of many not-to-be-missed experiences in the Maldives. Khalis recalls a memorable moment during his career was when a family from India wanted to film a short video in their villa with their newborn baby. When Khalis presented them the final video, they both broke into tears of joy and couldn't believe the sheer sincerity and beautiful composition in Khalis's work."My primary focus in photography is the beauty and raw emotion found in each moment. I put my heart and soul into my work, and I believe it shows in my photographs," says 19-year-old Khalis.
With over two decades of experience in the luxury hotel and resort industry, Rasa Sangheran has brought remarkable changes to the operations of One&Only Reethi Rah Maldives, as its Director, Finance and Business Support. His vision of facilitating the use of a photography studio for young Maldivian photographers has enabled the resort to establish a successful in-house business. The team is grateful for Rasa's support with the development of the business and supporting them with new equipment that they have required including the latest video equipment and superior drones.
"One&Only Reethi Rah is the market leader in the Maldives, setting examples and milestones to the industry right from the inception of the resort in 2005. We have a huge responsibility towards the initiatives of the Government as well as responsibility towards the society in this country. We are the people who put cameras into the hands of our youth, inspire them how to develop negatives into positives," says Rasa during an interview.
"We place them in an exciting environment surrounded by stories, nurturing mentors and create a strong community to support. Locally, nobody has as much fun creating a safe community of trust and support for the youth through photography. Our goal is to empower the youth to find their voice and gain self-confidence as they learn life skills and discover who they are and what matters to them. I realise how incredibly important it is to work with my team's talented skill set. They have great ideas for the business that I probably would not have been able to come up with on my own," he adds.
Khalis and his colleagues are now looking forward to an expansion of the photo studio and further upgrade of the latest videography equipment to accommodate the growing demand for their services. "With the Festive season approaching, this is an exciting time for the team. We are all excited to be a part of the guest's experience during the events happening at the resort. Creating memories that last a lifetime is what inspires us to keep developing in our careers," says Khalis, with great enthusiasm.
Talking with Rasa, he explains that opening a business unit is quite simple; but sustaining exceptional services and continuously exceeding the expectations of guests is the most challenging part. "It is important for the OOMoments team to keep in mind that they are hoteliers, and this is a priority before their photography. We are not running a photo studio in the city, we are representing the most luxurious brand and resort in the Maldives," says Rasa