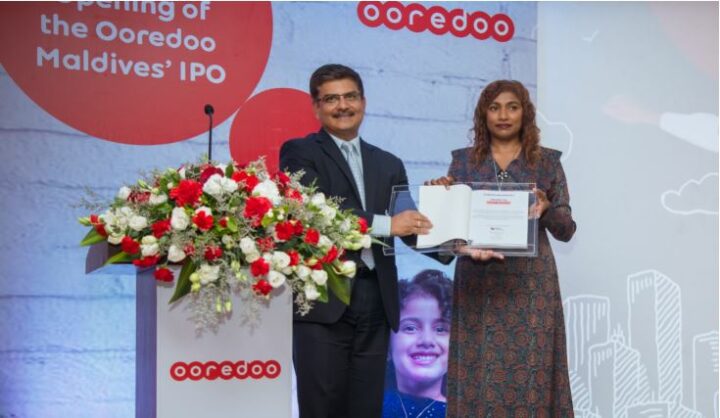 Ooredoo Maldives honoured as Best Investor Relations Company in the Maldives
Ooredoo Maldives has been recognised as the Best Investor Relations Company in the Maldives, by the 2018 Global Banking and Finance Awards.
Speaking about receiving this award, Ooredoo Maldives CEO, Najib Khan said: "We're grateful to receive this honour by the 2018 Global Banking and Finance Awards, recognising Ooredoo Maldives as the Best Investor Relations Company in the Maldives.
The award stands testimony to our Investor Relations team's innovative efforts in ensuring first-rate communication between the company, our investors and the financial community at large. We are truly thankful for the continued support from our investors and will continue our efforts to ensure exemplary engagement with them and all our stakeholders."
Ooredoo Maldives was listed on the Maldives Stock Exchange in August 2017, through the largest and most successful IPO in the Maldives Initial Public Offering (IPO) raising MVR 421,357,800 which constitutes 14,045,260 shares or 9.5% of the issued paid-up shares of the company and attracting 8,257 investors. This resulted in Ooredoo Maldives being one of the largest listed companies in the Maldives, and the entity with the largest free float-adjusted market capitalisation on the MSE.
Board Director of Ooredoo Maldives, Uza. Dheena Hussain said: "This special award recognises Ooredoo's inclusive strategy to broad-base the share ownership of Ooredoo Maldives across the entire nation and to create awareness on investment and saving opportunities within the country. Our team's exceptional efforts reaped successful results by attracting one of the largest ever shareholder bases for a listed Maldivian entity exceeding 8,000 new shareholders.
The success of our IPO is a testament to the confidence in Ooredoo Maldives and the Ooredoo brand by the people of the Maldives and we remain forever grateful to all our shareholders for embarking on this journey with us"
Ooredoo's efforts to reach out to the entire nation during the IPO included one-on-one meetings with key high net worth individuals and institutional investors, local roadshows in major population centres, town hall meetings addressing professionals, students and other potential retail investors, staff storming the streets once a week across islands and a wide network of distribution and collection points including post offices, Ooredoo shops and business partners, selected bank branches and licensed dealing companies.
In addition to their recognition for Investor Relations, Ooredoo Maldives also closed 2018 with additional wins at the Maldives Business Awards including the award for Foreign Direct Investment of the Year and Excellence in Information and Communication.