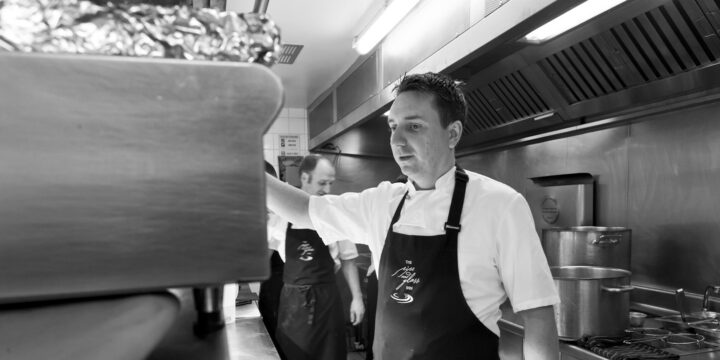 Outrigger Konotta Maldives Resort to host Michelin star Chef James Mackenzie
Outrigger Konotta Maldives Resort announces that it will be featuring the culinary creations of UK Michelin star guest chef James Mackenzie from January 4 – 14, 2019. Mackenzie, the head chef and proprietor of the Pipe and Glass in South Dalton, Yorkshire, England, earned its Michelin star in 2010 and has kept it since. Mackenzie's debut cookbook, On the Menu, released in 2012, won Best Debut Cookbook at the Gourmand World Cookbook Awards in Paris.
While at the Outrigger, Mackenzie will hold a cooking class on the beach and present a special five-course wine pairing menu prepared by him on two evenings. Mackenzie says guests at Outrigger Konotta Maldives Resort can expect a variation on some of the classics from The Pipe and Glass. These will include Duck Three Ways, Yorkshire Pudding, Forced Yorkshire Rhubarb and a signature fish dish using the fresh catch from around Konotta Island, according to a statement.
The inspiration for Mackenzie's dishes in England comes from the changing seasons and seasonal products, such as game dishes in the winter. In the year-round tropical heat of the Maldives, menus are more determined by the supply network of fresh products set up by the Outrigger's Executive Chef, Christopher Long, also from Yorkshire. While Mackenzie will be leading by example in the Maldives, it will also be a learning experience for him. "I'm very interested to see how the kitchen in a five-star resort like Outrigger operates on a small island in the Maldives," says Mackenzie.
His trip to the Indian Ocean will be his second overseas assignment as a culinary ambassador. In April 2018 he was at the forefront of a Welcome to Yorkshire gastronomic promotion at the Michelin-starred Clocktower restaurant in Manhattan. John Allanson, the General Manager of Outrigger Konotta Maldives Resort says that the restaurant name, The Pipe and Glass, alongside Mackenzie's reputation in TV, publishing, radio and social media, will help build culinary links between the resort and food enthusiasts in the UK.
"People know the Maldives is paradise for nature," says Allanson, "However, Outrigger Konotta Maldives Resort is also a year-round venue for culinary excellence, which is highlighted when we have a Michelin star guest chef of the calibre of James Mackenzie with us." For more information about Outrigger Konotta Maldives Resort, visit www.outrigger.com/hotels-resorts/maldives.
EDITOR'S NOTE: Featured image courtesy of www.greatbritishchefs.com.