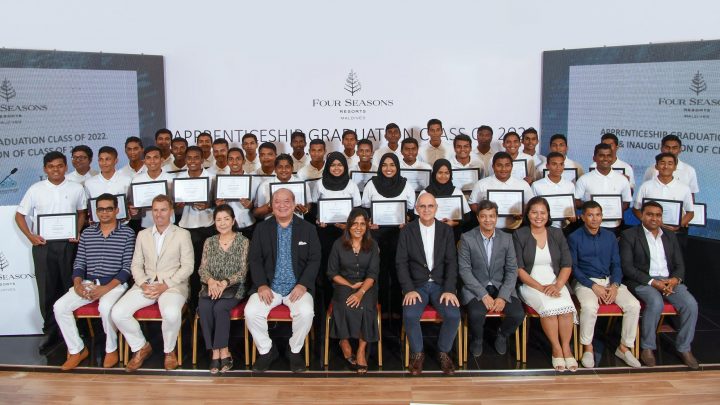 Over 700 Graduate from Four Seasons Maldives Apprenticeship Program
Four Seasons Maldives celebrates over 700 graduates under its highly successful apprenticeship program held at Four Seasons Kuda Huraa and Four Seasons Landaa Giraavaru.
The celebration for their latest 40 graduates of class 2022 were held at Maldives National University on May 28, 2022.  The short ceremony celebrated the graduating hospitality apprentices of 2022 and welcomed the class of 2023 consisting 64 students from 15 different atolls. The Class of 2022 graduated in disciplines including: Food & Beverage Service; Food & Beverage Preparation; Housekeeping & Guest Services; Retail; Front Office & Recreation; PADI Dive Master; Safe Maritime Transport (SMT); Engineering and Watersports Attendant.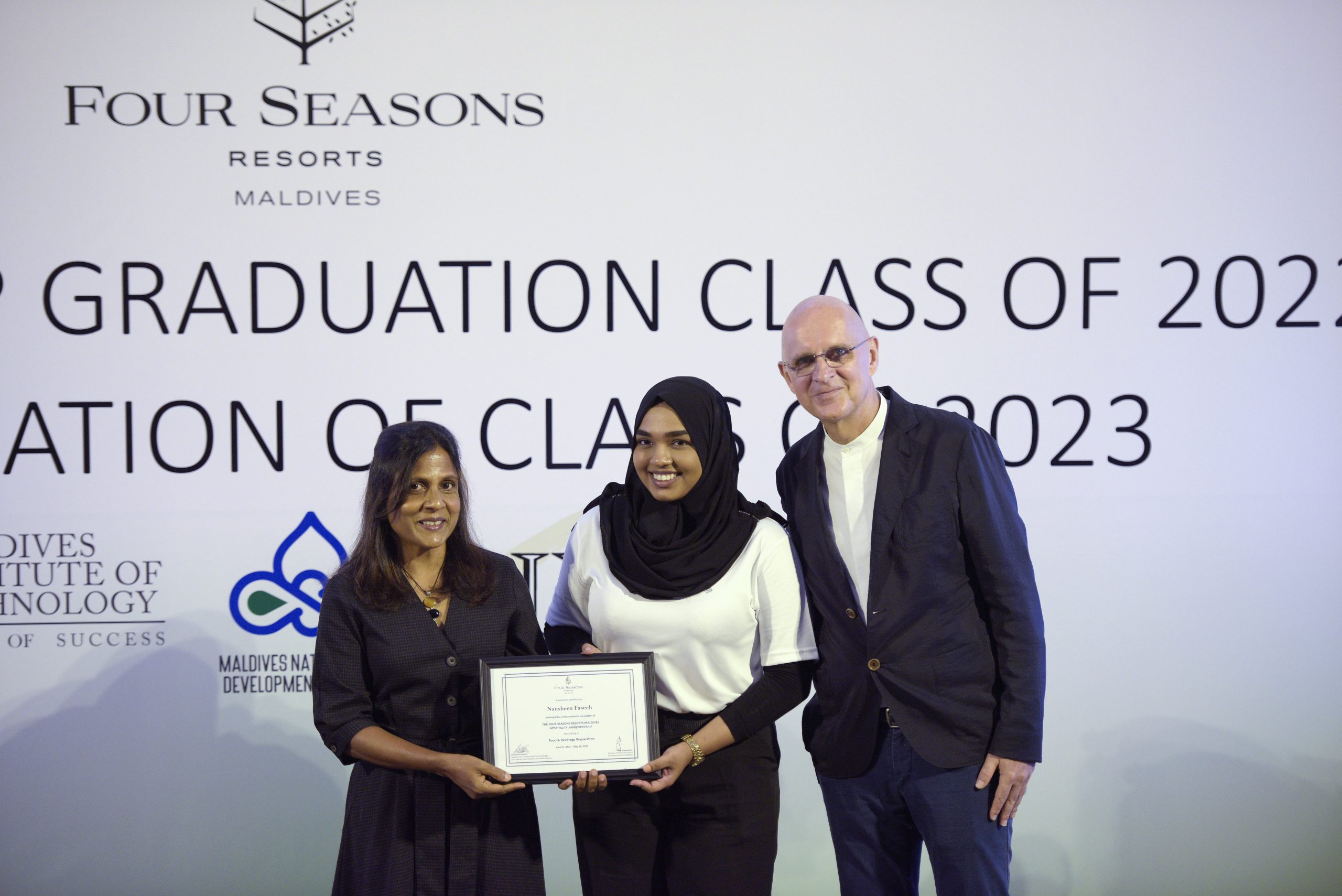 Mr. Armando Kraenzlin, regional vice president of Four Seasons Hotels and Resorts and general manager at Landaa Giraavaru, addressed the attendees during the ceremony, in which he also thanked government for the support provided throughout the Apprenticeship. He shared his pride in many of the courses provided in the program to have continued to be certified by the authorities of Maldives while sharing his hope for the institute to be accredited as a facilitating institute in the near future.
The ceremony was graced by Chief Guest of Honour and First Lady of the Maldives, Madam Fazna Ahmed. During her speech, she highlighted the importance of lifelong learning and how companies are moving away from conventional management styles while embracing 'employee first' policies with the organization. While addressing the graduates, she stated "you are among the lucky ones. In order to keep the customers happy, your employer will ensure you have what you need to do the job. Your employer will ensure the right training, materials, tools, hard and soft skills and a contusive work environment to meet your goals. This Apprenticeship program itself is a testimony to that".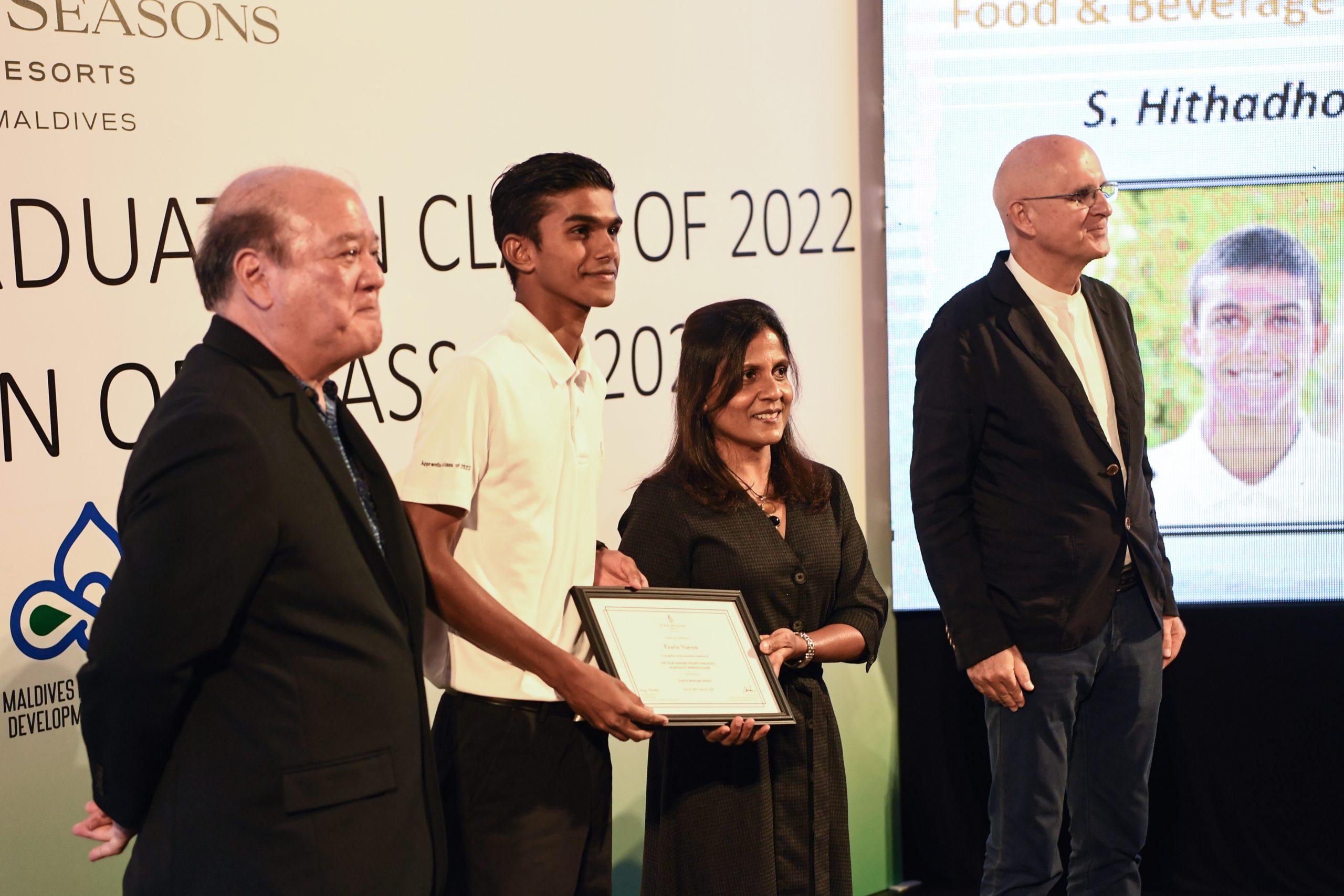 Four Seasons Maldives Apprenticeship Program began in 2001 and and was accredited by the Government of Maldives in 2010. Open for young Maldivians aged 17 to 20, the program has schooled a total of 737 youngsters over the past 21 years. It is offered in ten disciplines ranging from Housekeeping to Engineering and from Culinary to PADI Divemaster, providing a vast range of opportunities for every youth of Maldives who wishes to nurture their technical, professional and social skills for their professional life.