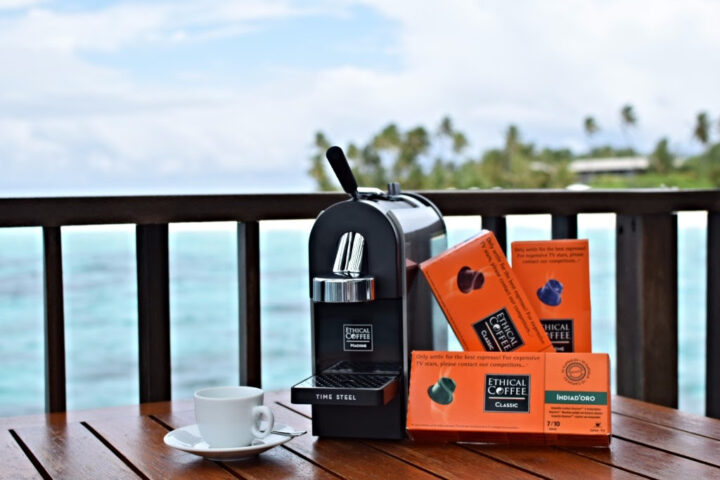 Park Hyatt Maldives Hadahaa switches to biodegradable coffee capsules
Park Hyatt Maldives Hadahaa continuously strives to reduce its impact on the environment and consciously discover alternative eco-friendly measures to put into practice.
Many changes have been implemented through the years, including the use of paper straws and glass bottles in lieu of plastic, an in-villa tablet as a room compendium instead of the traditional printed folder and now the utilization of 100% biodegradable coffee capsules.
Coffee appreciation has been on the rise, especially since the introduction of coffee capsules to meet the needs of the modern day consumer. Millions of aluminium coffee capsules are disposed of in landfills every day. These capsules take 150 to 500 years to break down and it is heavily impacting the environment.
Standing by its environmental and social sustainability policy, the resort collaborated with Ethical Coffee Company (ECC) to replace the use of aluminium packaged coffee capsules.
ECC capsules are made from 100% bio-sourced plant-based fibres and degrade within six months, while the choices of coffee selected are also bio-sourced and meet Fair Trade standards.
All villa coffee machines were replaced with customised versions fabricated by ECC. This was to ensure that the right machines were used to maintain extraction techniques, releasing the unique flavors of authentic Italian-style espresso.
Park Hyatt Maldives Hadahaa is proud to be the first resort in Maldives to lead the way in offering guests eco-friendly coffee.
"Recycling aluminium coffee capsules would actually create a larger carbon footprint as recycling plants are located outside of the Maldives. So the decision to start using 100% biodegradable coffee capsules was relatively easy as environmental stewardship has always played an important role for the resort. We acknowledge that our presence in this atoll affects the fragile ecosystem and we are committed to reducing our impact, both environmentally and culturally," commented resort General Manager Mariano Silvestri.
Ethical Coffee Company (ECC) is a Swiss company, founded in April 2008 by its Chairman, Jean-Paul Gaillard. By introducing a new generation of fully biodegradable capsules, ECC offers a sustainable and economical alternative to current consumer practices but also enables consumers to continue enjoying an authentic cup of Italian espresso in the comfort of their home.