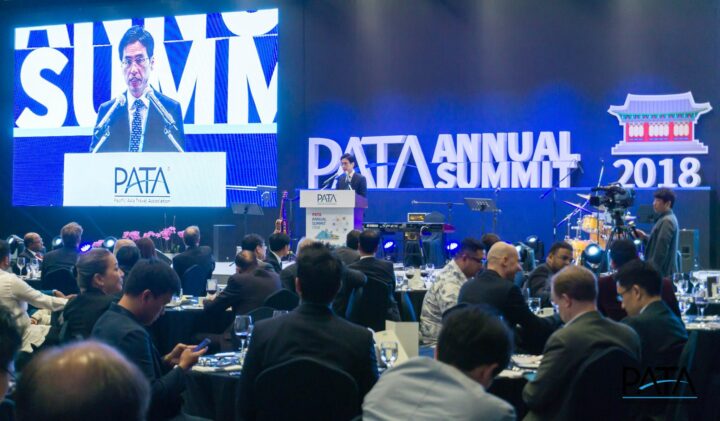 PATA presents awards to industry leaders at PATA Annual Summit 2018
The Pacific Asia Travel Association (PATA) has presented a series of awards to several individuals in recognition for their contributions to the responsible development of travel and tourism in the Asia Pacific region.
"The PATA Annual Summit is the perfect opportunity to recognise industry leaders that have contributed to the responsible development of the travel and tourism industry. In line with the theme of the event, 'Building Bridges, Connecting People', this year's recipients embody the spirit of collaboration and cooperation that is essential to the success of the industry," said PATA CEO Dr. Mario Hardy. "I would like to congratulate all the winners for their valuable contributions and also thank them for their continued support to both PATA and the travel and tourism industry."
This year's PATA Life Membership was awarded to Mr. Basant Raj Mishra, Executive Chairman – Venture Travel (Temple Tigers) Nepal, Nepal and Mr. Soon-Hwa Wong, CEO – Asia Tourism Consulting Pte., Ltd., Singapore. The award is the Association's highest individual honour and recognises significant leadership and invaluable dedication to PATA.
The PATA Award of Merit was presented to Mr. Andrew Jones, Guardian – Sanctuary Resorts, Hong Kong SAR and Mr. Akbar A. Shareef, Managing Director & Chief Executive – Rakaposhi Tours (Private) Ltd., Pakistan. The award is reserved for individuals who have consistently contributed to PATA and the PATA Chapter network over an extended period.
This year's PATA Chairperson's Award was presented to Mr. Stephen Pearce, Vice President, Marketing – Tourism Vancouver, Canada. He has worked with public and private companies across Canada and has been with Tourism Vancouver since 2001.
The PATA Face of the Future award for 2018 was presented to Mr. Abdulla Ghiyas, President – Maldives Association of Travel Agents and Tour Operators (MATATO), Maldives. This award is presented annually to an exceptional 'rising star' in the industry, having exhibited initiative and leadership in the advancement of tourism as well as demonstrating a commitment to the sustainable development of the Asia Pacific travel industry in line with PATA's mission. It is the most prestigious honour for young tourism professional in the Asia Pacific region.
The PATA Honorary Membership Award was awarded to Mr. Young-bae Ahn, President of the Korea Tourism Organization (KTO), as recognition to the host of the PATA Annual Summit 2018.