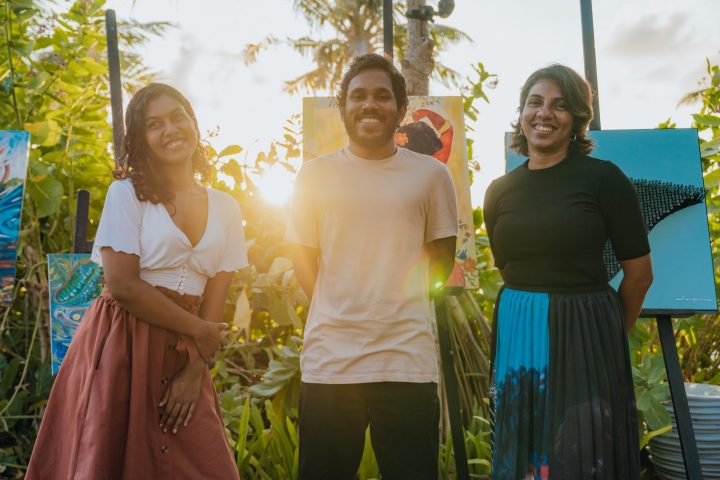 Pullman Maldives Maamutaa Hosts Art Week
Pullman Maamuta Maldives has once again demonstrated its recognition of local talent. Hosting their first Art Week to complement their already extensive all-inclusive concept and provide their guests with an opportunity to experience different artforms through a weeklong series of events, classes and workshops hosted by three talented local artists, each bringing a different concept and style, enhanced by art inspired cocktail creations to elevate the guests experience even further.
The art week provided a platform to showcase the skills of three talented local Maldivian artists – Shimanie Shareef, Rooba and Lujain; each of whom express their creativity of art and nature through very different mediums that gave guests a unique experience contemporary art.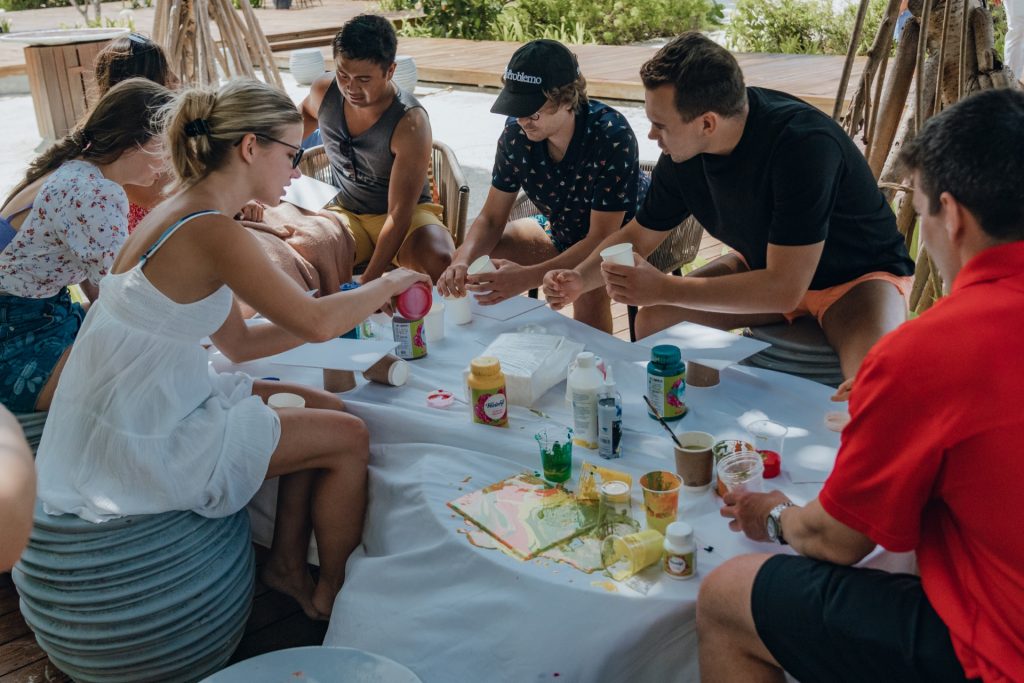 Shimanie is a multi-disciplinary artist and Art Teacher, she trained in Adaptive Arts (as an art teacher for people with disabilities and neurodiversity) and offers guidance as art therapy for both adults and children. Her art therapy workshop for adults and kids was well attended on Monday, as were her seascapes painting and botanical painting classes.
Rooba has been drawing since she was a little girl. Her style has evolved along her creative journey, learning new techniques, and merging them into each other giving them her own unique twist. She uses different mediums and styles to create a variety of themes. Guest joined her for abstract and landscape painting classes, whilst the children were also treated to an intuitive painting session.
Lujain discovered the fascinating world of Mixed Media Arts in 2019. His projects contain thousands of screws, which are later painted with Oil colour to depict the marine life he grew up with. Lujain hosted a live demonstration of his art, and the art of oil colour mixing.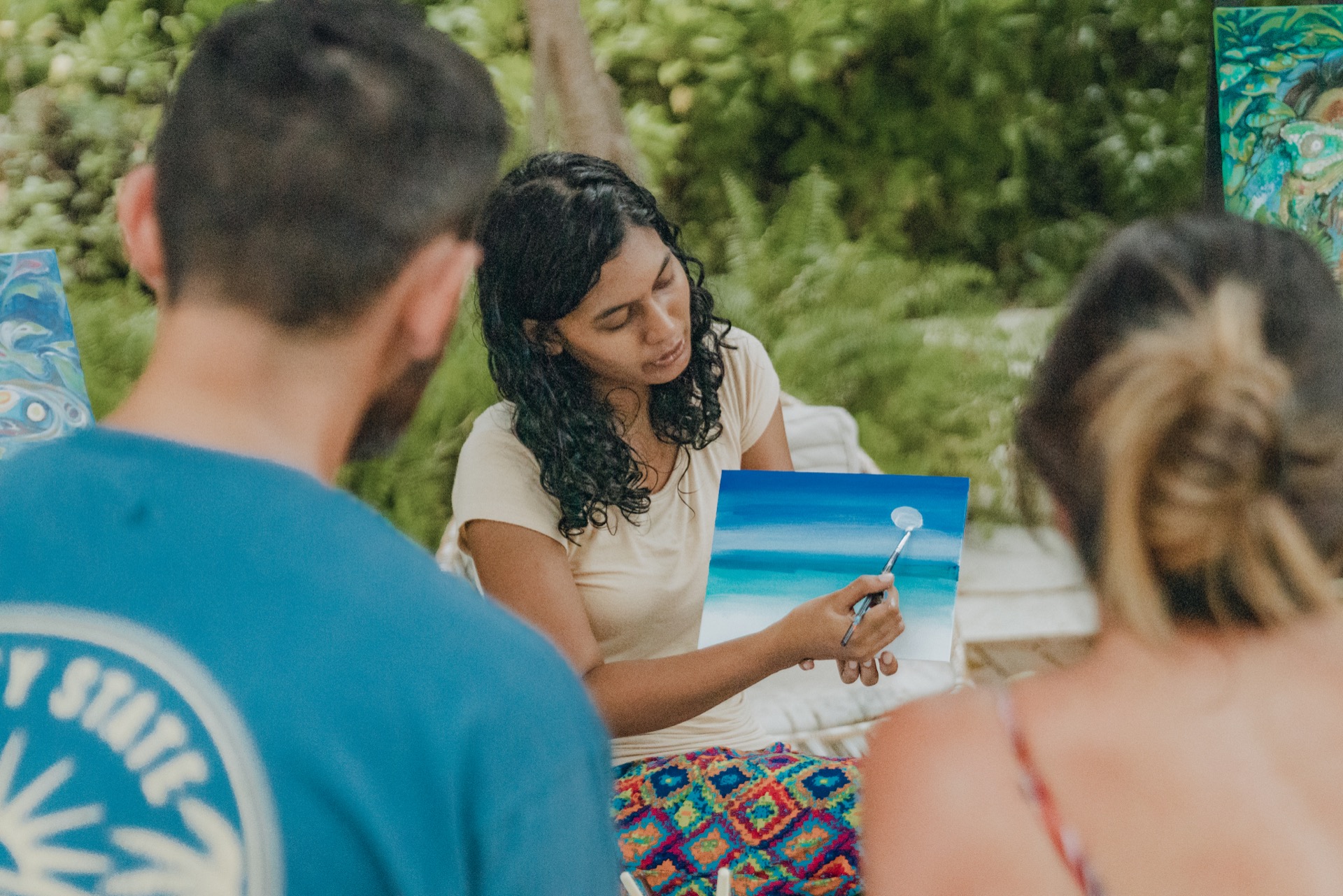 This innovative "Artist Playground" held something for everyone, with guests captivated by the diverse displays of abstract, water colours, oils and glow in the dark paints. Guests were encouraged to try their hand at every opportunity, their creations displayed in an ever-increasing gallery of diverse canvases, before being packed and taken home as a memorable and unique souvenir.
Friday saw a different type of workshop, with paint and brushes being replaced by a cordless drill and a box of black screws. Both adults and children had the opportunity to use the drill to insert crews to different heights to create an undulating 3D effect.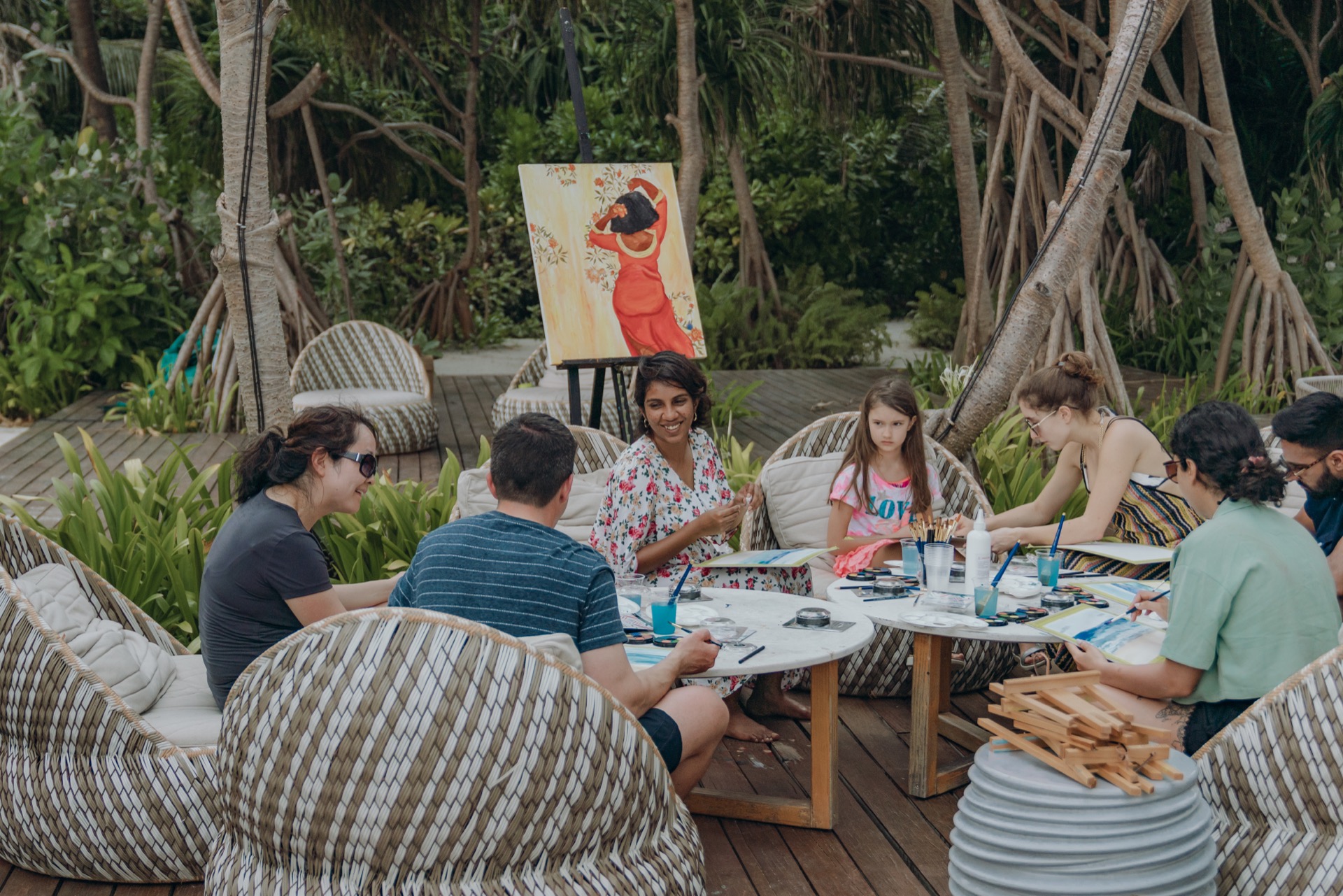 The Mystery Art evening was held against the backdrop of a stunning, purple tinged sunset, accompanied by music, and a tantalising selection of canapes and cocktails. Guests feasted and watched whilst the three artists unveiled their mystery box challenge. Each box revealed three identical wooden circles with the artists challenged to let their imagination run free and decorate them!
Each created very different pieces, Lujain was drawn back to brushes and paint for the first time in over ten years, to produce serene marine inspired creations, Rooba had three interlinked vibrant creations and Shimanie had three very different and more reflective pieces.
To complement the diverse artistic styles the resorts talented mixologist created a range of art inspired cocktails for the guests to sample each evening, all as different in flavour and style as the artists they represented.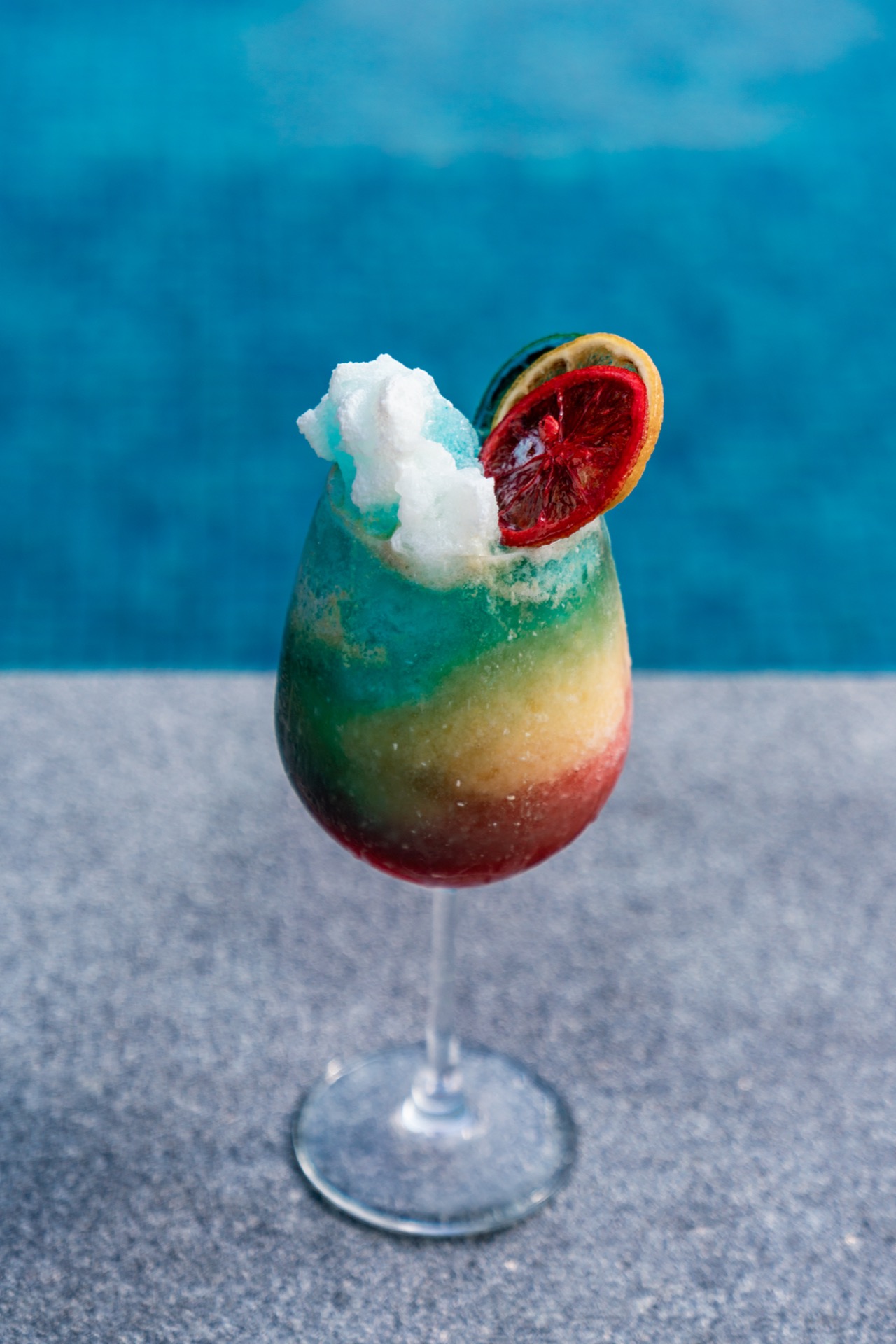 The Michael Angelo, was a vibrant mix of colours, created using Orange liquor. Butterfly tea , Orgeat and Coconut which were encased in an icy mix providing a refreshing topical rum and coconut  combination fitting for both the island setting and the art its self.
The Picasso presented a tantalising mix of Vodka, Cachaca Sake Pineapple juice flavours , enhanced by food colours and suspended above each other in homage to the artist who was known for the co-invention of collage, and wide variety of styles.
Balthus Dream provided a more elegant creation, mixing a home-made mixed berry concoction with a bubbly champagne.
More about the Artists
Shimanie – Growing up, she always loved art, discovering its diversity whilst studying marketing and business in Sri Lanka before entering the secure environment of the corporate world, whilst always having an idea of doing something more with her art. The pandemic gave her the perfect opportunity, as in a bid to keep her own children entertained, she realised that other children and adults would benefit from ways to express themselves through art and began teaching online, which has evolved into workshops and classes.
Realising there was a need for helping people express themselves through art, she trained in Adaptive Arts (as an art teacher for people with disabilities and neurodiversity) and offers guidance as art therapy for both adults and children.
Her art is heavily influenced by Maldivian folklores, history, colour, and nature, as depicted by her mystery box. Her goal is to make Art more accessible and inclusive to people who have been neglected, providing them with a voice and a platform for expression.
Rooba radiates passion for her art which is a far cry from the introverted shy little girl who used to keep herself to herself and draw. Growing up with a father as an artist she was repeatedly told that she would never be able to make it as an artist. After trying the mundane 9 – 5 jobs she realised that she needed to follow her heart and began a journey of developing both her art and herself.
Working as an in-house artist with various resorts increased her self-confidence and gave her a secure and structured environment, however she still felt that there was more which compelled her to go out on her own and explore the world of art and all the opportunities it has to offer.
Her journey of discovery has enabled her to learn new techniques at different art courses, and experiment, finding inspiration from books and other artists and then merging their style with her own. Rooba takes her inspiration from her surroundings, whether colours, shapes or feelings and captures them into vibrant canvases that are often complex, combining different variations and mediums like acrylic paint, pencil, ink, digital painting to different themes like fantasy, dark art, artistic nudes, and landscapes. The resulting creations are vibrant and intricate master pieces, some of which were displayed at the London Bomber Gallery along with other international artists.
Lujain had interests in different forms of art and creative works from an early age which was stifled by spending ten years in the corporate world before discovering the fascinating world of Mixed Media Art. Inspired by an American artist, Lujain was drawn to "Nail Art" using a drill and hundreds or thousands of screws to create shapes which are inspired by the marine life of the Maldivian waters. Lujain finds the creation of his pieces as therapeutic as watching the creatures he is portraying and loves what his experiments can achieve.
The technique involves sketching the outline of the chosen subject and then painstakingly predrilling hundreds of holes so that black screws can be inserted at different heights to depict the illusion of movement. Oil paint is later added to enhance the undulating effect.
One of his most iconic projects, The Survival, contains approximately 7000 hand-painted screws to show a whale shark ensnared with rope and netting to highlight the dangers these gentle creatures face and create awareness of the fragility of the marine life and eco system unless everyone takes responsibility to preserve it.
Featured Image: (Left to right) Rooba, Lujain, Shimanie