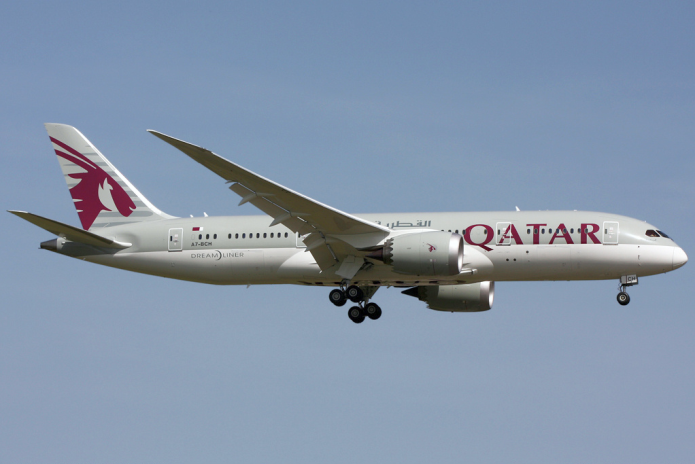 Qatar Airways: global operations running smoothly, flights operating as scheduled
Qatar Airways says its operations to and from its Doha hub are running smoothly, with the vast majority of flights operating as scheduled. In the past week, the award-winning global airline had flown approximately 1,200 flights between Doha and its network of more than 150 destinations around the globe, with 90 percent of those flights departing within 15 minutes of their scheduled departure time.
In the coming months, that network is expected to further expand, says the airline in a statement. Recently, the airline launched direct service to Dublin, Republic of Ireland. Qatar Airways' service to Nice, France, will commence on July 4, and flights to Skopje, Republic of Macedonia, on July 17.
Other new destinations planned for the remainder of this year and 2018 include Las Vegas (USA), Canberra (Australia), Douala (Cameroon), Libreville (Gabon), Medan (Indonesia), Rio de Janeiro (Brazil), Santiago (Chile) and Sarajevo (Bosnia and Herzegovina), as well as many others.
Earlier this week the airline released its annual report for the fiscal year 2017, revealing a net profit of US$541 million, a 21.7 percent year-on-year increase. The results also show an annual revenue increase of 10.4 percent.
"Qatar Airways' global operations continue to run smoothly, with the vast majority of our network unaffected by the current circumstances. Our focus is on supporting any passengers impacted by the current situation and ensuring that we continue to deliver our award-winning service," says Akbar Al Baker, Chief Executive of Qatar Airways Group.
"Our network expansion continues with two new destinations launching in the next month. As far as we are concerned, it is business as usual."
"This blockade is unprecedented, and it is in direct contradiction to the convention that guarantees rights to civil overflight. We call upon the International Civil Aviation Organisation (ICAO) to declare this an illegal act. We are not a political body, we are an airline, and this blockade has stripped us of the rights which are guaranteed to us," he adds.
In light of the blockade, the airline has significantly increased the operations of its global call centre and social media to ensure concerned customers receive the best possible care, and has even extended its commercial policy to ensure greater flexibility for refunds and rebooking for any passengers whose flight is impacted by the recent travel bans.
The airline has also introduced new functionality on Facebook to provide customers with flexible call-back options. The airline is widely recognised as offering the world's best service and holds the title 'Best Airline Staff Service in the Middle East' as awarded by the customer-voted Skytrax awards.
Qatar Airways, the national carrier of the State of Qatar, have been involved with the safe journeying of travellers across its more than 150 business and leisure destinations. Multiple award-winning airlines, Qatar Airways was awarded World's Best Business Class; Best Business Class Airline Lounge and Best Airline Staff Service in the Middle East at the prestigious 2016 World Airline Awards managed by international air transport rating organisation Skytrax.