Resort News Weekly Roundup
The Ritz-Carlton Maldives, Fari Islands Launches 'Behind the Bar' Program
The Ritz-Carlton Maldives, Fari Islands is debuting a new guest bartending series 'Behind the Bar'. This program will feature some of the top bartenders and bring several of the World's 50 Best Bars to Fari Islands.
The program kicked off on 3rd November 2021 with Little Red Door cocktail bar. Known for its tailored team of bartenders who are able to imagine clever drinks according to the mood and preferences of the clients, the Little Red Door distinguishes itself by the creativity of its breaking codes and pushing senses menus. Guests of The Ritz-Carlton Maldives, Fari Islands can join the guest mixologists at Eau Bar for an extraordinary cocktail experience or take part in the Cocktail Lab hosted by Little Red Door, that will dive into the art of cocktail conception and the connection the colours have in creating different sensations.
On 29th November 2021, Noel Venning, Head Bartender and Owner of Three Sheets, will take over Eau Bar for two nights and offer a Cocktail Lab for guests to discover the secrets behind his renowned cocktail bar. On 18th December, Tjoget bar will offer drinks inspired by the flavours and fragrances of Southern Europe, Northern Africa, and the Middle East.
The Behind the Bar program will be continuing through 2022.
Dusit Thani Maldives Unveils Festive Program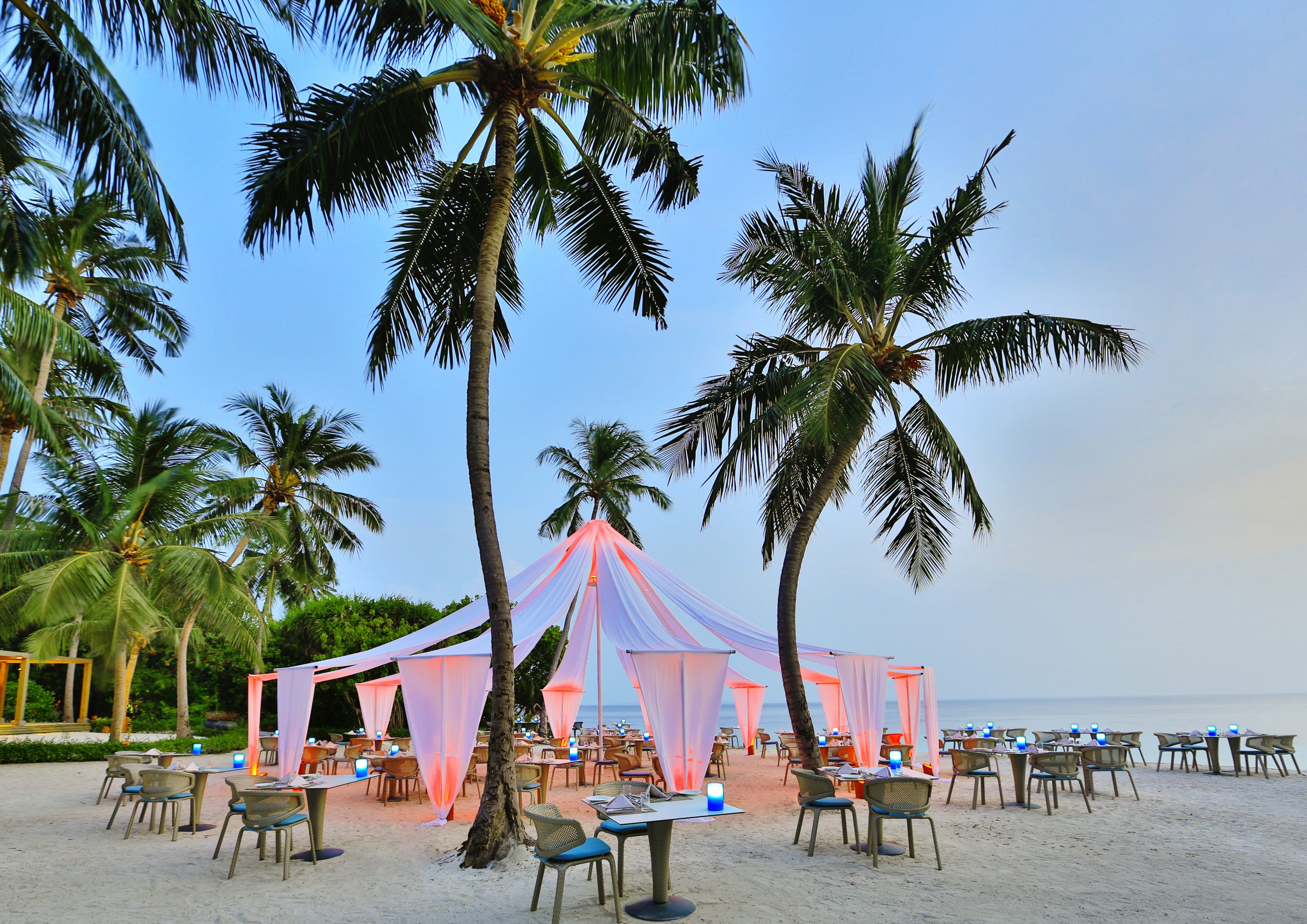 Dusit Thani Maldives invites guests to enjoy its full programme of special festive events, along with Dusit's unique Thai-inspired gracious hospitality.
Celebrations begin on 21 December with a tree-lighting ceremony, and continues on Christmas Eve with sunset cocktails and a gala dinner. Christmas morning brings guests together for a lazy Champagne brunch and Santa's arrival on the beach. A feast of culinary adventures follows, including a traditional Maldivian seafood night, gourmet wine dinner, a luscious lobster barbecue, and a South American-themed banquet.
New Year celebrations begin with an elegant cocktail reception followed by a gala dinner featuring spectacular performances, live music, dancing, and fireworks at midnight. Guests will ease into 2022 with a leisurely New Year's breakfast and, on Thursday 6 January, wrap up the season with a sumptuous Orthodox Christmas dinner by the ocean.
Throughout the festive period, Baan Sanook kids club will welcome younger guests with exciting and engaging activities themed around the festivities and the island. Highlights include Christmas crafts, local games and dancing, coconut leaf art, and traditional music.
For more information about the resort and its special festive programme, contact resmaldives@dusit.com.
Sheraton Maldives Launches New Brand Campaign, 'Celebrate the Community'
Sheraton Hotels & Resorts, part of Marriott Bonvoy's portfolio of thirty extraordinary hotel brands, has unveiled its new brand campaign, 'Celebrate the Community'. Sitting at the heart of communities for over eighty years, Sheraton continues to bring people together in destinations around the world. The campaign celebrates the communal spirit and invites guests to reconnect and share experiences, reinforcing the brand's commitment to be 'Where the World Comes Together'.
"As the most global brand within the Marriott Bonvoy portfolio, Sheraton has always stood for community, and played a special role in serving and connecting people around the world," said Jennie Toh, Vice President, Brand Marketing and Brand Management, Asia Pacific, Marriott International. "The pandemic lockdowns have created an increased awareness and appreciation of the importance of social interactions in people's lives. With the 'Celebrate the Community' campaign, we hope to remind people of the power of collective and that we are better together."
Watch campaign launch video here
OZEN RESERVE BOLIFUSHI Brings New Additions to The RESERVE Experience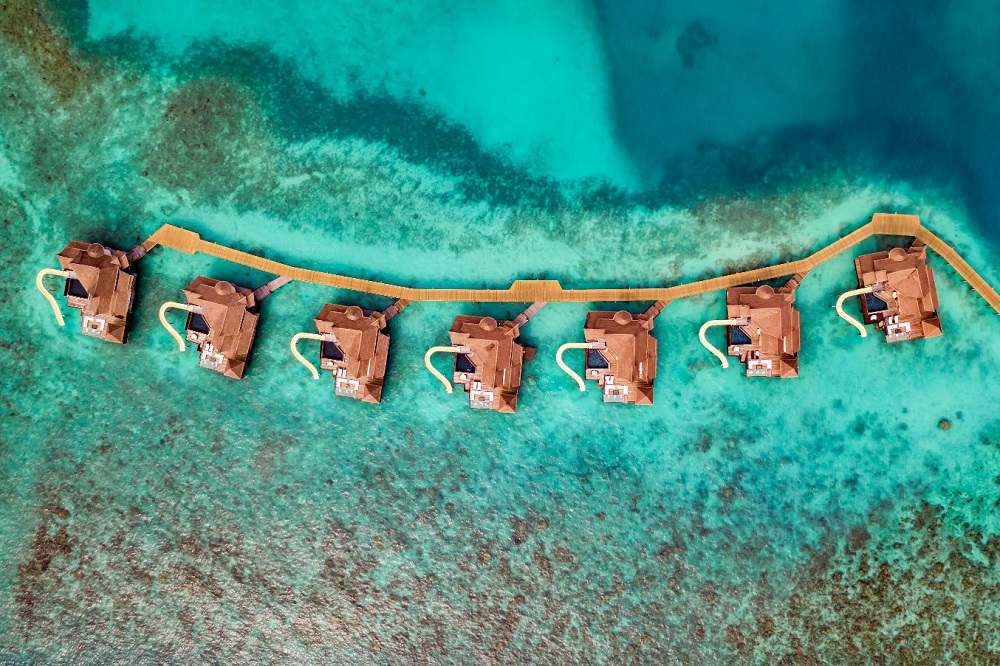 OZEN RESERVE BOLIFUSHI has announced exciting new additions to The RESERVE Experience, an immersive getaway in fifteen iconic RESERVE. These secluded sanctuaries are available in four categories: Earth Pool RESERVE, Private Ocean RESERVE with Slide, THE OZEN RESERVE, and the Royal RESERVE.
The RESERVE Experience allows guests to dine anywhere, anytime at Bolifushi island. The Experience begins the moment guests reach Velana International Airport (VIA). A personal Hiyani (butler) welcomes guests and assists them to THE OZEN COLLECTION Lounge. On reaching the shores of Bolifushi island, guests are given a Traditional Maldivian welcome. This is enhanced by a charming shower of flower petals, umbrella escort from the jetty and a refreshing foot ritual at the arrival lounge by ELE | NA ELEMENTS OF NATURE spa and wellness centre. The pampering continues with an array of signature experiences: special RESERVE welcome gifts, 24/7 personal Hiyani service, packing and unpacking service, handpicked gifts with turndown, maxi bar replenished daily with a selection of liquor, and complimentary spa massages (depending on the nights of stay).
Guests also receive a memorable farewell experience with personal touches. Other privileges include laundry wash on the day of departure, complimentary late checkout and late lunch (subject to availability), handcrafted farewell gift, personal butler escort to VIA and catamaran transfer with bespoke amenities on departure.
Featured Image: The Ritz-Carlton Maldives, Fari Islands – Behind the Eau Bar – Barney O'Kane