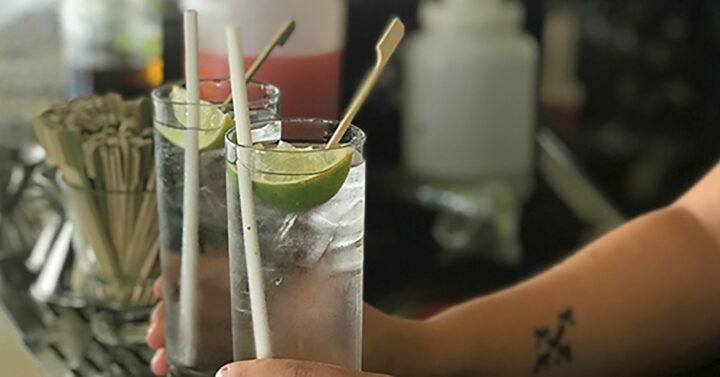 Resort News Weekly Roundup
Marriott International to remove plastic straws worldwide by July 2019
Marriott International has announced that it has adopted a plan to remove disposable plastic straws and plastic stirrers from its more than 6,500 properties across 30 brands around the world. Once fully implemented in one year, the company could eliminate the use of more than 1 billion plastic straws per year and about a quarter billion stirrers. A single plastic straw – which might be used for about 15 minutes – will never fully decompose.
"We are proud to be among the first large U.S. companies to announce that we're eliminating plastic straws in our properties worldwide," said Arne Sorenson, President and Chief Executive Officer of Marriott International.
Marriott's plastic straw initiative is the latest change the hospitality company is making to enhance the sustainability of its operations and reduce plastic consumption. Earlier this year, Marriott began replacing small toiletry bottles in the guest bathrooms of about 450 select-service hotels with larger, in-shower dispensers that distribute more product for guests to use, reducing waste. To learn more about Marriott International, please visit marriott.com/marriott-brands.
The St. Regis Maldives Vommuli Resort gets new Executive Pastry Chef
The St. Regis Maldives Vommuli Resort has announced the appointment of new executive pastry chef, Luis Frederico Oliveira, who moved from one Michelin-starred Pollen Street Social on Mayfair, London. Influenced by modern French cuisine, owing to his culinary training and work experience, Luis will focus on creating exciting desserts with a touch of fusion for the luxury resort.
The culinary arts graduate previously worked in Michelin-starred restaurants like B. Violier Restaurant at L'Hôtel de Ville in Switzerland, Dinner by Heston Blumenthal and Remy on the Disney Cruise Line. Alexander Blair, general manager at the St. Regis Maldives Vommuli Resort, said: "We are excited to have a pastry chef of Luis' calibre lead the pastry team at the resort.
"We are proud of the exquisite gastronomic journey that is offered to our guests, and Luis' Michelin-star background and expertise as a culinary innovator is sure to add to the world-class sophistication of the cuisine served here." In his new role, Luis is responsible for the dessert menu development across all restaurants in the luxury private island resort, while managing a full team of pastry chefs. starwoodhotels.com/stregis.
LUX* Resorts & Hotels spearheads eco-tourism initiatives in Maldives
LUX* Resorts & Hotels is set to significantly boost its green footprint, Travel Gold Life and Green Globe certifications with further sustainable tourism developments announced in the Maldives, following their Australian Roadshow 9-20 July. The new initiatives build on the brand's global Tread Lightly program which targets a carbon neutral footprint through renewable energy projects including carbon offsetting, water saving devices, energy management systems, LED light retrofits, locally sourced water with in-house bottling, towel and linen reuse, paper reduction technology and more.
Flagship resort LUX* South Ari Atoll will lead the new initiatives, followed by the launch of LUX* North Malé Atoll in early 2019 through:
Energy Saving Solar: New technology harnessing solar energy using photovoltaic panels will be installed on accommodation within the resort and on a platform in the lagoon.
LUX* Underwater Festival: A week-long celebration of marine conservation, underwater photography, workshops and scuba diving with PADI dive experts and Project AWARE founder, Dr Drew Richardson will be held at LUX* South Ari Atoll 16-22 September.
Resident Marine Biologist: LUX* resident Marine Biologist Mark McMillan is leading coral regeneration in the region in partnership with other marine conservation groups, participating in debris and ghost net cleanup along with plastic free initiatives; and more. To learn more about LUX* South Ari Atoll, please visit luxresorts.com/luxsouthariatoll.