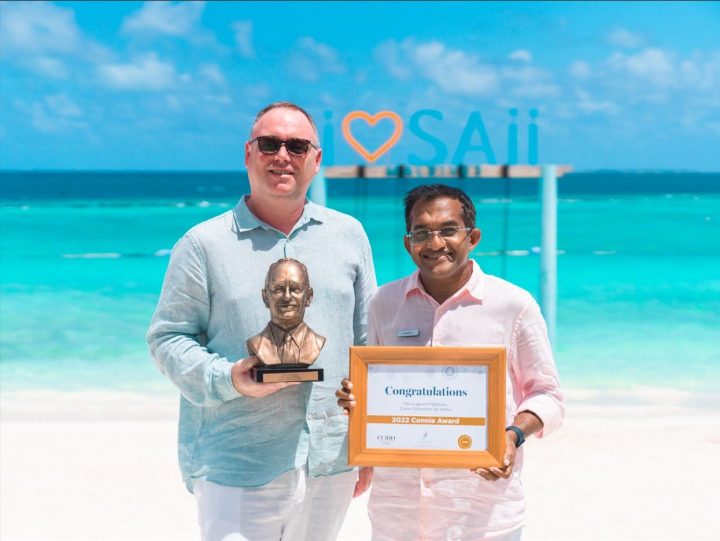 SAii Lagoon becomes first Hilton hotel in Maldives to win prestigious Connie Award
SAii Lagoon Maldives, Curio Collection by Hilton, has announced its historic win as the first Hilton property in the Maldives to be awarded the prestigious Connie Award 2022. This coveted accolade, regarded as the highest honour within the Hilton Group, serves as a testament to the resort's unwavering commitment to delivering unparalleled service and exceptional guest experiences.
The Connie Award, named in honour of Conrad Hilton, the founder of the iconic Hilton brand, recognises outstanding performance and excellence among Hilton properties worldwide. This recognition underscores SAii Lagoon Maldives' dedication to elevating the standard of service in the Maldivian hospitality industry.
With deep gratitude, SAii Lagoon Maldives expressed their appreciation to their team members for their unwavering dedication and relentless efforts in providing the highest level of service to every guest. The entire staff's commitment to delivering an unparalleled stay experience has been instrumental in securing this remarkable milestone.
Receiving the Connie Award 2022 is not only a remarkable achievement for SAii Lagoon Maldives but also a momentous occasion for the Maldives as a destination. It highlights the country's rising prominence as a luxury travel hotspot and reinforces the exceptional standards upheld by Hilton properties worldwide.
The resort's commitment to maintaining and surpassing these high service standards is an assurance to all future guests that their stay at SAii Lagoon Maldives will be nothing short of extraordinary. From the moment visitors step foot on the island, they can expect a seamless blend of natural beauty, contemporary elegance, and warm Maldivian hospitality.
Situated amidst the pristine turquoise waters and vibrant marine life of Emboodhoo Lagoon, SAii Lagoon Maldives offers an idyllic sanctuary for travellers seeking a tranquil escape. The resort boasts 198 beautifully appointed guest rooms, suites, and villas, each thoughtfully designed to reflect the vibrant spirit of the Maldives.
Guests can indulge in a wide range of recreational activities, including water sports, snorkelling, and diving adventures to discover the enchanting underwater world. The resort also features multiple dining venues, including the signature overwater dining destination, Mr. Tomyam, serving a delectable fusion of Thai and Maldivian cuisine.
Furthermore, SAii Lagoon Maldives provides a holistic wellness experience at the award-winning The Spa, where guests can rejuvenate their mind, body, and soul with a variety of treatments inspired by traditional Maldivian techniques.
As the recipient of the Connie Award 2022, SAii Lagoon Maldives, Curio Collection by Hilton, has raised the bar for luxury hospitality in the Maldives. With its unparalleled service, breathtaking surroundings, and commitment to excellence, the resort promises an unforgettable stay that will leave guests with cherished memories for a lifetime.
Travellers looking to experience the pinnacle of luxury in the Maldives need look no further than SAii Lagoon Maldives, where a world of unparalleled beauty and unparalleled service awaits.