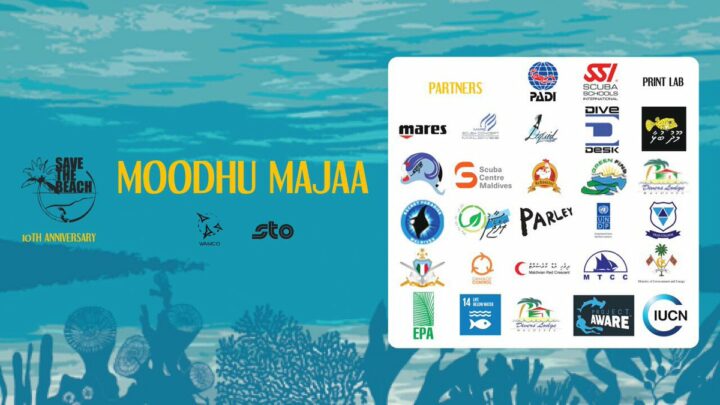 Save the Beach celebrates 10th anniversary
Save The Beach Maldives is hosting its annual event at Villimalé on November 18, commemorating its 10th anniversary. This year, the event has been named 'Moodhu Majaa' and in addition to environment and awareness initiatives, it will also feature many educational and enjoyable activities to celebrate the occasion of the NGO's 10th Anniversary, says the NGO in a statement.
Moodhu Majaa is co-sponsored by Dhiraagu, Waste Management Corporation Limited (WAMCO) and State Trading Organization (STO). The activities of the event are conducted with the support of its event partners and it is also endorsed by the Ministry of Environment and Energy as well as by the United Nations Development Program and is recognized under UN's Sustainable Development Goals, according to Save the Beach.
The event commenced with a clean-up of Villimalé beach and its surrounding coastal areas that culminates in a waste audit conducted by volunteers from the NGOs co-sponsors, partners, environmental organisations, the local island community as well as from the general public.
The rest of the 'Moodhu Majaa' activities include trainings such as Dive against Debris (participants will receive a PADI PIC) and Try Diving (participants will be recognised under SSI), Fish ID Training (an information session about habits and habitats of our local reef inhabitants) and guided snorkelling (for all ages).  All of these training and tryouts are free to the public thanks largely to our partners from the dive community, according to the organiser.
Moodhu Majaa also features environmental awareness and conservation stalls, a sand sculpture competition, conservation tours, nature walks, a photo booth area and musical performances as well as food and refreshment corners. In addition, short informative 'eco-talks' will also be delivered by prominent environmental leaders of our community, providing vital education to the participants of the event, says Save the Beach.
Founded as a non-profit organisation in 2007 by Hassan 'Beybe' Ahmed to initiate a movement geared towards the removal of waste and preserving the natural state of the beaches, today Save The Beach stands as one of the longest-established environmental initiatives in the Maldives. Backed by the support of local communities and dedicated volunteers, STB broadened its reach in 2014 by becoming Save the Beach Maldives.
STB has since completed several conservation projects and conducted various awareness activities. The overall vision of Save the Beach has always been centred on increasing and maintaining awareness amongst all people and pledges to continue to take action towards the conservation and beautification of our unique archipelago.