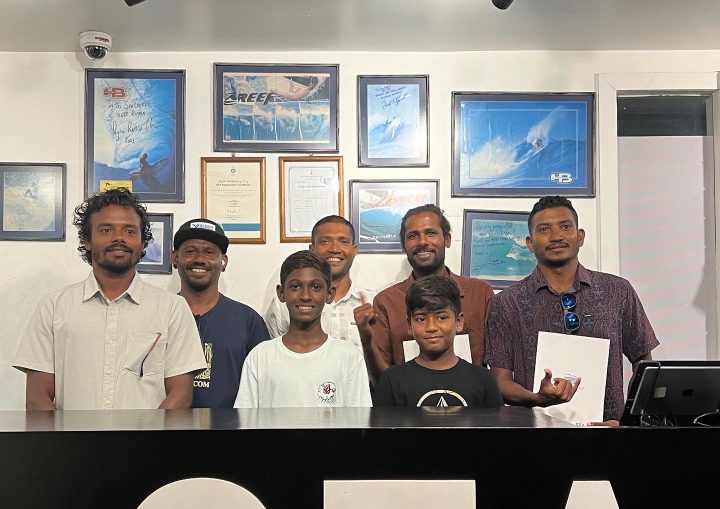 Sea Sports Signs Sponsorship Contracts with Seven Ambassadors
Sea Sports, the surf and swimming apparel retail outlet of Seagull Group Pvt Ltd, has announced the renewal of Ambassador sponsorship contracts to represent its outlet and the brands it carries.
Sea Sports has long been associated with surfing and bodyboarding champions of the Maldives such as Ali Khushruwan, Ali Javed, Ismail Miglal, Ahmed Agil and Hussain Areef. In addition to these established names, two new surf enthusiasts were signed on.
The two fresh faces of Sea Sports are Mohamed Inan Abdul Hannan, 13, from K. Guraidhoo and Yasin Ahmed Nashid, 11, from K. Male'.
"By signing them on, we hope to help them develop their talent and encourage other little ones to follow in their footsteps", Sea Sports stated.
"In the efforts to promote surfing and water sports in the Maldives, Sea Sports is very proud to be associated with these individuals and commit to support them as they represent Maldives on a high level internationally, as well as with their work domestically to grow the surf culture."
Ambassador sponsorship contracts are one of the areas Sea Sports is involved in to develop surfing and water sports in the Maldives. Sea Sports hopes that this initiative will encourage and increase the involvement of youth and those interested in surfing throughout the country.
Sea Sports was established in May 1995, initially targeting to provide surfing and swimming gear for resorts across the Maldives. The outlet has evolved over the years, introducing more brands and diversifying the product line in surf and leisure wear, becoming one of the most prominent surf and leisure shops in the country.
Featured Cover Image: Sea Sports