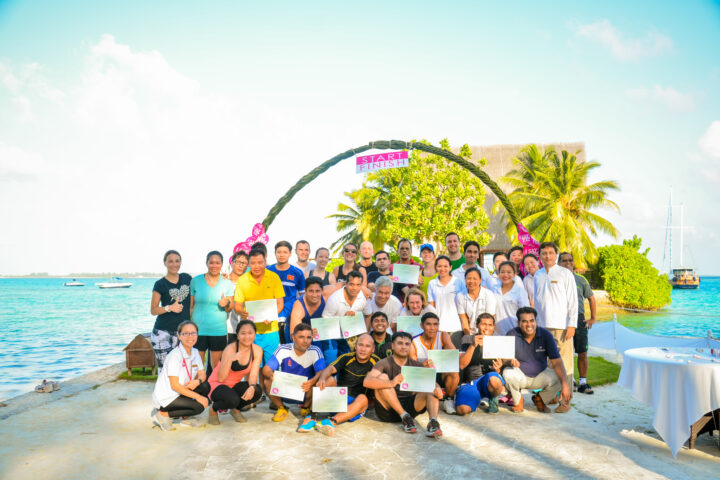 Shangri-La celebrates Global Wellness Day
To celebrate Global Wellness Day, Shangri-La hotels and resorts around the world invite guests, colleagues and communities "to find their #ParadiseWithin."
From 10-minute massages and juice bars to beach-side yoga and healthy cooking demonstrations, Shangri-La, Traders, Kerry and Hotel Jen properties will host free wellness activities and offerings surrounding Global Wellness Day to promote healthy and mindful living.
"Travel is not only a discovery of the world around us, but it can also lead to an exploration within oneself to find moments of happiness, exhilaration, contentment or serenity," said Todd Hewitt, corporate director of spa, health clubs and recreation at Shangri-La Hotels and Resorts.
"With Shangri-La's participation in Global Wellness Day, we hope to encourage everyone to find their #ParadiseWithin not only on June 11, but also throughout the year."
According to the luxury hospitality group, Global Wellness Day offerings will be unique to each destination and property. Hotels and resorts will incorporate unique local attractions, such as a 6km fun run for guests and employees at Shangri-La's Villingili Resort & Spa, Maldives.
The resort also integrates local offerings into Global Wellness Day celebrations, such as a yoga session and boot camp, executed by the resort's yogi and personal trainer, for the local school children from the neighbouring island.
"We hope this helps guests and colleagues not only find their #ParadiseWithin but also foster a greater sense of place and connection to our incredible destinations," said Hewitt.
Shangri-La will celebrate Global Wellness Day with the global community on social media as well. Guests and colleagues can join the movement by hashtagging posts with #ParadiseWithin and #GWD2016.
"Global Wellness Day is all about encouraging healthy lifestyles and positive living. What better way to spread the word than through the global connectivity of social media?" continued Hewitt.
"We look forward to sharing, liking and following along on our properties' and guests' journeys toward living well."
In 2012, Global Wellness Day (11 June) was established as a day dedicated to living well. The day was officially celebrated in 73 countries in 2015.
Shangri-La Hotels and Resorts, based in Hong Kong, currently owns and/or manages more than 95 hotels under the Shangri-La brand with a room inventory of over 38,000. Shangri-La hotels are five-star deluxe properties featuring extensive luxury facilities and services.
Shangri-La hotels are located in Australia, Canada, mainland China, Fiji, France, Hong Kong, India, Indonesia, Japan, Malaysia, Maldives, Mauritius, Mongolia, Myanmar, Philippines, Singapore, Sultanate of Oman, Taiwan, Thailand, Turkey, the United Arab Emirates and the United Kingdom. The group has a substantial development pipeline with upcoming projects in mainland China, Cambodia, Hong Kong, India, Myanmar, Saudi Arabia and Sri Lanka.
For more information, visit www.shangri-la.com