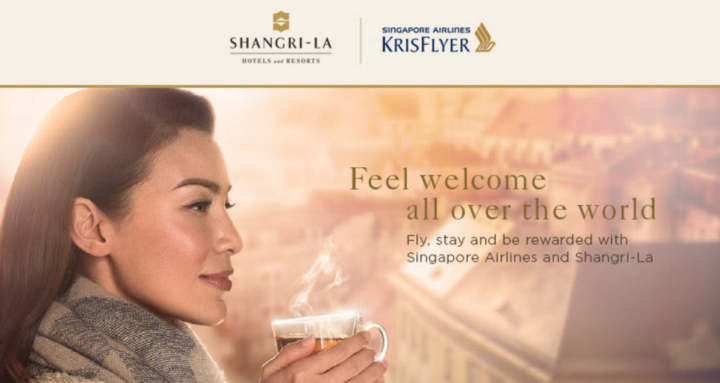 Shangri-La and Singapore Airlines partner to offer 'Infinite Journeys'
Shangri-La Hotels and Resorts and Singapore Airlines have come together to provide members of Golden Circle and KrisFlyer enhanced benefits.
Named 'Infinite Journeys', the two globally recognised travel brands now offer travellers around the world greater recognition and rewards, with the promise of new experiences for every journey with Shangri-La and Singapore Airlines.
The partnership offers double rewards for Golden Circle and KrisFlyer members when they stay at Shangri-La, as well as enhanced benefits and recognition for elite members in both programmes when they fly with Singapore Airlines or stay with Shangri-La.
Golden Circle Diamond and Jade members will enjoy an accelerated upgrade to KrisFlyer Elite Gold which gives complimentary access to Singapore Airlines' airport lounges worldwide. PPS Club and KrisFlyer Elite Gold members will enjoy an accelerated upgrade to Golden Circle Jade membership. With Jade status, members can benefit from complimentary room upgrades to a choice of welcome amenities and more.
Additionally, Golden Circle members can now redeem their GC Award points for KrisFlyer miles, which can be used for flight upgrades, or for award flights on over 30 airlines including Singapore Airlines and SilkAir.
KrisFlyer miles can also be combined with cash to pay for Singapore Airlines and SilkAir flights on singaporeair.com, or merchandise from KrisShop on krisshop.com.
KrisFlyer members can in turn redeem their miles for GC Award points. These points can be redeemed for a range of hotel benefits such as complimentary room nights, room upgrades and spa vouchers, as well as curated dinner and drink experiences – offered by 'The Table from Golden Circle', Shangri-La's latest initiative and an industry leading food and drink programme – at all Shangri-La properties worldwide.
"With Golden Circle we are focused on moving beyond the traditional loyalty model of offering customers the ability to earn and redeem points for rooms alone – to a more experiential platform which engages customers across the travel cycle and beyond," said Steven Taylor, Shangri-La's Chief Marketing Officer.
"We are very excited about this strategic alliance with Singapore Airlines – one of the world's leading travel brands– to continuously deliver more value to Golden Circle members. This partnership not only allows KrisFlyer members access to Shangri-La hotels and resorts, what's more the alliance will see both Singapore Airlines and Shangri-La leverage the synergies offered by both brands. We are pleased to present our members with extra attractive benefits and look forward to delivering more choice and excellence to our guests worldwide."
Redeeming for hotel stays is yet another first for KrisFlyer, which has in recent years, widened its range of redemption options to include more non-flight choices for its members.
Tan Kai Ping, Singapore Airlines' Senior Vice President of Marketing Planning said: "We are excited to be working with Shangri-La Golden Circle to bring even more benefits to our PPS Club and KrisFlyer members. Through Infinite Journeys, we offer members from both programmes enhanced travel experiences beyond their flight with us.
"Members enjoy increased recognition and rewards when they fly with Singapore Airlines and stay at Shangri-La. We also continue to provide our members more ways for KrisFlyer miles to be used, both at home and when they travel."
These benefits are available to Golden Circle and KrisFlyer members. For more information, visit infinitejourneys.com
Shangri-La Hotels and Resorts, one of the world's premier hotel companies, currently manages 98 hotels under the Shangri-La brand with a room inventory of over 40,000. The group has a substantial development pipeline with upcoming projects in mainland China, Cambodia, Hong Kong, India, Myanmar, Philippines, Saudi Arabia and Sri Lanka.
KrisFlyer is Singapore Airlines' frequent flyer programme. KrisFlyer members can earn miles when they travel on Singapore Airlines, SilkAir, partner airlines on Star Alliance, as well as other airline partners including Virgin Australia, Virgin Atlantic and Virgin America. KrisFlyer also collaborates extensively with over 170 non-airline partners worldwide ranging from banks to hotels, travel services and retail, so members can continue to earn miles for rewards even when they are not flying.
KrisFlyer members can redeem their miles for award flights on over 30 world-class airlines to more than 1,000 destinations in 170 countries. KrisFlyer miles can also be redeemed for upgrades to Singapore Airlines Suites, First Class or Business Class on Singapore Airlines, and to Business Class on Singapore Airlines' regional carrier, SilkAir.
KrisFlyer members also have the option to mix their miles and cash when paying for their tickets, as well as to purchase preferred seats with more leg room in Economy Class, on Singapore Airlines flights, when booking on singaporeair.com.
KrisFlyer continually enhances the programme to bring more value and benefits to its members. With the recent introduction of "KrisFlyer Spree", Singapore Airlines' new online shopping mall, members can earn KrisFlyer miles when they shop at more than 2,000 global and local brands and merchants such as Adidas, Apple, Asos, Bloomingdales, eBay, Gap and Marks & Spencer.