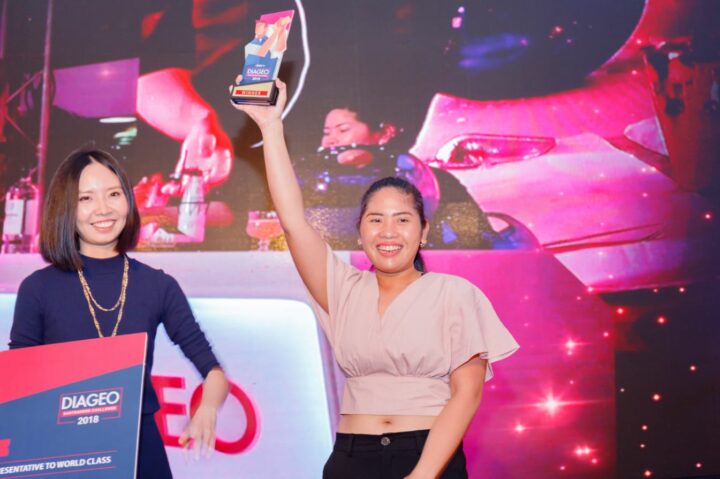 SIMDI Diageo Bartender's Challenge 2018 concludes
The winners of the Diageo Bartender's Challenge 2018 were announced on Thursday, August 16, at an awards ceremony held at Kurumba Maldives. The first of its kind to be held in the country, the competition took place from August 15 to 16 at Kurumba Maldives.
Organised by SIMDI Beverage, the two-day competition saw 47 participants from over 30 resorts vying for a chance to represent the Maldives at the Diageo 2018 World-Class Bartender's Challenge in Singapore. The event was held as part of SIMDI Group's CSR initiatives, to provide exposure and an international platform for Maldivian bartenders, offering them the chance to improve their knowledge and experience in the field and showcase their talents.
Jennifer Ibay from OZEN by Atmosphere at Maadhoo won first place. "This was really unexpected. This was my first time competing, so everything is new. And it was a lot of pressure, but with the help of my colleagues, we got it. I didn't win it. We won it," she said. Jennifer named her winning cocktail 'Way Back Home'.
"I wanted to make something different with Beluga vodka. I was thinking about what to make, and then I noticed that the Beluga logo had a fish on it. So I asked my beverage manager, and he said that it pairs well with caviar. And so, I started doing research, about the history of Beluga and also Ketel One, which I also used. I found out that they closed their distillery in the US and came back home to Schiedam. Beluga has a similar history too. So that's how I came up with the name. I made my own orange liqueur for the cocktail as well." Now that she's won and will go on to compete in Singapore, there's a lot more pressure, says Jennifer.
"I'm both excited and nervous. I'll be competing with more experienced bartenders from different countries, and this was my first competition, so there's more pressure. But I will do my best," she added. The first- and second runners-up of the competition will get to participate at a three-day mixology training session in Singapore.
Charmen Blance from Lux* South Ari Atoll won second place. "This was awesome. It made me cry. I didn't expect it but I'm proud of myself," she said. Charmen's winning cocktail was a Japanese-inspired one that she named Sake'bishi.
"When they told me that I would get to compete, I got really nervous thinking about what to make, and then my boss told me to look at my surroundings. So, I was looking around the Japanese restaurant and then I saw this beautiful shiso leaf that had a really nice green and flavour and I wanted to use it as a garnish," she said.
"I wanted to make something with sake or wasabi because I love Japanese food. So, I kept making cocktails and giving them to my bosses to try, but they kept telling me something was missing. And then I thought of using togarashi because it had spice and a nice colour, and my bosses tried it and said it was perfect."Nisham Shareef from Conrad Maldives Rangali Island, one of the two Maldivians who competed, won third place. "I'm really happy because this was my first competition. Words cannot describe how happy I am," said Nisham.
As the Maldives is a famed honeymoon destination, his winning cocktail was inspired by the sweet cocktails that couples prefer. "I used balsamic vinegar, strawberries, caramel, vanilla and crème de cacao with a Zacapa 23 base," he said.
"I'm not a bartender. I make cocktails but my post is waiter, so this means a lot. I got a lot of help from my colleague, the bartender who won the Grape Expectations Maldives Bartender Challenge this year, and my manager gave me a lot of encouragement. Being a Maldivian, I'm proud that I won this competition. I know there's a lot more to learn so I'm looking forward to the training sessions in Singapore."
According to SIMDI, the competition provides a platform that would help bartenders to gain knowledge about the latest trends in the industry and in the international market. "We thought that bartenders have a lot of say in what they use to create their drinks. So, we thought, let's turn things around a bit, and go to the people who would actually be using the products," said Mishal Ibrahim, Managing Director of SIMDI.
"We see a lot of similar events here, but nothing of the world-class scale. So, our aim was to raise the standards, and so this kind of a competition would put us on the map, as a destination, and as a company, and the products we sell as well." The feedback has been really good, he says.
"We shared videos of all the stages of the competition, and of all the participants on social media. And the feedback was really good. A lot of GMs reached out to us. It also means exposure to the bartenders who competed as well. So, we are hoping to make this an annual event."
Commenting on the event, D. Sanath W.K., the Senior Manager of SIMDI Beverages said: "Most of the bartenders working in the Maldives does not have the exposure they need, and the Diageo Bartender's Challenge sought to make way for just the opportunity.
"When we look at the supply market in the Maldives, we see many trading parties allowing for the distribution of counterfeit or second-class products, making the Maldivian market a 'grey area' for counterfeit companies to dump their products. Our philosophy is to build brands, and by utilising our expertise in distribution we are representing top-class international brands in the Maldives market."
The event also featured a brand session by Aubrey Sim, the Reserve Brand Development Manager for Emerging South East Asia (ESEA), focusing on the brands that SIMDI offers and the USPs of the brands, in addition to a presentation by Ulric Nijs, the owner of Bar Face Consultancy themed around "the Art of Mixing". The competition was judged by Aubrey Sim, Ulric Nijs, and Jeroen Misseghers, the founder and director of Dash of Lanka.