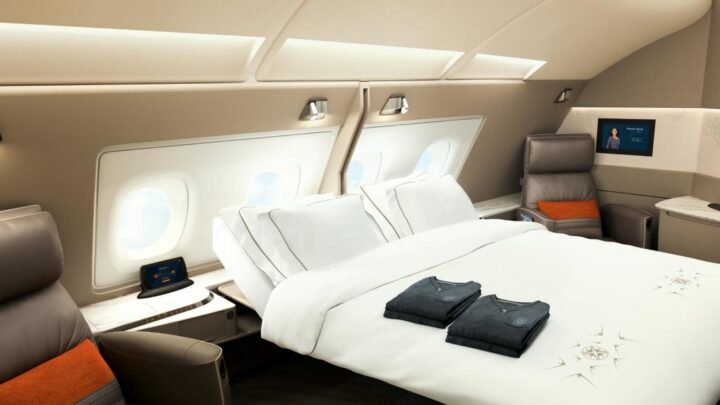 Singapore Airlines to redefine premium air travel
Singapore Airlines has unveiled its highly-anticipated new cabin products which will be fitted to its Airbus A380 fleet starting from next month, following an extensive four-year development programme. Riding on the theme of "Space made personal, experience the difference", the new cabin offerings provide more space and privacy in all classes, featuring intimate and bespoke elements designed especially for the Singapore Airlines customer, according to the airline.
The new cabin products were displayed for the first time at a media launch in Singapore. According to Singapore Airlines, the products will enter service next month on the first of five new A380 aircraft entering the fleet. Retrofit work will also take place on 14 existing aircraft, to ensure product consistency across the Airline's entire A380 fleet.
The new Singapore Airlines A380 will be configured with 471 seats in four classes, featuring six Singapore Airlines Suites and 78 Business Class seats on the upper deck, as well as 44 Premium Economy Class seats and 343 Economy Class seats on the main deck. The research, design, development and installation of the new products on 19 Singapore Airlines A380s represents an investment of about US$850 million.
Singapore Airlines Suites
With six Suites tucked spaciously within the front cabin of the upper deck, customers will experience a sense of exclusivity and intimate privacy aboard the A380. Behind its artistically-designed sliding door lies a personal oasis complete with lavish furnishing and finishes, reads a statement by the airline.
Each Suite is furnished with a separate full-flat bed with adjustable recline and plush leather chair, enabling customers to lounge comfortably in the chair or rest in bed without the need to convert the bed from a sitting position. For couples travelling together, the beds in the first two Suites of each aisle can be converted to form a double bed. When not in use, the bed can be stowed completely, creating, even more, personal space within each Suite.
According to Singapore Airlines, each seat is upholstered by world-renowned Poltrona Frau in fine leather and is fully adjustable using an electronic control side panel which can accommodate a variety of sitting and lounging positions. The swivel capability of the chair (between 135 and 270 degrees) with recline up to 45 degrees provides added flexibility for dining and relaxation.
Each Suite also has a 32-inch full HD monitor that can swivel for the different viewing angles in seat and bed modes, a full-sized personal wardrobe, customised handbag stowage compartment, amenity box lined with soft leather, specially designed carpet and a feature wall with mood lighting – all exquisitely crafted to give a touch of luxury and intimacy, says the airline.
The exclusivity of the Suites cabin is further accentuated by its two stylishly furnished lavatories, one of which has a sit-down vanity counter. The new Suites were designed by Pierrejean Design Studio and manufactured by Zodiac Seats UK.