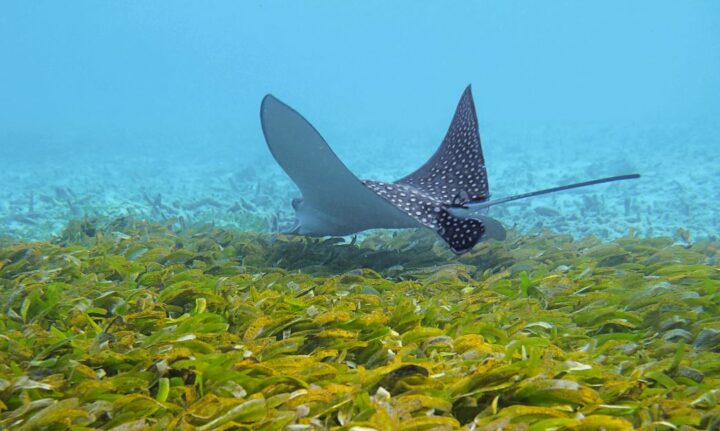 Six Senses Laamu pledges conservation of sea grass beds around the island
Six Senses Laamu, recognising the ecological importance of sea grass habitats, has pledged to play a more active role in the conservation of sea grass beds around the resort island and in the Laamu Atoll region. Sea grass conservation is an initiative that makes the resort a role model in the Maldives, says Six Senses Laamu in a statement.
Laamu Atoll has one of the highest densities of sea grass in the Maldives which supports a huge diversity and abundance of marine animals. Just 2.4 acres (9,715 square meters) of sea grass can support 80,000 fish and 100 million invertebrates.
It is also an important source of food for Green turtles and an important peripheral habitat for Hawksbill turtles, classified as "Endangered" and "Critically Endangered" respectively, on the IUCN Red List. According to the resort, it has recorded 107 Green turtles and 93 Hawksbill turtles in the surrounding waters, and maintaining a healthy sea grass habitat is critical for the turtle populations in Laamu Atoll.
Like all other plants, sea grass provides a continuous supply of oxygen and acts as a sink for carbon dioxide. Just 2.4 acres of sea grass can produce 26,000 gallons of oxygen per day. The ocean absorbs 25 percent of the global carbon dioxide emissions, of which 12 percent is stored as carbon in the sediment below sea grass meadows. Sea grass beds also act as nutrient sinks, filtering chemical inputs into the marine environment and keeping waters clear. Recent studies have also shown that maintaining sea grass beds adjacent to a reef, increases the resilience of the corals to natural and human threats.
Six Senses Laamu has been monitoring the shifts in the seasonal distribution of sea grass areas on the western side of the island since 2012. It believes that protecting this habitat is critical to stabilising sediments which will in turn reduce the amount of island erosion, says the statement.
According to the resort, it has a plan to increase study efforts on these critical habitats while also communicating the need for sea grass conservation to guests and locals through the extensive Six Senses Laamu marine team's education programme.