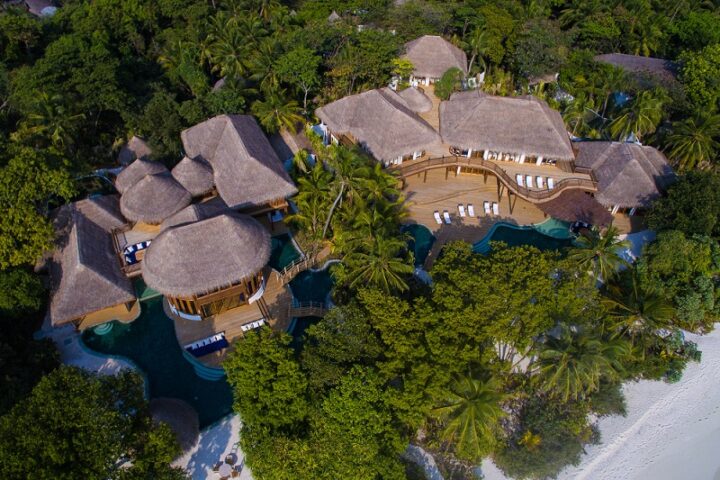 Soneva Fushi unveils new stunning three and six bedroom villas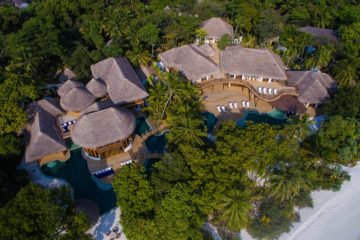 Soneva Fushi has unveiled the addition of a three bedroom villa and a six bedroom villa to their portfolio of exquisite accommodation choices on their island in Baa Atoll.
Villa 41 and 42, as they are now respectively known, are both standalone villas with extensive privacy. However, if guests in larger groups request it, they can also be combined to make a larger nine bedroom villa. When combined, the villa can sleep more than 18 adults with space for additional children.
"There are few things in life more special than holidaying with a group of friends or extended family – and the latest in the line of Soneva larger villas at Soneva Fushi in the Maldives are designed to ensure bigger parties have room to relax in unadulterated, laid-back Intelligent Luxury settings," explains Carissa Crowley, communications director for Soneva Resorts. "Truly vast multiple bedrooms, tropical open living spaces, romantic outdoor bathrooms… so much attention has gone into creating the perfect holiday hideaway you won't want to leave."
The villas are made of white-washed wood and clean lines, built to blend in with the natural jungle and beach surrounds. No luxury is spared. At the same time, in keeping with the Soneva aesthetic, the villas have been designed to make guests feel as though they have escaped in a world of jungle fantasies with the palm-frond roofs, woven ropes, waterways, bridges and tree-branch banisters. Imagine expansive decks, idyllic walkways, your very own shaded plunge pool as well as a private seaside swimming pool, complete with a dedicated stretch of beach.
Facilities range from a private study and personal steam room and sauna, to a personal gym, exclusive wine cellar, kitchenette, yoga champ and sunken dining 'sala'.
Unlike many Maldivian resorts that cater only to honeymooners on romantic breaks, many high-end resorts are now turning their attention to families, and larger groups of guests. And of course, these villas are designed with parties in mind. Whether it's celebrating a friend's big birthday or enjoying a multi-generational family rendez-vous, these tropical hideaways offer the perfect location.
The villas join Soneva Fushi's Villa 11, a 9 bedroom residence, and the largest villa in the Maldives.
Soneva Fushi has also announced the addition of a new villa category called the Deluxe Soneva Fuhi Suite with Pool, which brings the total options of 1 bedroom accommodation types up to 8.
Soneva Fushi is located in the Baa Atoll, the Maldives' only UNESCO biosphere reserve, and is a champion of sustainable luxury.